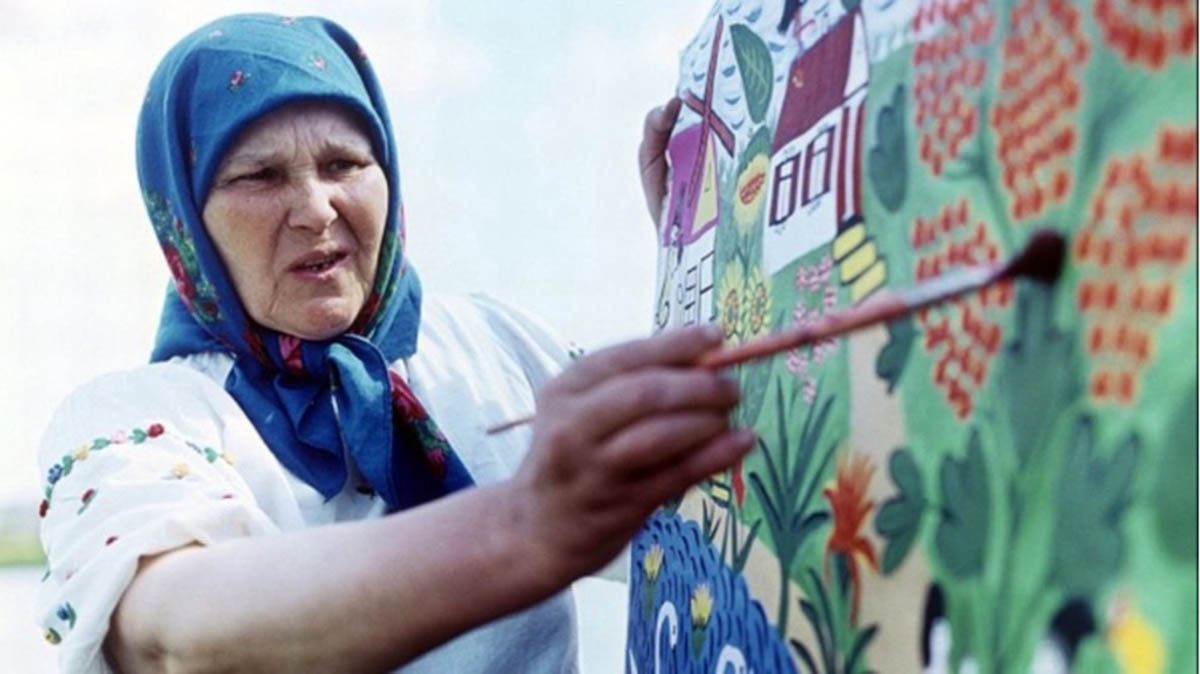 Maria Prymachenko was a self-taught artist and poet. She painted everyday life, wild animals and fantastic beasts surrounded by beautiful nature with vivid and bright colours. She used simple paper with ordinary brushes, gouache and watercolors, and painted with starkly graphic contours and expressive patterns. Her style is classified as naïve art or primitivism portrayed Ukrainian folk art. She painted with both hands — right and left, but there is no discernible difference in which hand the picture was painted with. Many of her masterpieces are found at the Ukrainian National Museum in Kyiv. She was born on 12 January 1909 in Bolotnya, Kyiv. Her father Oleksiy Hryhorovych was a fence builder, and her mother Paraska Vasylivna was a talented embroiderer. From the age of seven she was ill with polio which forced her to walk on crutches. She was unable to work in the fields with her family. Because of her disability her interest in her environment including plants, animals and everyday life developed. She made her first attempts in drawing, painting and embroidery.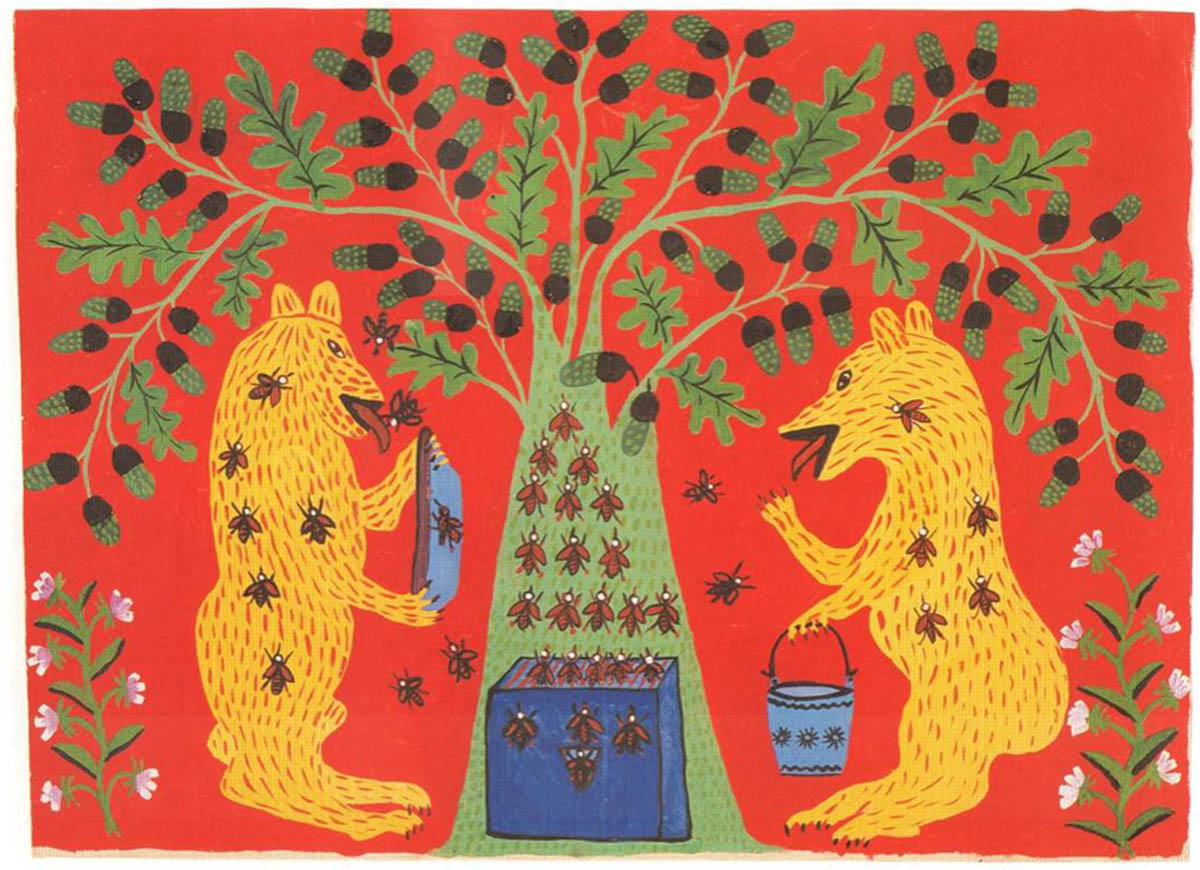 At the age of 17 she took up art seriously and began painting her family home with bluish clay. Soon the villagers commissioned Maria to paint for their houses. 1935 Kyiv artist Tatiana Fleur became aware of Prymachenko's talent while she was collecting artworks for a folk-art exhibition. She supported the young artist and achieved an invitation for Prymachenko at an experimental workshop in Kyiv 1936. For young Maria started a new chapter: For the first time in her life she left her hometown and had the opportunity to develop her talent. She drew, embroidered and painted ceramic. Her hard work was rewarded when her embroideries were selected and awarded for the First Republican Folk Art Exhibition in the 1936 and was successfully exhibited in Kyiv, Moscow and Leningrad. In her time in Kyiv, she also met a fellow villager, an infantry lieutenant called Vasyl Mary, whom she later married. The year after, she took part at the world exhibition in Paris 1937. She received the gold medal for her remarkable work and even Pablo Picasso honored Prymachenko's wonderful work and her genius talent. She gained further recognition with exhibitions in Paris, Warsaw, Sofia, Montreal and Prague.
After her success, years of hardship followed: World War II started and her husband was soon called up for military duty on the frontlines where he was eventually killed. Because of this tragedy, she had a strange dream of a garden where all the plants grew in the opposite direction. The roots emerged from the soil and climbed towards the sky, while the flowers and bushes grew into the ground. She embroidered black roses on a blanket and covered it on a table like a shroud. She was left with her son Fyodor, who was born during the war. Her mourning period continued and she didn't feel the need to make art again. In late 1940s, the USSSR only supported monumental art that glorified socialist reality and depicted the world around it according to the ideology of the Communist Party. Maria Prymachenko no longer received commissions. In 1959 she joined the "Union of Artists" and after an article about her was published in the newspaper "Kyivska Pravda", her work received great popularity again.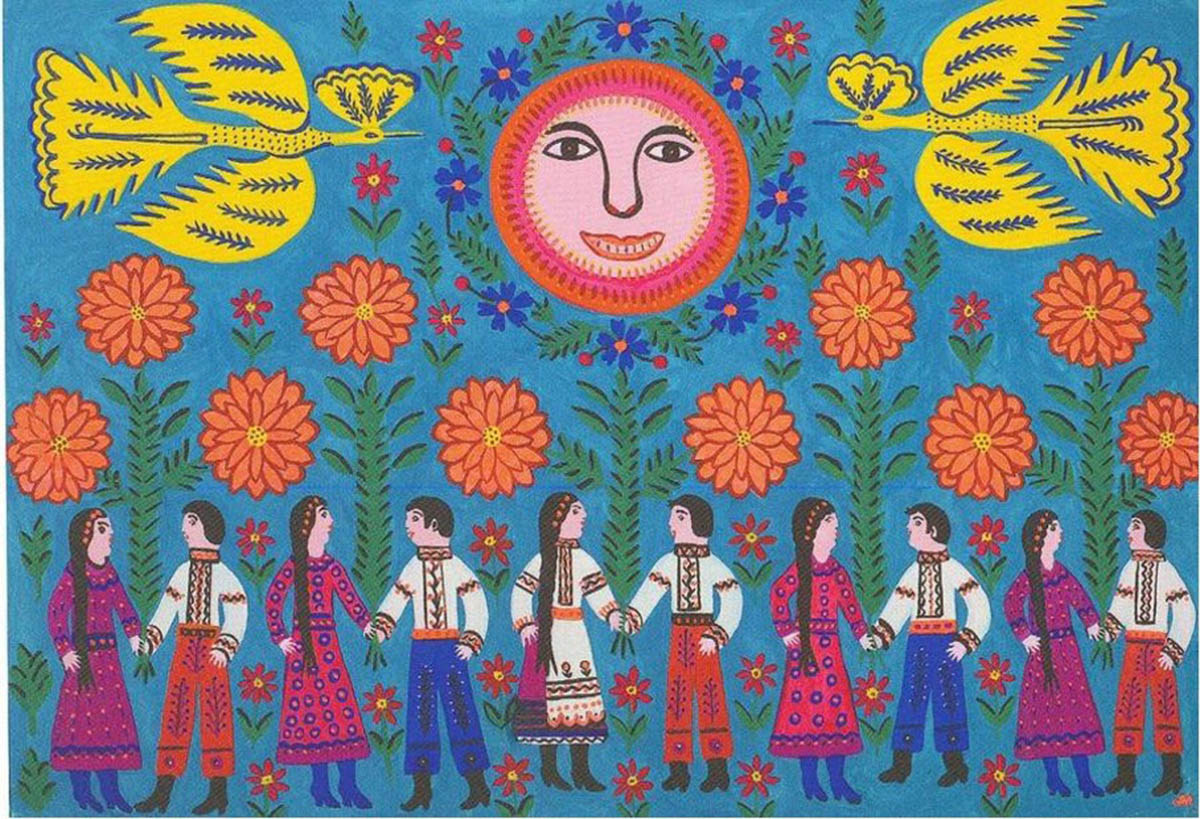 Her pictures show folk tales, mystical creatures and the fight between good and bad. Her art was heavily influenced by troubles, obstacles and hardship caused by two world wars, the Cold War, the Chernobyl disaster and the collapse of the Soviet Union. She wanted peace and manifested this demand in her artworks. Prymachenko's worldview shows a sense of the inseparable unity of nature, of all living beings on Earth. This is how she saw the meaning of her life — to create for people, to create "for the joy of people". Lydia Orel, Senior Researcher at the Museum of Folk Architecture and Life of Ukraien, met Prytmatchenko several times in her hometown in Bolotny. She describes Prymachenko as a real eye-catcher, dressed in an embroidered shirt she had made herself and tied with a ruff. Prymachenko asked Orel if she could help her by looking for her artworks in Moscow. Orel couldn't find the missing pieces as Prymachenko's work went missing. According to Orel, hundreds of them are scattered all over the world, many were not returned from the exhibitions in Moscow and abroad, considering the fact that Prymachenko never wanted any money for her paintings.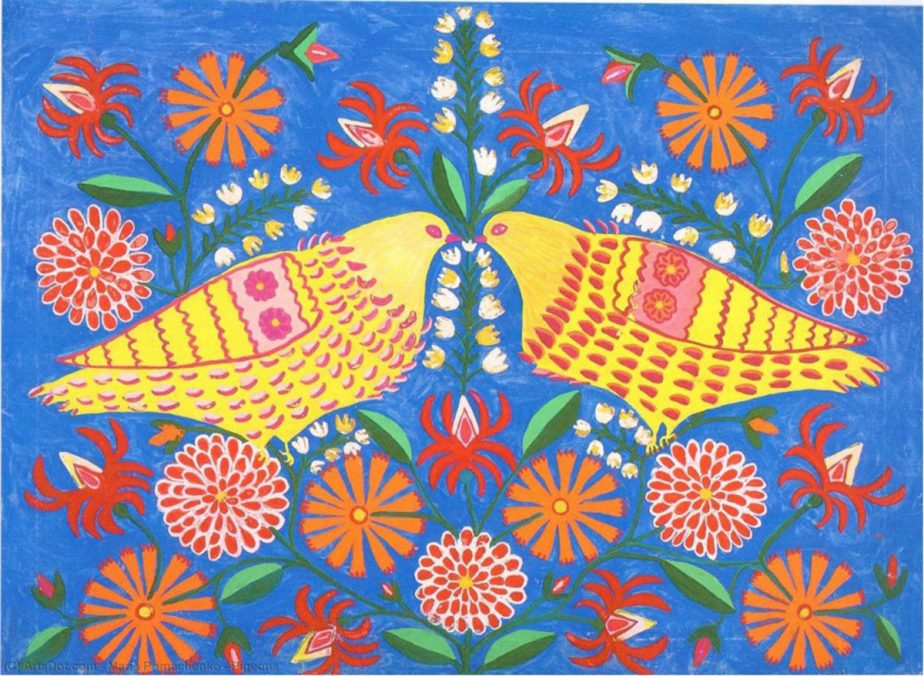 In the 1960s, Prymachenko started her series "People for Joy" and was honoured in 1966 with the Taras Shevtschenko prize for it. Four years later, she was given the title of Artist of the USSR and in 1980 she was known as People's Artist of Ukraine. Six years later in 1986 the horrible Chernobyl disaster happened. Prymachenko took the dangerous decision of refusing to leave her hometown. Her "Chernobyl series" is well known and include four works with flowers and bird compositions. She processes the fate of her friends and relatives who suffered in various ways from the nuclear disaster. In 1991, Ukraine became an independent sovereign state as the Soviet Union collapsed. Prymachenko died on 18 August 1997 in Bolotyna, Rakon Ivankiv, Oblast Kyiv. The sculptor Boris Dovgan erected a monument on her grave in Bolotny.
Maria Prymachenko painted during demanding times of fear, war and loss. She caught those moments in her own artistic style, where there are endless possibilities for decorative, ornamental, genre and landscape compositions. Her artworks reveal the beauty, love and kindness of her soul. She represents the Ukrainian hopes for peace and freedom. Her works are more relevant now than ever. Her talent represents the Ukrainian soul and her loss seems heavier with the destruction of 25 of her artworks.
---
Quellen:
http://www.ukrsov.kiev.ua/ru/library/-/asset_publisher/Bkg0/content/id/20186
https://www.mundm.kiev.ua/index.html
https://www.mundm.kiev.ua/COLLECTN/PRIMA.HTM
https://euromaidanpress.com/2020/01/12/10-interesting-facts-about-ukrainian-folk-artist-mariya-prymachenko/
https://www.mundm.kiev.ua/COLLECTN/PRIMA.HTM
https://web.archive.org/web/20071008220153/http://krok.te.ua/zvirshi/prymachenko/index.html
https://web.archive.org/web/20160809154533/http://artes-almanac.in.ua/art/articles/chornobyl_maria_pryimachenko.html
https://archive.is/20130628193550/ukrmystetstvo.blogspot.com/2012/07/blog-post_09.html#selection-905.0-912.0
https://web.archive.org/web/20091224033833/http://www.ukrkolo.com/prymachenko/
https://euromaidanpress.com/2017/01/13/paintings-of-ukrainian-naive-art-icon-prymachenko-come-to-life/