Formally slippery and at times hypnotic, the artist's work amplifies and exasperates images and gestures to explore the extremes of "moments" in time and of the nature of the materials he chooses to employ. In this way there is an attempt to create images out of absences, working with archetypes and with the stuff of dreams. The title of the show, which translates to Rainy slope that whips the tongue offers a glimpse of how Perrone looks at the world.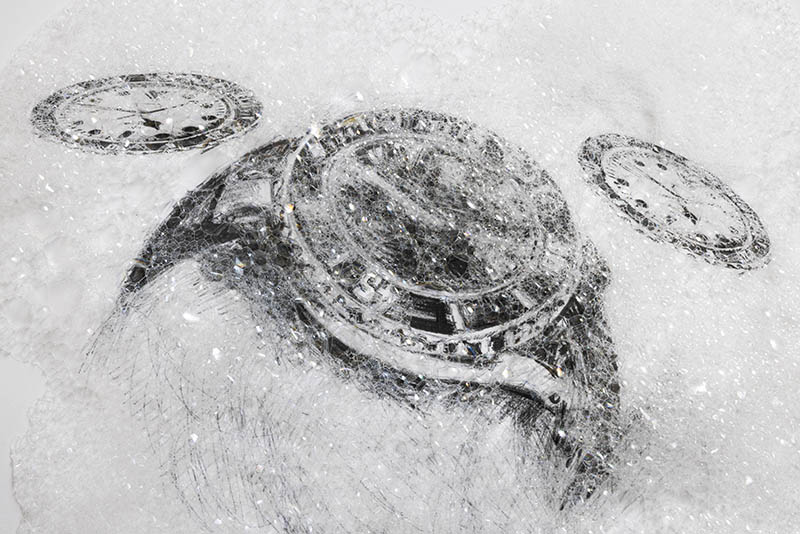 The exhibition is seamlessly divided into different constellations of works, each one narrated by descriptions written by the artist himself; some, such as the red-biro drawings and the glass sculptures, are exhibited for the first time on newly conceived support structures that are meant to be read as works in their own right. One of these, Snorkeller Tube, was realized thanks to the support of the public notice PAC2020 – Piano per l'Arte Contemporanea promoted by the Directorate-General for Contemporary Creativity of the Ministry of Culture.
Driven by a curiosity about hidden places as well as for the depths of the human psyche, Perrone will dig deep also to discover/unearth his own intentions. The world above looks, feels and sounds different from below ground as well as from under water, through the intricate web of a red-biro drawing, or from within a crooked room.
Therefore, in pushing materials beyond their cultural and organic viscera, Perrone constructs a parallel world that pulls both marginal and iconic elements from the real one. He overlaps and draws lines between disparate disciplinary languages and between the natural and the man-made in order to deviate the viewers' understanding of time and place. With Pendio piovoso frusta la lingua, Diego Perrone continues to explore the limits of skewed inventiveness through a total work of art that insinuates itself perfectly into the grooves of a vision disquieted by the technological developments of the last thirty years and their repercussions, yet it asks questions that surpass temporal boundaries.

Exhibition: Pendio piovoso frusta la lingua
Exhibition Duration: 29 September 2022 – 19 February 2023
Address and contact:
MACRO Museum of Contemporary Art of Rome
Via Nizza, 138; Rome
www.museomacro.it
---
Diego Perrone (Asti, 1970) is a multimedia artist who lives and works between Milan and Asti. Perrone's work with photography, video and sculpture is characterised by technical and material experimentation and draws on and extends the history of 20th century Italian art movements, playing with the symbols of Italian popular culture. His solo exhibitions have been staged in various institutions and galleries, including Fondazione Sandretto Re Rebaudengo (2005), Museo d'Arte Moderna di Bologna (2007), Fondazione Brodbeck (2010), Museion (2013), Galleria Massimo De Carlo in Milan and London, and Casey Kaplan in New York. Perrone has participated in numerous group exhibitions, including those at the Solomon R. Guggenheim Museum in New York (2007), Palazzo Grassi in Venice (2008), Galleria d'Arte Moderna in Turin, the Kunstmuseum St. Gallen in Switzerland and Castello di Rivoli in Turin. In 2021, he received the ACACIA Prize hosted by the Museo Del Novecento in Milan and in 2007 the Fondazione Spinola Banna Prize for Art. His works have been exhibited at the Venice Biennale (2003) and at the Berlin Biennale of Contemporary Art (2006).