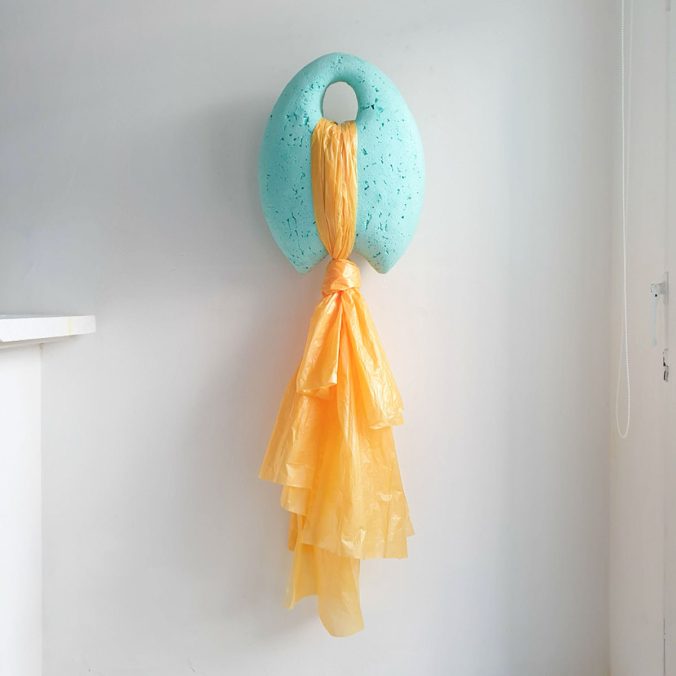 Its appearance evokes a comforting feeling, like whipped cream or ice cream in pastel shades, like a vintage look of a bakery in a future version.
Her objects, to which she gives the name Props, represent beings or things of an unknown, perhaps more hopeful world. They reference masks, costumes, disguises and mystical objects respectively. Yet they remain uncanny, just like the material – a little too pretty and a little too delicious. Behind the masks, the double layer emerges, which thematises our world of beautiful appearances. The material is actually artificial and made of plastic, which does not save the earth but destroys it more and more.
This seeking for my home… was my affliction….Where is- my home? I ask and seek and have sought for it; I have not found it. – Friedrich Nietzsche
Daniela Trinkl is an Austrian visual Artist based in Vienna. Trinkl has shown her work in several national as well as international exhibitions. Her last exhibitions include House of losing control at Vienna Art Week (2021) and BestOff Kunstuni Linz (2021) where she was selected to take part by Angela Stief, director of Albertina Modern.
Exhibition: Daniela Trinkl "Magical remedy"
Duration: 19.02. – 12.03.2022
Address and contact:
Gallery Gundula Gruber
Schweizertalstrasse 4/1, 1130 Vienna
www.gallerygundulagruber.net