Ristić received her BFA from the Massachusetts College of Art, Boston in sculpture with a minor in painting and an MFA in Studio Art from New York University. She was one of the founders of the collective art workspace, 24k Studios, the mobile gallery, 24k Studios Presents, and was the creative director for the charity food pop-up, Hungry Babes, in San Francisco, where she was based until 2018. In addition, she has worked in museum preparations, as a lighting technician and as an undergraduate college instructor. All of these influences are present in her practice. Her work has been displayed in group and solo shows around the US and internationally. She is a member of the artist-run, independent project space, Paradice Palase, in Brooklyn, NY and was recently an Artist in Residence at the Pilotenkueche International Program in Leipzig, Germany.
How long have you been working as an artist?
I received my BFA in 2010 and since then I have had an active studio practice. Even when I have had other jobs and commitments, I have always strived to prioritize my arts practice.
What's your background?
Culturally speaking I was born in the former-Yugoslavia. My family fled the Balkan wars and I was raised in the United States. Artistically/academically speaking, I studied painting and sculpture as an Undergraduate in Boston, and Interdisciplinary Fine Art in New York. I also have experience in curation, exhibition installation, art-handling, set and shop display design, lighting installation, video and sound editing, , graphic design, photography, clothing construction, carpentry, metallurgy, teaching both children and at a college level, and other non-art world skills like bartending and waitressing.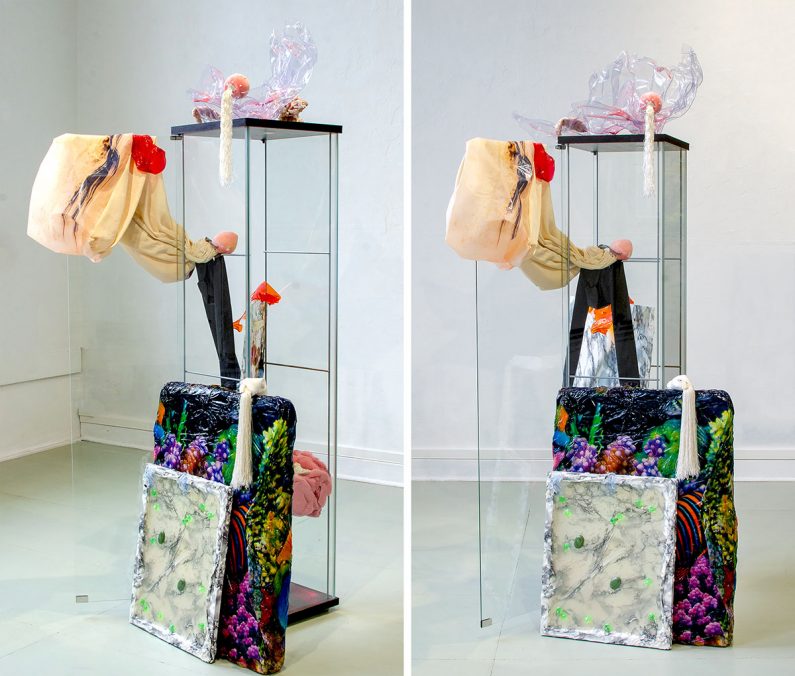 Where do you find inspiration?
I always start with materials. They are my true source of inspiration. I love getting to know objects, textures, colors and forms through deconstructing and experimenting with them. And in fact, I am constantly trying out new media, materials and techniques. I like to see what the material wants me to do to it. I have honed my ability to create an environment in which I can work in a way that allows me to be surprised by the end result and this is always very inspiring. I very often get an idea for a new piece as I am working on another, so I am always working on multiple pieces at the same time. I don't like to have a tightly planned out "blueprint" of the piece because then I have no need to execute it. A blueprint itself is a resolved and integrated piece in which all the questions have already been answered. However, if I create a system that supports experimentation and material play within my studio- like maintaining fertile soil- then ideas can percolate almost spontaneously and in a sense in real time- when the materials are coming in contact with each other. This process means I end up with far more successful/interesting results. For me keeping experimentation at the heart of my practice ensures that I sustain interest in the process not only throughout its creation but, more importantly, after its compilation.

What does your work aim to say?
Through my work I aim to navigate our contemporary sociological and cultural landscape. I use found objects and consumer/post-consumer goods as a way of "quoting" from the real world. Through mixing media and techniques my goal is to create combinations that push us to reexamine the way we perceive / approach aspects of our daily lives that we may often take for granted. In particular those pertaining to the many manifestations of class, gender, globalization and the state of our natural and fabricated environments- and how these elements are intertwined and impact one another. Even though I am exploring these "serious" topics through my practice, I still strive to produce aesthetic work that stimulates as many of the senses as possible. My intention is that my pieces consistently function visually first (or auditorily if it sound, tactilely if it is textured and so on). This means that they can be enjoyed on a formal level if and when viewers so choose. But for those that wish to engage further with the work, they can always find something else to explore the more time they spend with it.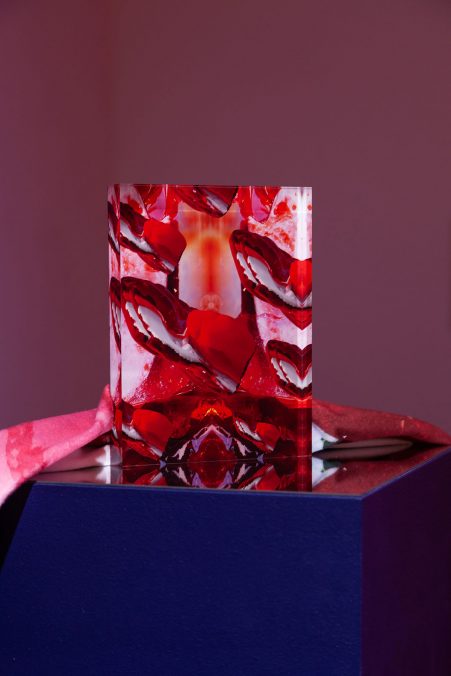 How has your style changed over time?
The main way my style has changed over time is that it has become increasingly more layered and intricate. I have been using alternative materials since I was an undergraduate but the way in which I have used them has changed as I have introduced new processes and mediums into my practice. Digital programs have had a huge impact on the look of my work but also its content. The media I use is never just the means of production but is also part of the dialog of the project it is used for. Digitization has allowed me to sample my own work in consecutive iterations. This is most evident in my work, Let the Bloodless, 2021, which is a collage composed by layering elements from other works including videos stills, digital photographs and screenshots from 3d modeling software. It was then mounted on acrylic block. It is an excellent example of the kind of effortless synthesis that happens within the digital sphere. This kind of seamless combining of disparate elements into a cohesive whole is what computers do best.
Their abilities to endlessly clone and capture anything that's converted into their binary language, made it possible to fluidly blend these components into a cohesive entity.
What are your goals for the future?
My goal is to continue working collaboratively with other artists and creative practitioners. This has been a recurring theme throughout my practice in various forms. Most recently I worked with multidisciplinary artist Jannis Weu to produce an installation/performance as part of the final exhibition at the International Artist Residency Program, Pilotenkueche, Germany. Although the direction, conception and production (set, costume, props, make-up) of the piece were mine and Weu was soley the performer, I still insisted that his input was present in the work wherever possible. A prime example of this exchange is the title, Ængælydnium. It is a fabrication of Weu's. It was at his suggestion that we decided that we wanted to use an invented word. Some kind of hybridized creation that was reminiscent of words in different languages without having any real meaning that we could confer our own meaning on. This is one of my favorite aspects of the creative process; when collaboration fosters new ideas that one alone could not have expected or generated. I always come away with fresh inspiration and exciting ideas after working with others.
Lidija Ristić – www.instagram.com/la_la_lidija/