A retrospective of his prints is recently on display at the Instituto de Artes Graficas de Oaxaca(IAGO) Dan is also the founder and artistic director of Art Division, a program for under-served young art students in the Los Angeles, MacArthur Park neighborhood.
What influences your art?
I am influenced by momentary interactions with shopkeepers and waiters in my neighborhood which serve as inspiration for paintings of scenes and portraits from everyday life. During the pandemic. however, I retreated to my studio and shifted my focus to painting still lifes of fruit and flowers. I have been deeply influenced by the paintings of Eduard Manet, the films of Jean-Luc Godard, and the writings of Jane Austin, all of whom find the extraordinary hidden in the ordinary.
What topics affect you?
One issue that is of great concern to me, and a social reality I am determined to change is the lack of artistic opportunities for young disadvantaged adults interested in the arts. This led me to create Art Division.
How would you describe yourself?
I am seventy years old. I am gay and have been a 44 year relationship. I have been married for ten years. I value solitude and privacy. Making art is my livelihood and my sustenance.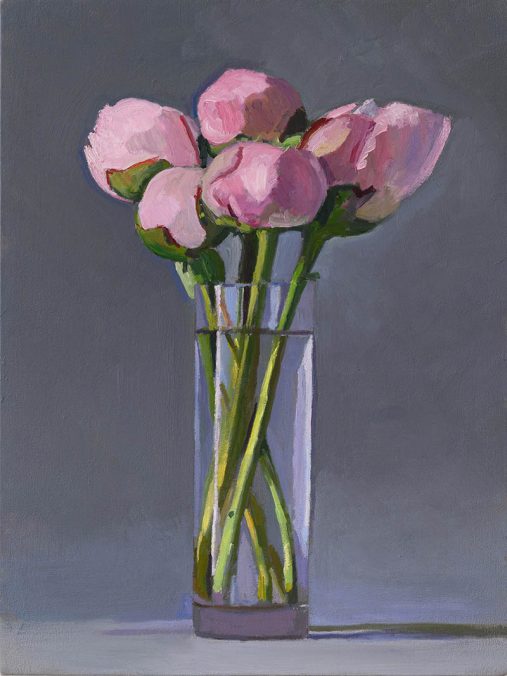 Do you have a routine?
A daily Buddhist practice is an essential part of my life. I spend six days a week working in my studio I try to arrive at the studio by 10:00 am and paint and tend to Art Division until 6pm. Art Division is located in in the same building as my studio, as well as attending to the running of Art Division. I take Sunday off so I can return to the demands of my work with a renewed energy.
When do you draw?
In the past I drew from the model on a near daily basis. While focusing on the still life, I draw less. I recently have returned to portrait drawings.
What brings you joy?
A well-told joke. Time for contemplation. Walking in nature. An hour of swimming. Falling asleep. And of course, making art.
What are you working on? Is there an exhibition planned?
Through 2020, when the pandemic began, I have been working on still lifes of flowers and fruits. I work from life and have done about two paintings a week. I just returned from three weeks of printmaking in Oaxaca, Mexico where I had a survey of prints. I will be returning in December to have a two person print this winter. I will be returning in November to have a two person print exhibition with Fernando Sandoval.
Dan McCleary – Essay: Still Life Painting in Quarantine.
I usually work on small stilllife paintings between larger figurative works. For the past fifteen months, however I have been working almost exclusively on paintings of fruit and flowers. I paint them from life. My studio is on a busy street next to MacArthur Park in Los Angeles. Since the shutdown, there is a palpable silence in our usually loud and chaotic neighborhood. In the solitude that accompanies this period of Coronavirus and quarantine it has felt appropriate to be alone in the studio with the still lifes.
Each painting takes about two days to complete. I take a long time to set up the fruit or arrange the flowers. I keep regular hours – 10am to 6:30pm. When I am working, I spend as much time staring at what is in front of me as I do putting down on canvas the phenomena that I observe. Fruit does not change much in the time required to work on it. An apple remains static and allows me to focus on the nuances of the shape, color and shadows. Working on the flower paintings is very different. The stems soften, the petals drop. Given these physical changes I am more focused on the ephemeral passage of time. Unlike the fruit, the flowers are continuously moving. I am less in control. The space around the objects is as important as the objects themselves. The backgrounds become darker where they meet the light part of the flowers or fruit.
The more I look, the more I see. I become aware of subtle shifts in the color of the wall, table, and the subjects themselves. I move in closer at the end of the day and see more details. Light in LA is fairly consistent, unchanging throughout the day. Shadows become richer in the late afternoon. Because I work in northern light they never change their direction. With both the fruit and flower paintings, my palette consists of pure color; warm and cool yellow, red and blue. I also use white. From these I can get close to the color I see. Looking at something for many hours is very different from taking a picture. The photograph is a second's worth of information. The paintings of the fruit and flowers are also about the passage of time. I am working much faster than usual during this cloistered period. Each painting tells a small drama of a group of living forms, usually followed by a painting in reaction to the story that preceded it. When I take a break during my workday, I look at paintings by other artists. I spend a lot of time looking at a book about the British painter, Euan Uglow. He is well known for his paintings of the nude figure but for now I am only interested in his stilllifes. I find these paintings to be equivacal and beautiful. They are clearly done from hours of observation.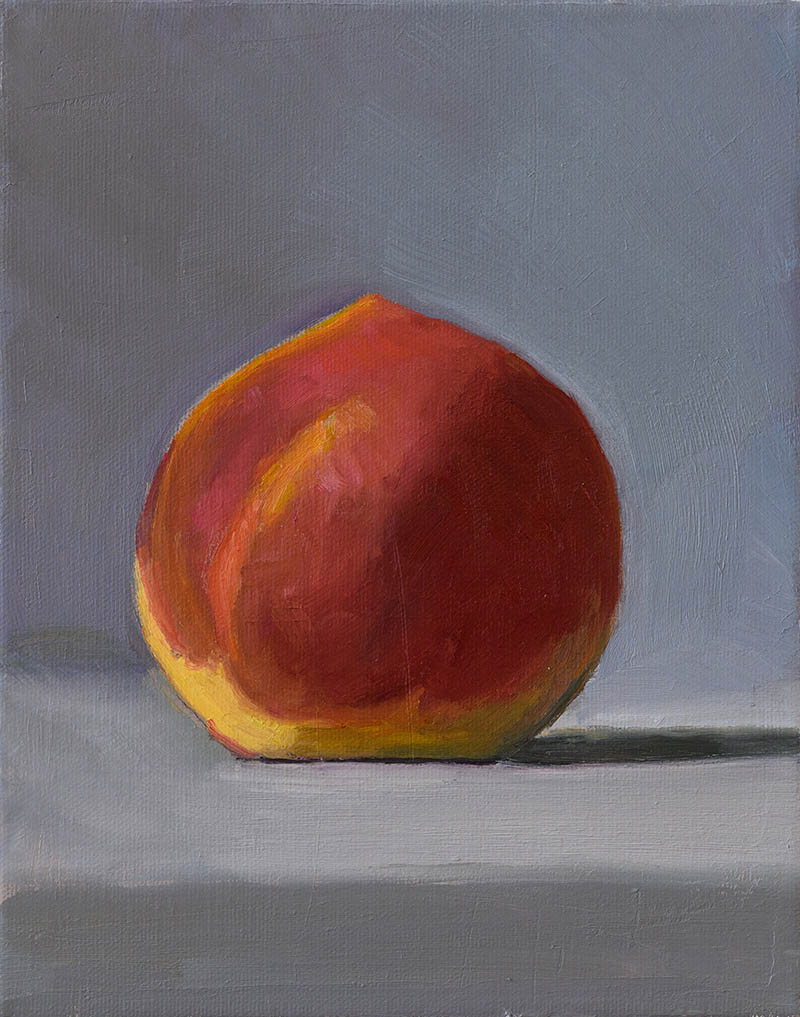 I also like reading about his working methods and ideas of painting. (THINKING OF TAKING THIS PARAGRAPH OUT) I have a print of a stilllife by Cezanne on my wall. In the center is a group of apples. I am bewildered by its complete lack of conventional order. What the artist was after both eludes and delights me. My attraction to his work is how unattainable for me is true understanding of what he was thinking and doing. While pausing during the day I also mindlessly check the news or watch videos. After 10 minutes of this I am ready to return to work. My day can consist of staring at a plum on a piece of grey paper for eight hours. This activity is completely engrossing and wordless. The more concentration it takes the more difficult it is to return to the other activities of the day. After leaving the studio, I struggle to engage in conversation. This sense of wordlessness is intensified by quarantine. Social interactions have been accompanied by a negotiation of safety and caution. Tension has always seems to be present. I took for granted the ability to observe people in an unconscious and relaxed manner. The masks have made it impossible to really look at people. Quarantine is ending I look forward to the pleasure of drawing and painting people from life. I have no idea now what this work will look like. In this time of social distancing, I have been happy to spend my time working on these still life's. It is always challenging to focus on something that is so alive, beautiful and silent.
Dan McCleary – www.instagram.com/dfmccleary/