Both powerful and fragile 'BIG INKS' are non-solid monuments to the modification and contraction of becoming. Floating within the gallery space, they flutter just a little, enclosed in large glass walls. The viewer's glance absorbs 'BIG INKS' in a slow descent of the moving stairs down the underground platform. They linger and disappear like the finest of memories.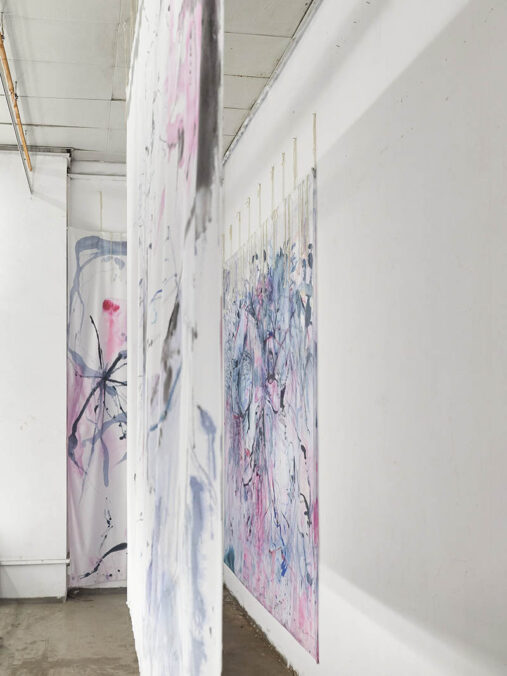 Vukadin Filipović is an artist of a young generation, born in the year 2000 in Užice, Serbia. He is currently studying at the Academy of Fine Arts in Vienna in the class of Prof. Christian Schwartzwald. In his practice, he re anticipates his intimate topographies and past(s), narrating histories of irregular landscapes, of home and the lack of one. He questions the points of (un)belonging offering the documents of uncertain chronological veracity yet touching sincerity. He records, photographs, and scrutinizes his body and its markings, making them trustworthy narrators of his dainty precise drawings, paintings, inks, and embroidery. He offers texts and images – undisguised, blatant, humorous, homoerotic, grammar dislocated – capturing the untold. In Vukadin's current series of works 'The Following' he records the passage of home coming (Video document Transit 22), (dis)union with past, embodying his diaries in reprints, notes on glass and soft photographs. The texts in his works follow a misshapen timeline of his dream worlds, his queerness, his quotidian desires – durational events of ethnography of self that stands unable to be measured. He lets his diary entries be broken into pieces of intimacies sardonically open. Self-remembering, not looking back. As an extended practice, he collaborates with other artists, like on the film 'Vreća od Papira'(The Paper Bag) directed by Srđan Marković. The film documents a nocturnal action of recreation of the monument of President Tito which had previously been removed from the Užice's main square. The removal of the monument marks a symbolic end of the socialist regime. The paper likeness of the Marshal, Vukadin created, in a staggering 5.2 m sparked critical and media interest questioning the return of the original artwork. He has been exhibiting in group shows and most recently, his works have been shown at Parallel Art fair, 2022 in Vienna where he currently lives and works.
Exhibition: Vukadin Filipović. BIG INKS presented by Les Nouveaux Riches
Exhibition duration: 01.02.2023 – 14.02.2023
On view: Red Carpet Art Award Showroom Schottentor U2 1010 Vienna, Austria
Vukadin Filipović – www.vukadin.net
---
About Les Nouveaux Riches. Since April 2019, the association for contemporary art and culture has been dedicated to offering young, emerging– and already-established artists, gallery owners, and creatives a platform to present themselves to a broad audience. In addition, articles and interviews with national and international artists are continuously published online. Les Nouveaux Riches collaborates also with different actors from the cultural scene – realizing so together events and curated exhibitions.