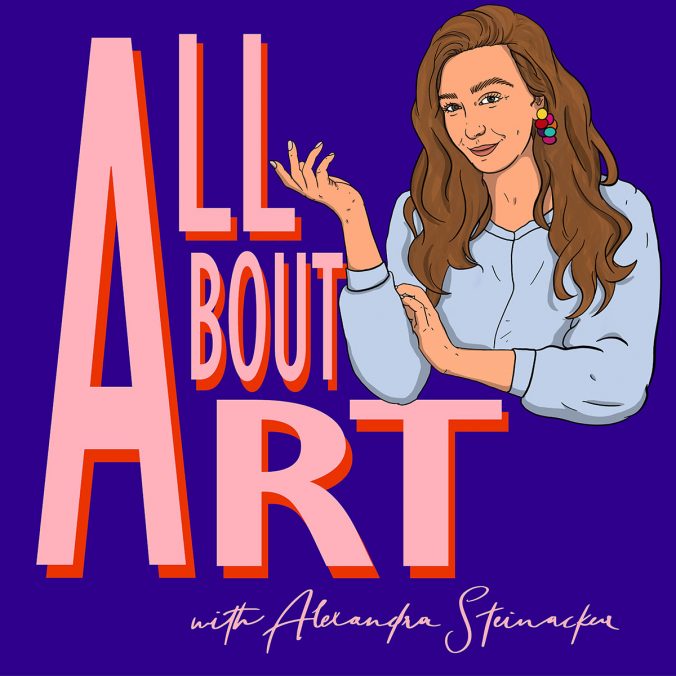 Alexandra's goal is to share her ever-growing passion and knowledge to a wide audience. Whether you are an amateur art lover and want to listen in your leisure time or an art professional who wants to stay up to date, you will discover and learn about the many angles that the art world has to offer though All About Art's varied and captivating episodes.
I think that having a podcast makes it quite easy to access (…) and I feel like I have a lot to say. I enjoy having discussions because I feel like talking about it is how we figure things out for ourselves and also how we critically develop general discussions. I really do hope that what I talk about will resonate with you and with others, because I know that sometimes, especially in the arts, things can be a little bit more difficult to articulate and are strongly connected to emotion. – Episode 1: First Episode of All About Art
The themes talked about in the podcast are extremely versatile with the aim of covering the art world from a variety of angles to allow for a broader understanding of what it's like. The vision for the podcast is to encourage people to dip a toe into the arts by providing episodes that explain different facets of the sector such as the definition of curating or what it's like to get an education in art history. Simultaneously, the episodes are aimed at art professionals through topics such as art news monthly recaps or discussions about gallery management. The vast variety of artsy topics cater to both an audience that is well-versed in all things art, as well as those who wish to gain further insights.
Alexandra is interested in the gap between what we often categorize as "high art" and "low art", and in a way, wishes to begin to close this gap through the All About Art project. She is open to collaboration and wants to provide a fun and engaging platform for artists and other art professionals to exchange ideas and ignite conversations. If you are interested in a collaboration with Alexandra, please feel free to email her at alexandra.steinacker.clark@gmail.com
All About Art: A Podcast with Alexandra Steinacker – anchor.fm/allaboutartpodcast
Alexandra Steinacker Clark – www.instagram.com/alexandrasteinacker/