Which situations and people have shaped you?
I conider myself a self-taught artist, I started drawing at a very young age, I must have been 4 or 5 years old. It's something I've always loved. Shy by nature, especially when I was younger, I had difficulty expressing myself. It was hard for me to say what I was feeling. To learn more about my days, my mom would often tell me: "Since you don't want to talk, draw me something to tell me about your day". It was really with her that I got used to drawing to learn how to reveal myself.
In 2016, I went to meet Les Ateliers Sahm, a contemporary art center in Brazzaville. This is where I first met 'real' artists. By walking alongside them, I learned how to organize an exhibition, how to do scenography or how to actually get into the art market. Being in contact with these artists really boosted and encouraged me to make it my job.
Where does your inspiration come from?
I am inspired by a lot of things that I don't necessarily choose. It could be someone I meet in the street without necessarily knowing them, an event I attend, a book, a music … There is nothing predefined. I am mainly inspired by what surrounds me. I like to photograph nature: tree bark, stones, cement. All these cliches allow me to find the textures to incorporate into a work. It is a real work of research which comes well before the idea of the painting and which is obviously the basis of my work.
What would you like to change in the world?
If I had to change anything in the world it would be suffering in all its forms. Suffering is the common denominator of living beings and it is because of it that I paint. The day when I no longer feel any pain, I will finally stop painting.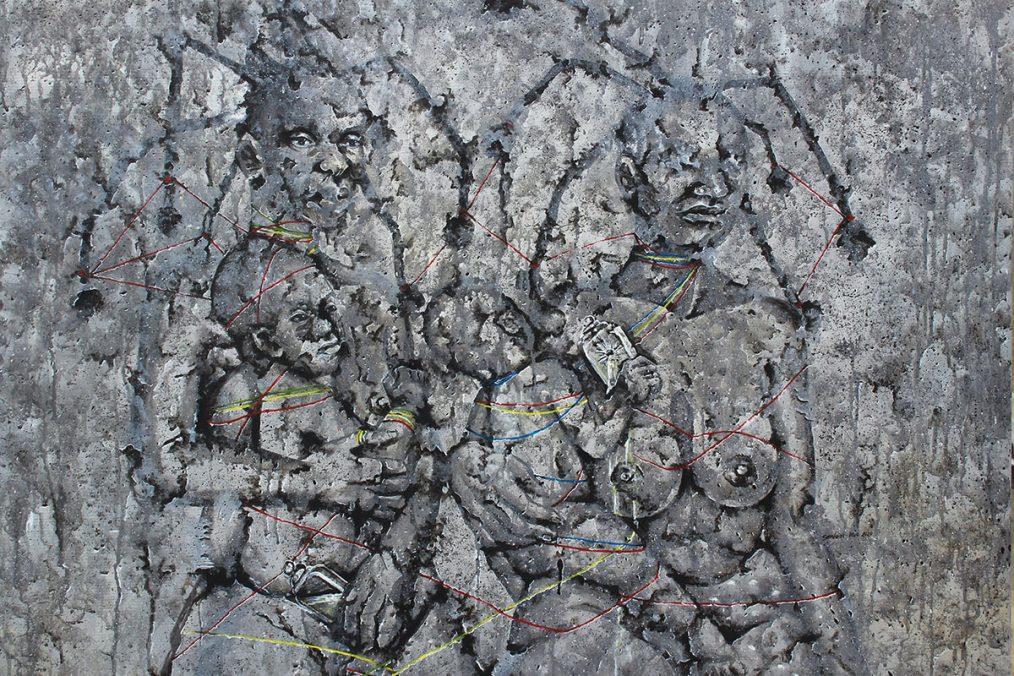 Do you have a message that comes across in your work?
The message is different in each work. It is often said that an artist's work reflects his personality or his background. When I paint, I feel the urge to get rid of something. Often frustration, anger or sadness and it's really unconsciously that this is reflected in my works. At the end of my creation, I am satisfied and feel much better. Works of art are rarely born out of good emotions. Painting is for me a way of expressing myself that frees me from a lot of things. When I am in the process of creation, I focus on being able to bring out what is deepest in me. It's also a matter of taste. I am rather discreet. I like sober colors, a little metallic colors and I think it's just my way of expressing what is beautiful.
What are your hobbies? How do you spend your weekends?
I am really rigorous with my working hours, I must have at least 8 hours a day to work on a project, even on weekends. I spend the rest of my time reading, playing the piano or by the sea. I really don't have time for much fun but since my job doesn't feel like a chore I love it very much.
What are you working on now?
I am currently working on "the language of birds". It is a literary concept which consists in giving a double meaning to words by writing or sound games and I am inspired by it to paint. I find this very interesting because the theme offers endless possibilities depending on the language in which I work, French, English, Lingala or Kikongo. I'm working on making it into a painting exhibition in August of this year. Current project on KissKissBankBank: Soutenez le travail d'une artiste
Sardoine Mia – www.sardoinemia.com