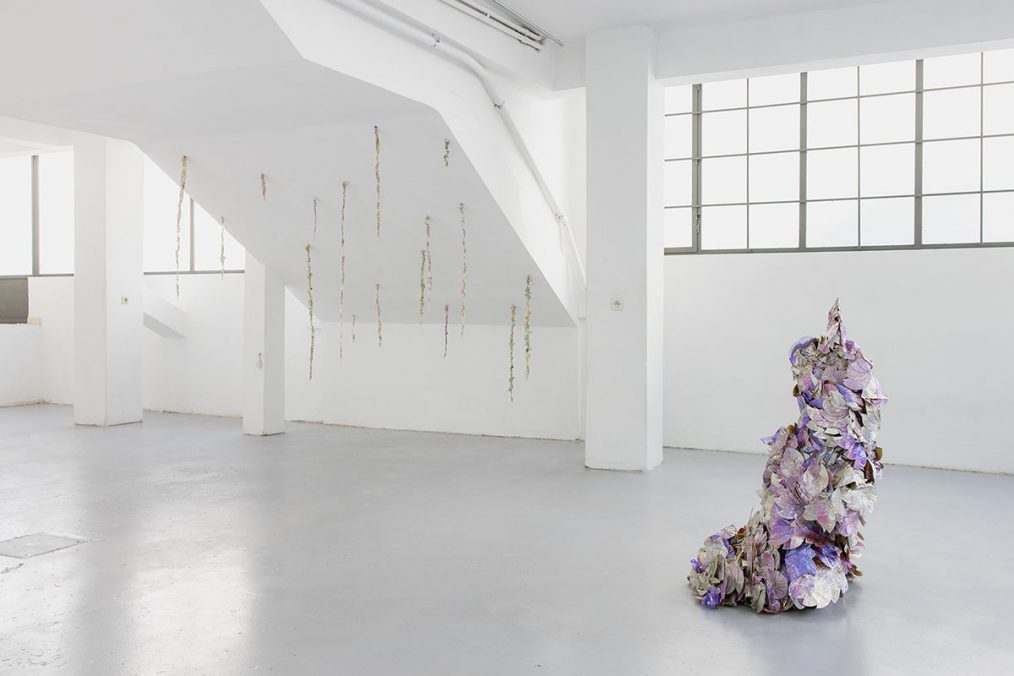 The artist intervenes in her materials in a way that is contrary to their customary use, turning the fragments of these traditional means of digital data recording into organic forms. The exhibition space of CLOSING SOON is inhabited by natural elements and absurd animal figures, composing a dreamy, yet nightmarish landscape.
Through the deliberate destruction of material, Eleanna Balesi becomes able to continue her research on the narrative possibilities of wear and tear.
The title Chapped lips, refers to this experiential process, in which the material and the body of the artist are subjected to conditions of extreme heat and dehydration. The exhibition serves as a reflection on memory, its documentation and reproduction. The exhibited works offer a critique of human memories, time, and wear, juxtaposed with the materiality of the objects.
Eleanna Balesi (b. 1993, Athens) lives and works in Athens, Greece. She holds a BFA from the Department of Fine Arts and Art Sciences of the University of Ioannina (2016) and an MFA from the School of Fine Arts in Athens (2018). She is the co-founder and co-curator of the artist- run project space Backspace, Athens.
Her work has been shown in numerous exhibitions in Greece and abroad, such as: What is Real?, The Real House, New York (2021), Art Athina: CHEAPART, Zappeion Megaron, Athens (2019), ΗΛΕΚΤΡΙΣ | How to think like a mountain, Samothrace (2019), Open Studio (Documenta 14 – Educational Program), School of Fine Arts, Athens (2017), Artists in Athens-City of Crisis, Rosa Luxemburg Institute, Berlin (2017), Artists in Athens-City of Crisis, Michael Cacoyannis Foundation, Athens (2017), Powerfool, Flat 1 (Offspaces International Research Program), Vienna (2016), Effective Spaces (Inspire Festival), Macedonian Museum of Contemporary Art, Thessaloniki (2014).
CLOSING SOON is a contemporary art exhibition space dedicated to minimum production. It hosts exhibitions that attempt to highlight the poetic dynamics of abstraction, transformation and displacement, encouraging proposals in which the focus is on the gesture rather than the object. CLOSING SOON is open to approaches that treat the exhibition space as a field of experimentation and the artworks as notes of a broader research. The team of CLOSING SOON consists of Despina Krey, Marianna Stefanitsi and Orestis Mavroudis.
Exhibition duration: 10.06.2021 – 17.06.2021, 18:00–21:00
Address and contact:
CLOSING SOON
Egiidon 31, 118 53 Athens
info@closingsoon.gr
www.closingsoon.gr