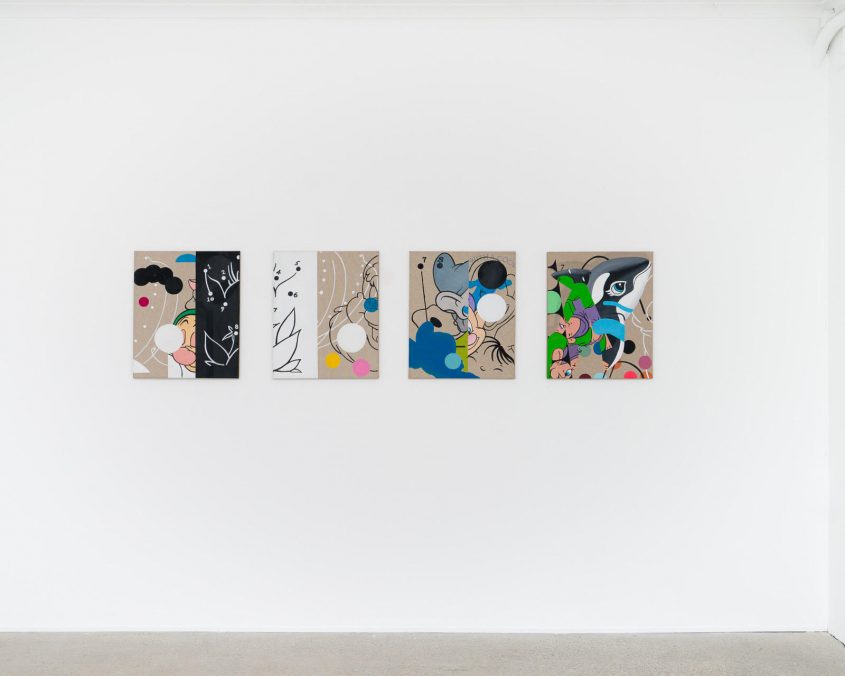 Through his work in various media, such as sculpture, painting and installation, David Rosado investigates the norms of identity and culture in modern society. The artist struggles with bits and pieces of today's life, painting childhood paradoxes and subliminal overlays in the created environments. This juxtaposition of materials and contexts that David Rosado addresses, reinforces contemporary issues of social stratification, a thoughtful and direct way of making us travel to a remote time where everything was simpler.
What's your background?
I've always been very creative and started by expressing myself in the music world, where I spent almost 2 decades between garages, vans and all kinds of stages. While in music I conveyed my inner chaos, in graphic arts I structured my mind through graphics and colors that I applied to everything I built, both in design and in the visual arts. These strands were reconciled, on the cd covers and all the merch of the bands where he went, since the money was not abundant. Incredibly, my university period was a rollercoaster of emotions that went from total hatred for the paradigm of the art world and moments of some pleasure, when I was faced with an increase in creative possibilities.
Nothing I've been told about being an artist is actually the truth of being one. What is certain is that life itself took charge of taking me to the artistic path, where I truly feel at home.
Where do you find ideas for your work?
I find my ideas in everything that surrounds me, sometimes I try to adapt them to my language and concept and from there go on new paths. It's not easy in this information bubble that we're subject to today, to get clarity to choose these paths and see these openings in the composition I'm looking for. I think the tireless effort to get the perfect screen or the perfect image is unnecessary, it doesn't exist, because in my process, I'm constantly researching new approaches and trying to take advantage of the consistency and workload in favor of the acquired error.
Once again, routine and persistence play a key role in my choices. I believe in repetition and discipline, error, has if it were a component of a machine, so routine and repetition become something that I give a lot of importance to and are essential for my life and art. As an example the movie: The Horse of Turin by Béla Tarr and Ágnes Hranitzky.
Can you tell us more about the process of making your work?
Layer after layer, a whole truth is exposed in the transitional space between "doing" and the way of looking at painting, transposing concepts such as "handcrafted" pictorial work and a luxury object. My process goes through a simple studio work approach, where the images I collect are random, used in a pre-defined plan. It is not always easy to follow this plan, as the "mistake, error" can give me different readings from what I had previously planned to do. Things end up happening spontaneously, but not everything is obvious and easy, even if the images have a playful and light component, there is a whole structure and ideological follow-up that I try to convey in the messages of my work. Of course, it's enough to paint something that has a cartoon to be understood as less important or of slight understanding, but for me these are all visions fixed on the influences of contemporary art from the 70s. Today everything has evolved so that I can see these elements as notes where I can identify various patterns, readings and even behaviors from our past – present as an analysis.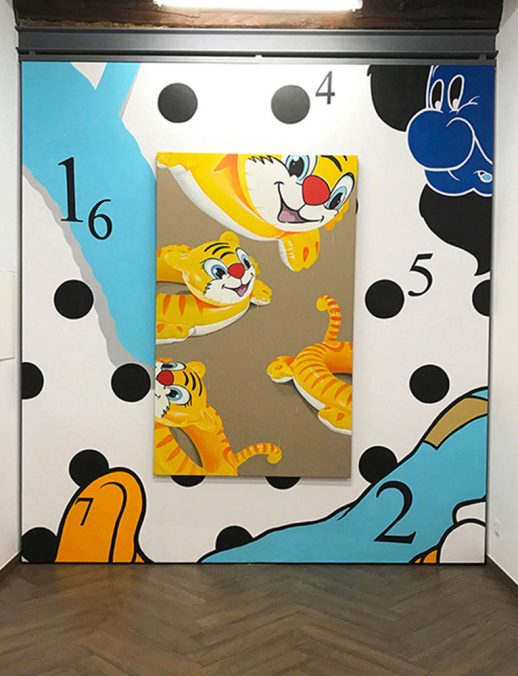 What is your daily routine when working?
I start my day at 7:00am and walk my dog (Ginguba) through the streets of Lisbon, then I go to my 1:30h kickbox class, with the Champion Diogo Neves at the Kolmachine academy. I use this to clear my head and clear my demons, then head to the studio, where I start to study the ideas I reviewed the night before. I work until 18h pm as if it were a normal job. At night, I structure all the ideas I want to explore, I eat dinner and watch an alien movie to distract myself.
This sequence of procedures, from everyday habits, makes me feel a certain stimulus that, in practice, lead me to new discoveries in painting.
What is the most challenging aspect of being an artist?
The romantic answer will be the search for inspiration and daily motivation to create new things. The real answer will be to pay the bills every month, living off art. This paradox is normal in any artist's life. Balance the art world with daily obligations.
But as my mother says: "I don't understand any of this" just keep rolling the dice!!!
What are you working on now?
Through the erasure and overlay, in a renewed and attentive look to the urban street culture, I seek in this medium to reaffirm my own space, continuing the line I propose myself daily.
I'm working on several exhibitions: September 9th to October 30th at Xavier Fiol Projectos gallery in Madrid and in November i have a solo exhibition at Inartwetrust gallery in Paris.
David Rosado – www.instagram.com/davidrosado655/