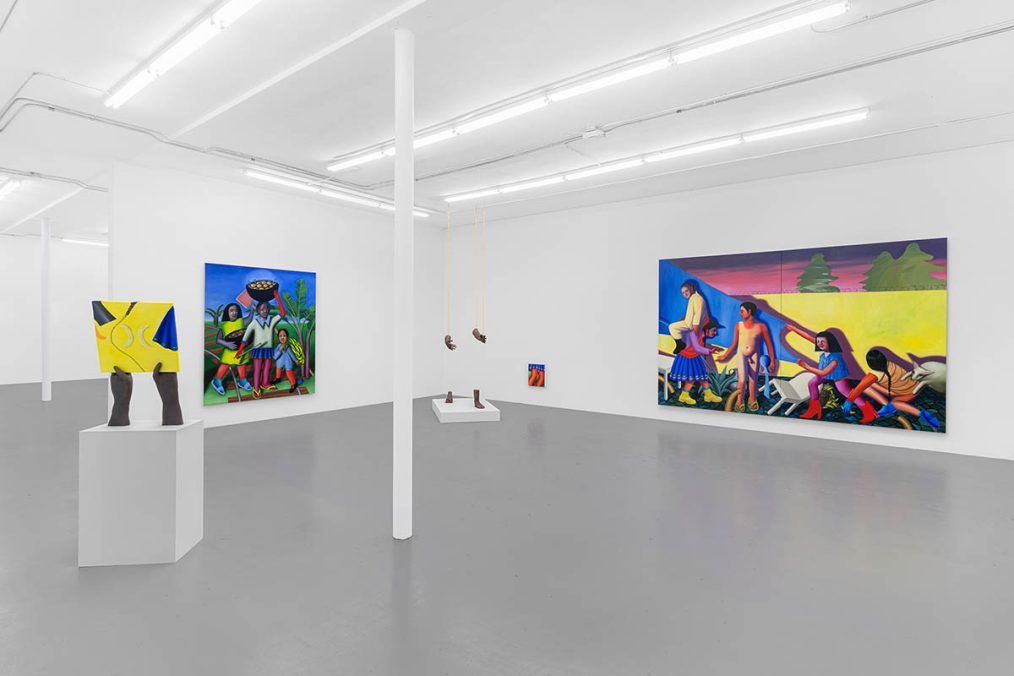 Her work has been featured on Dissonance – Platform Germany (DCV Books), 100 Painters of Tomorrow (Thames & Hudson), Elephant Magazine, Something Curated and Le Quotidien de L'Art, among many others. She recently exhibited at the Museum of Contemporary Art in Santiago, Kunsthalle Darmstadt, 68 Projects in Berlin and The RYDER Projects in Madrid.
Where were you born and where did you study?
I was born in 1989 in Portugal from a Peruvian mother and a Chilean father and I grew up moving between Chile, Perú and Ecuador. I studied fine arts at the Universidad de Chile in Santiago and some days after my final exhibition there I jumped into an airplane and came to Germany to study at the Art Academy in Leipzig. This was already almost 10 years ago! It's crazy how quick time passes. Now I have a teaching position at the Art Academy in Leipzig and I have been teaching painting to the students of the second year for the last couple of years. I love that job and learn a lot from the younger generations.
What inspires you?
So many different things: artworks by other strong artists from the present and the past, literature, history (even though that depresses me as well!), feminist theories and perspectives that look at our hegemonic discourses with a critical eye, music from popular to opera, good conversations, dance, trips, new experiences and life. I know it sounds like a lot, but the more I experience, see, heard and learn the more interesting I think my work gets. I think artists should fight against the contemporary tendencies of extreme specialisation and try to keep an eye open in other directions. Nowadays the goal of so many institutions is to form professionals that often master such a specific type of knowledge.
I think this, taken to some extremes, can be very dangerous. Please don't misunderstand me; I think specialisation is very important in our world in order to discover many things and even sometimes save lives and I'm also convinced that artists should deeply and seriously focus on specific problems of their art. Without that there's no chance of creating any strong image. But I also think that artists that only stay inside of their studios and are not open to look with curiosity for different sources of inspiration are not going to be able to create anything meaningful or powerful in the end.
What are the themes of your work?
I'm very interested in studying how throughout history images have captured and reinforced certain problematic structures from our society. There are so many violent aspects of our world that are naturalized and I think it's a big challenge to try to somehow dismantle them. The big question is how you can do that through the language of images! One needs to study the history of art from different perspectives and engage with composition, colour, light, form and material in order to create a work that is very dense and that contains something from the past but looked at from a critical contemporary perspective. This is so hard to do respecting the mysterious space that every work of art opens and without getting too literal!
I'm always fighting to find a form in which the viewers feel confronted and uncomfortable, but at the same time find a sort of consolation and hope in the pieces. I think the works need to be open and versatile enough to move between these two extremes.
What techniques do you use to express yourself?
Even though in the last years I have been exploring other media, I would say I am mainly a painter; that's the language I know the best, because I have been intensely painting for the last 14 years and it's through my painter-eye that I look and expand towards other media. In fact, in the recent years I have been experimenting with sculpture and installations and now, every time I have a show, I see it as a possibility of conquering the exhibition's room and creating an expanded form of painting. I imagine the space as a possibility for the viewers to not only observe the paintings from the outside, but to enter inside of another world. I really want to get better at doing this and get more radical about creating an immersive experience. I'm working hard on the centripetal force of my art and I hope that at some point I will be able to capture the viewers in a magnetic space and make them stop, observe and experience something they had never felt before. I feel the urge of getting more and more radical in my motives and aesthetics. Life is too short to make conservative boring art.
How do you create your paintings?
I often get ideas from books and I normally start with some concepts or intentions in mind, but without having a clear idea of the composition. This is so, because for me it's important that the struggle of the process and construction of the image is visible in the final work. I always enjoy the pieces where several layers of corrections and reformulations are visible and the different moments of the process remain stuck to the canvas.
What are you most concerned about right now; what's on your mind?
I think I'm in an intensive process of decolonizing my own head and relearning history, which is hard, scary and fascinating all at the same time. I'm extremely privileged to be able to live from my art in Germany and I feel very thankful about this, but at the same time it's stunning how much of a bubble our reality here is. To be honest I'm very mad at how some perverse leaders of our society are destroying every form of life in this planet that doesn't generate "profit" or fit within the violent monetized non-logical logic of the market. I feel I need to do something, move, denounce, act and at the same time I spend most of my time working alone in the studio. That's such a difficult contraction to come to terms with. To somehow be able to say something that is strong through the art, one needs to spend lots of hours alone fighting in a room. That struggle accompanies me every day in the studio.
What are you working on?
I'm working on a series of works for shows coming up in Berlin, Shanghai, Bogotá, New York and Madrid. I'm so excited and feel very grateful to have the chance to share my work with different people around the world.
Ivana de Vivanco – www.ivanadevivanco.com