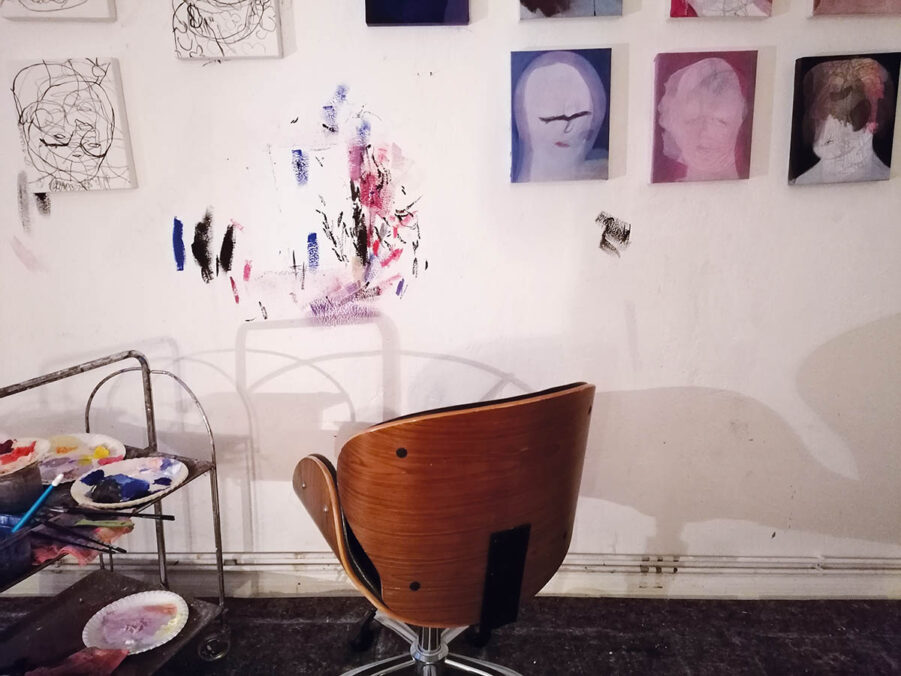 Erka Shalari: At the time I first approached you, you were living in NYC for a while. So I had to wait a bit for this interview. What was your time there like? What vibes did the city give you?
Angela Mathis: I was totally overwhelmed by the city, in New York I had this incredible source of inspiration. Having an environment and a society around me that inspires me is the drive I need for myself and my paintings. I suddenly had so much energy that I felt like a hyper Duracell bunny (Energizer Bunny). I walked between 15 and 20 kilometres every day through New York, the Hamptons and New Jersey. It was amazing!
Recently you have been working with a volume by Charles Baudelaires. Can you tell me something about it?
Last year I started to employ the poems "The Flowers of Evil" by Charles Baudelaire because I ́ve been doing works about the human psyche very intensively for a long time. My childhood was marked by physical -, mental and sexual violence. For this reason, I developed a survival strategy very early, to get out of this "reasonably unscathed", I took refuge in art. In "Les Fleurs du mal" Baudelaires brings his observations on a society of marginal existences and elevates ugliness to an aesthetic category (he wonders what the aesthetics of evil is). Charles Baudelaire always seems torn between the predominantly ugly and morbid and the light and goodness and the dark and evil. That's the same way I do it.

I try to paint my portraits in a state between life and death. When I was eight years old, I had a near-death experience. I was in a dialogue with life and death, between light and darkness. But the light in this case was death. Death emerged as something warm, alluring, with lots of light. Life disappeared into the darkness but then convinced me with the argument that sooner or later I would find my way back to death anyway but with the experience of having lived.
So this means that reading this volume has also evoked factual and sad things from your own past? Has art managed to heal or soften these bitter chapters?
Yes. I put everything I am at that point of time into my portraits and I think, yes, that helps to heal. But I'm already further along and I appreciate it very much having a large pot of material that I can use artistically.
How have the years in the class of Peter Doig, at the academy been? What have been the most important lessons of this class?
I came to Peter's class after my first professor Prof. Jörg Immendorff passed away in 2007. There were no "lessons" in either Immendorff's class or Peter Doig's class, but when we had colloquium, we talked a lot, it was very intensive and I learned a lot from both strong personalities, not only artistically but also as human beings.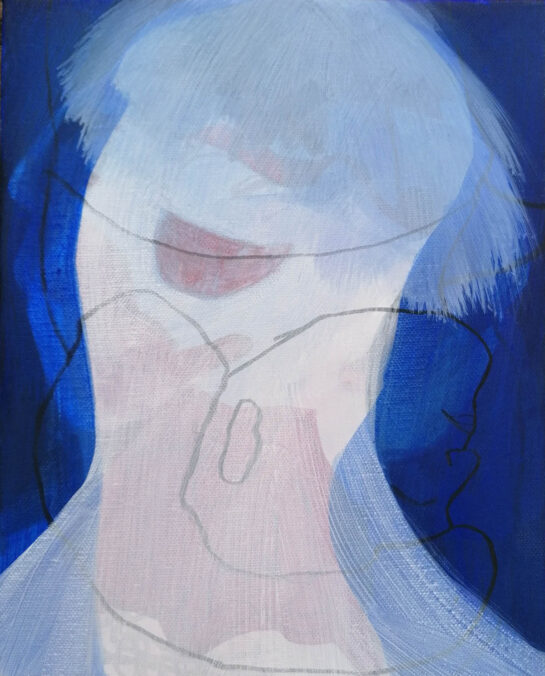 You were born in Switzerland, Chur. I'm curious of how this place is? Would you mind taking us on a mental trip there?
Chur is in Graubünden where have lived and worked with some very important artists like Alberto Giacometti, Giovanni Segantini, Angelika Kaufmann and also Ernst Ludwig Kirchner. Near Chur in Haldenstein still lives the architect Peter Zumthor who was my neighbour at that time.


Further east lies Davos, the place where Thomas Mann was inspired to write the novel "The Magic Mountain". Davos is close to Küblis, where my father originally came from. I used to go there a lot when my grandparents were alive.
It was a very big, old house where they lived. The house was situated in a spacious meadow on the edge of a small mountain village. There, one could live outside, and do what one wanted: take a bath in the well, catch grasshoppers, run behind the deer that just "broke into" my grandma's garden, or I helped my grandpa in the Apiarium. In Graubünden (Grischun) were the unconscious beginnings of my artistic involvement. I liked it there. Everything there usually looks very romantic and idyllic, but the people who live there are very withdrawn.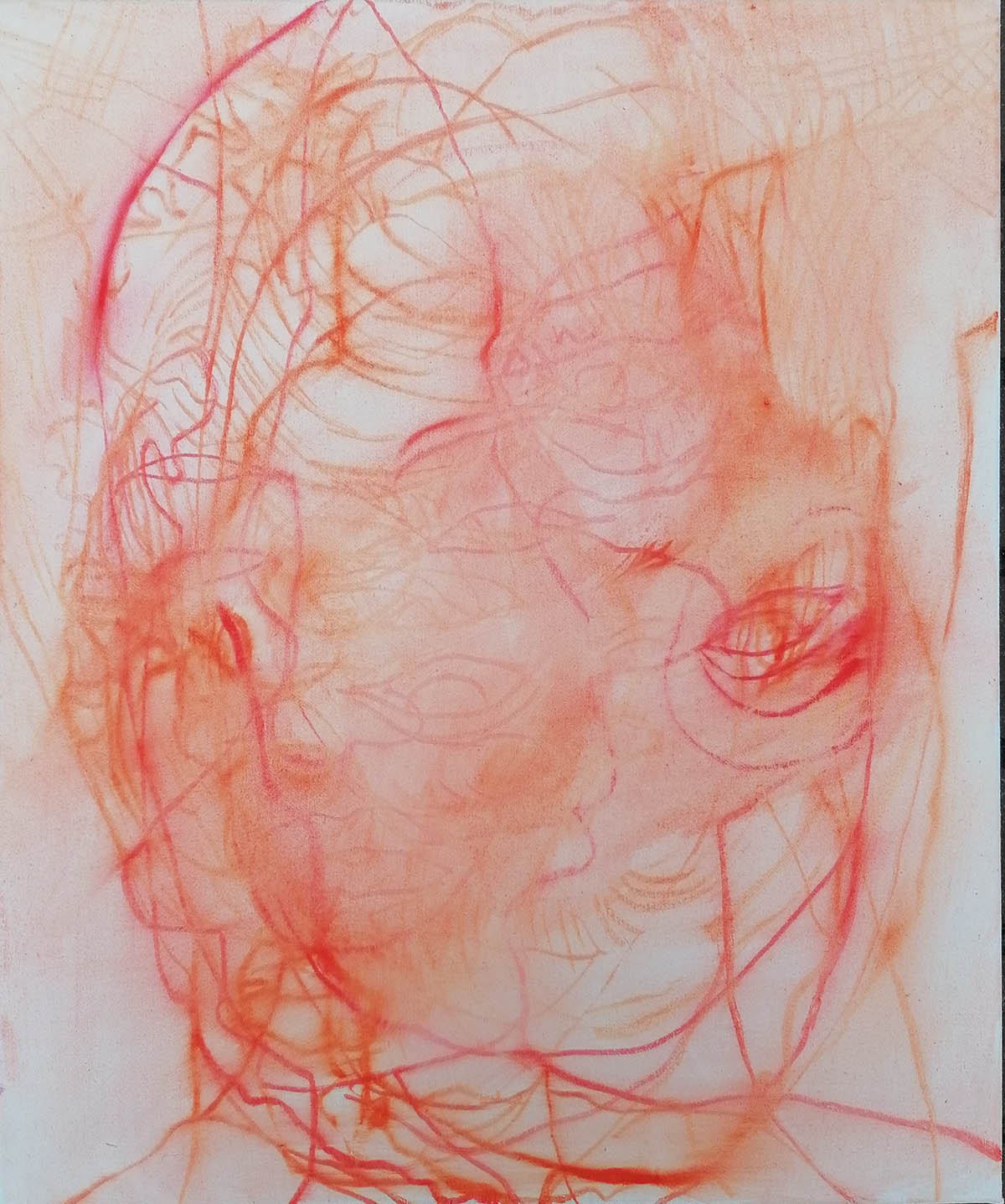 How do your works emerge, which are the first steps, how long you work on one work, and when do you consider a painting done?
I stop painting when it feels alive, as though the painting is still going on. My works are like characters in my life; they have a personality just as real as characters in a novel (RON GORCHOV). The pictures are ready if they have enough resilience to be able to exist without me.
Do you ever work with models?
Never. The portraits should remain neutral and just anyone random I mix things, feelings and facial expressions from different collected images or ideas together. First of all, I have a very precise drawing idea of what position the portrait must take. When I ́ve worked out this position, the picture takes on a life of its own in a painterly way. Sometimes it goes in a completely different direction that can happen. I don't have complete control over it, and that's a good thing. I never want to get the feeling that I can plan a picture.
Never. The portraits should remain neutral and just anyone random I mix things, feelings and facial expressions from different collected images or ideas together.
I would like to ask you of how the titles of your works emerge. When do you leave something without a title?
In the past, my works were created much more involuntarily than today. For about three or four years, I work mainly in series. So now, normally there isn't a picture without a title anymore, normally.
Thinking of your portraits, I have the feeling that when you paint, you are able to show also things that are in general not so visible such as nerves, veins. How can you see, imagine these?
I paint labyrinthine veins and aders of a person's psychical life. I always try to imagine how it would look if a pathologist would try to locate a soul when he opens a body. Unfortunately, you can't trace a soul to a material. I`ve read that a personality of a person can be read very roughly from the internal organs, through certain changes that the pathologist can find. Art is a way for me to understand the outside world and myself in it.
Angela Mathis – www.instagram.com/angelamathis9837/
---
Angela Mathis (*1985, Chur) lives and works in Berlin, Germany. She studied at the Lucerne University of Art and Design (CH), at the Kunstakademie Düsseldorf in the class of Prof. Jörg Immendorff and Prof. Peter Doig and for two month she studied also in Havanna at the Instituto Superior de Arte, Cuba. In 2010 she became a master student of Prof. Peter Doig. Her works are part of public collections such as Rosette Delug Collection, Los Angeles (US), Rihs Collection, Gargas (Coquillade Village), France. In 2020 her work was nominated for the STRABAG Kunstpreis International, Vienna (A).

Erka Shalari (*1988, Tirana, Albania) is a Vienna-based art author & curator. She studied Occupational Psychology at Tirana State University; Culture Management at MDW, Institute for Culture Management, Vienna and Curatorial Studies at Node Center Berlin. She focuses on discovering unique artistic positions, unconventional exhibition spaces, and galleries that have deliberately broken new ground in their working methods. Editor at Les Nouveaux Riches Magazine since 2020 – https://linktr.ee/erkashalari