"My work is about Time, Movement, Ephemerality and the ineffectual try to capture the moment for the eternity. I don ́t document classically through realistic photography, drawings or cartographic records, but rather transfer found objects and traces of the past into an abstract artwork employing a uniquely developed technique." How challenging was it to write this artist statement of yours?
What my work is about and what I want to express, I know of course, but it's true, it's not so easy to summarize that then in concise words. In the end, it's easier for me and probably for most artists to say this through painting and not in words. Otherwise I would have become a writer.
When entering your website, I was caught and mesmerized by the video that you have incorporated. I wonder what the fragment is about and if you can elucidate a bit on this decision?
This clip is quite deliberately chosen. It shows me walking in New York and already reflects an attitude towards life and art, like setting out, starting again and again and not knowing how things will turn out. The clip is an excerpt of a long route that Willem de Kooning used to walk to his studio on 22 Street in the mid 1930s. Documented in writing by Edwin Denby. I walked all these paths, quasi in his footsteps, followed by my camera team.
Many artists, but also theoreticians, writers, have been thematizing the importance and role of the artist's studio. What is a studio for you, and what processes happen within these walls?
In my opinion an artist studio is the visible extension of your personality. It allows a glimpse into the artist's soul. It ́s a free space, no judgment, to fail is allowed and there are no limits and I like doing something that didn ́t have rules. I am very interested in where the art was created. We know the works, for example, of Barnett Newman but not under what conditions and with what materials he created them. That's why I do so much research on former artists' studios.
Do you know what happened to your former studios, and do you still have belongings from these places, referring to the 525 Greenwich Street or the one at Hudson/Vandam Street?
These two studios were in SoHo. One was on the ground floor and has given way to a huge showroom, but the massive interior pillars and the large window jambs are still there. The other is now part of a suite on the 3rd floor of a luxury hotel after a complete interior renovation. Since I always moved with my work furniture, they are now in my Munich studio.
So, you enjoy to return to places that belong to your past?
Yes, and I like to do it a lot. I started years ago to revisit the same places after years, to compare and to work there. A game with time, which becomes a timeline through my work.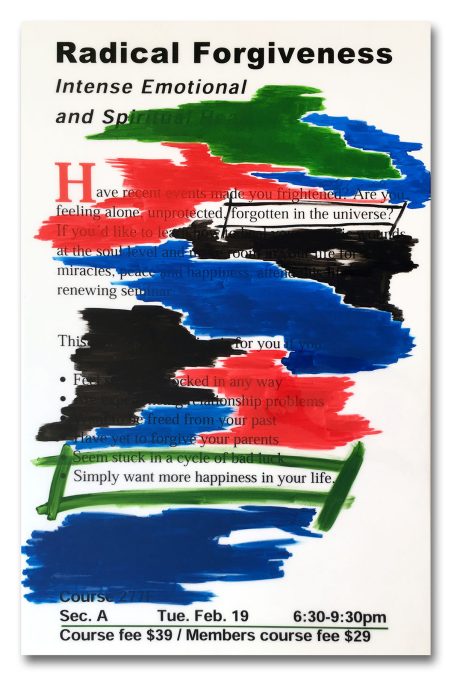 Since 2005 your Streetprints are a registered trademark. How did this practice evolve?
I've always been fascinated by the idea of being able to freeze a moment. Like pressing the pause button on TV and seeing the freeze frame. This single image is the frozen now and there is always a story before and a story after. And this view feeds into the way I see the world – in individual fragments. And to transfer this on canvas, I experimented for a long time to develop my own technique. I made my first Streetprint in 2000 and it has become an ongoing lifelong project. Parallel to this, other series of works are created, which all revolve around the same theme.
The term investigative art is used when describing your work, how did this evolve?
I would have made a good detective or forensic scientist. That's probably because of my law studies. My art is based on research and investigation. I want to show situations, events, scenes through a different medium, in an indirect view.
Do you have a strict working routine?
I try to go to the studio every day. Actually, there is no routine, except that I don't have a PC in the studio, it's at home in the office. Put on work clothes, just walk around the studio and look at the pictures I've started. Then it starts. I've gotten out of the habit of storing gummy bears or open coffee in the studio. For that I quickly go around the corner to the kiosk.
What works have you and Gallery Britta Rettberg decided to show in this edition of SPARK?
In Vienna we show a selection of works from the new series of "Public Paintings". For the Public Paintings I use advertising flyers from a school of evening classes that I collected in New York in 2001. I transfers these to canvas and deconstructs the text by hiding certain words with camouflage-like overpaintings and highlighting others as catchwords. The urge for self-improvement revealed in the messages of these course offerings is more present than ever, especially in social media. A critical-ironic and humorous attitude towards the promises of these evening courses. In the glossy image surface, the viewer reflects and recognizes himself in the mirror.
How do you Caro Jost deal with uncertainties (difficulties of planning and traveling, pandemic, war…). I was watching in Instagram for example a sentence/reaction that you have been writing on a piece of paper:
WHAT TO PAINT,
WHEN YOU HAVE NO WORDS
YOU ARE SPEECHLESS
& then the colors of Ukraine.
I do this quietly. It is a fine line, because you should not use the crises as a vehicle for self-promotion. You can bring your opinion, solidarity and support also outside of your art. I think self-reflection of one's own actions is especially important here. Do not use crises for your own benefit. It is so indescribably terrible what happens in the Ukraine that you can't put it into words and I can't put it into a painting either.
Caro Jost – www.carojost.com
---
About the Interviewer: Erka Shalari (*1988, Tirana) is a Vienna-based art author. She focuses on discovering unique artistic positions, unconventional exhibition spaces, and galleries that have deliberately broken new ground in their working methods. In this regard, she relies on unorthodox publishing practices, coupling these with a nonchalant manner of writing. The work oscillates between articles for magazines, exhibition texts and press releases.