How did it happen that you started to create art?
The answer is very clear. My Grandfather had secretly hidden many books for some reason. Surprisingly, they were not destroyed during those special times in China (e.g. during the Cultural Revolution). Among those books, there were many biographies of Western literary figures and artists. There were also a few catalogues of western artists, which would have been incredible to anyone in the circumstances of my childhood. In a very barren childhood, these books gave me the most intense pleasure. At a time when I couldn't read, I looked at the pictures in those catalogues over and over again. When I was able to read a little, I read the biographies of these artists and it was as if I had a childhood as exotic and rich as theirs. It was also at that time, when I was in the first and second grades in school, that I made a very clear decision to become an artist.
Which topics do you deal with in art?
Life and dreams. Dreams are in fact the secret of life for me.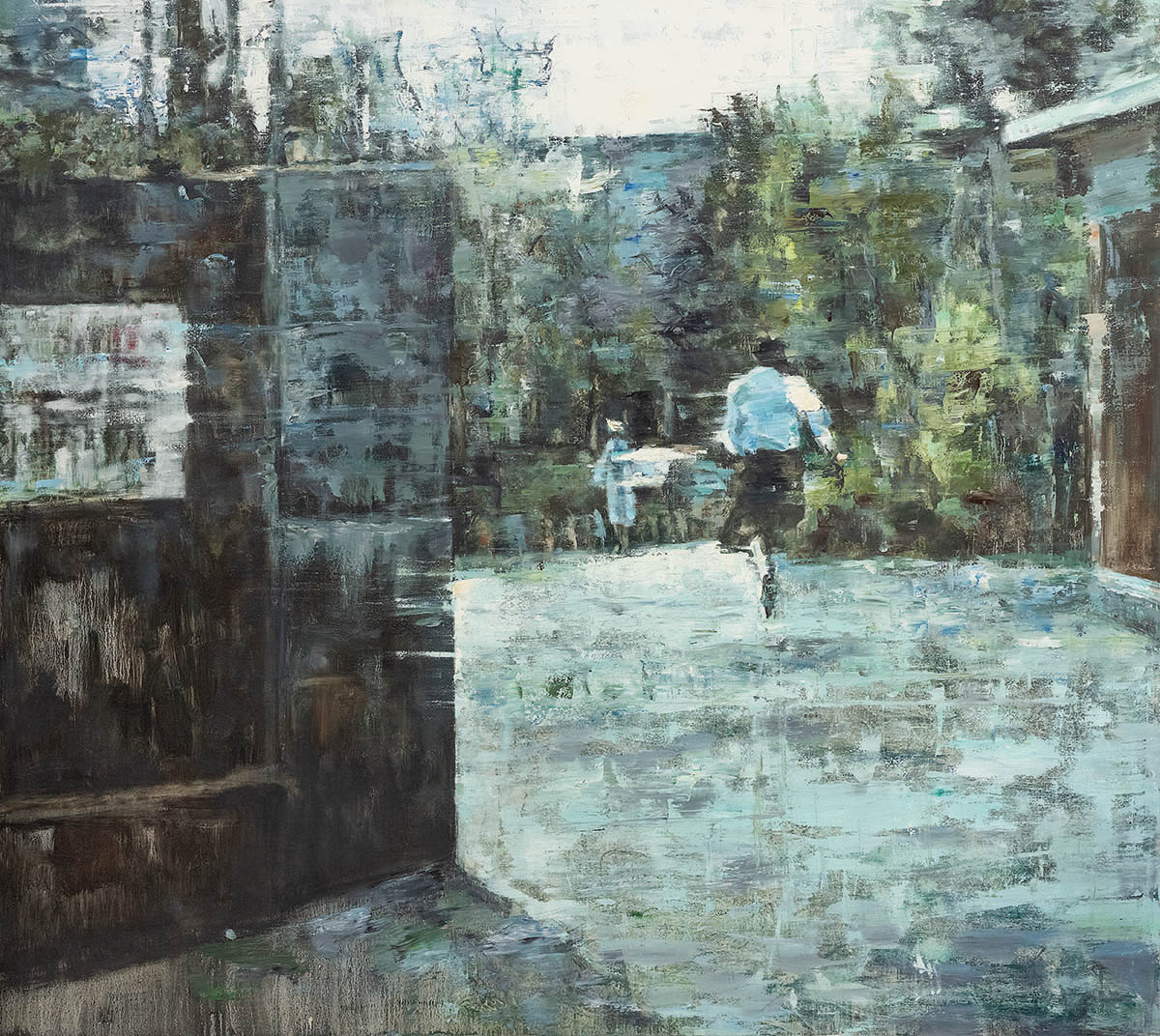 Describe the process of painting. What thoughts go through your mind?
The impulse pulled me forward. An idea pops up out of nowhere and torments me like a bug, making me restless. These fleeting and exciting ideas form the impulse that leads me to create. So, I can't stop. This is the joy and why I paint and create. There are many intrusions of helpless ideas. Often in the middle of a work, another idea comes along. So, for many years I have not been able to have a period of time to stop creating. Even today I am exhausted, but I still can't stop, and I enjoy it. I feel like I'm recording life. I am afraid that the secrets of life would suddenly disappear.
What techniques do you use?
My techniques are very diverse. The forms include painting, writing, video, mixed medium, and so on. Depending on the idea, I will choose a certain medium and technique to achieve it. If there is nothing appropriate, I will work out one on my own. I choose the most adaptable way. So, I separate the various types of creation. The expression depends on what language I am using. I don't want everything to be taken up in the way of painting. Painting does not achieve everything, at least for me.
I always said that if God allows a person to be crazy, then that privilege is meant for the artist, and I want to enjoy that privilege.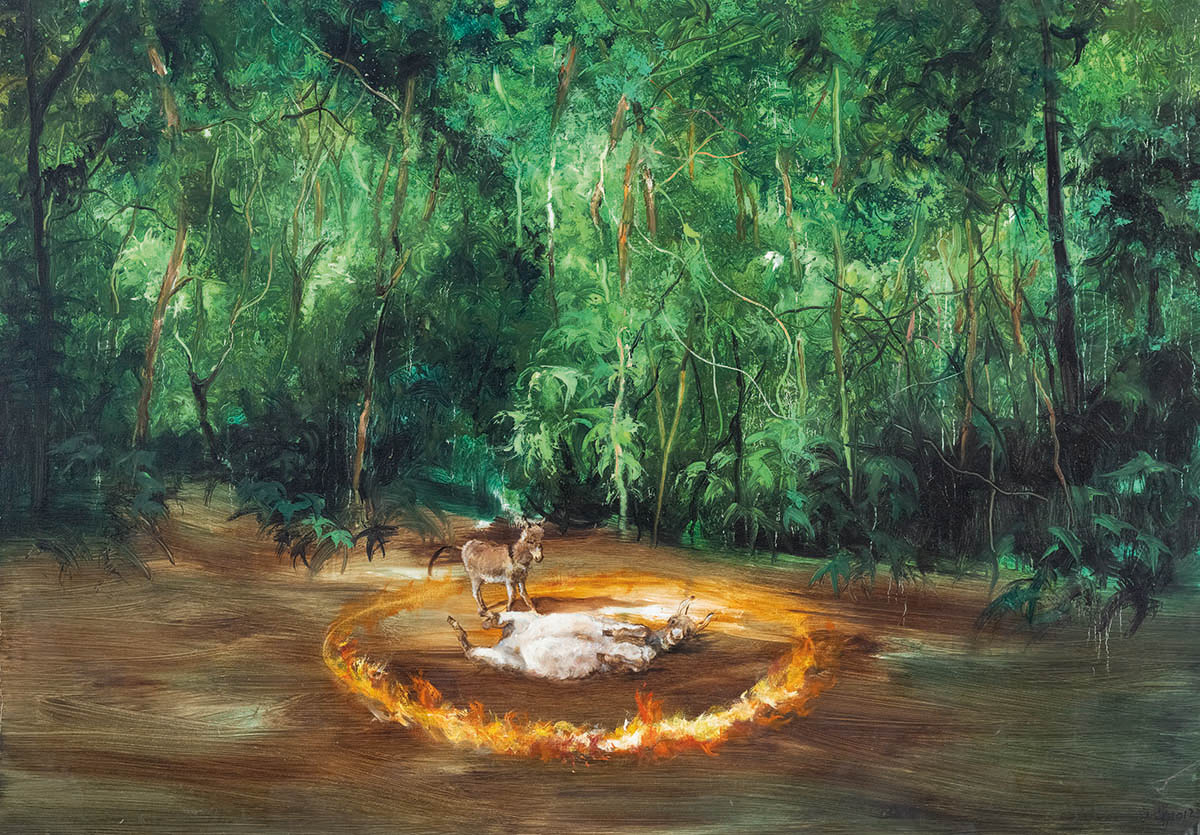 Which role does research play in your process?
I am a very sensitive person. In these times of rapid change, coupled with the fact that the environment I work in is always on the move and every day your surroundings are constantly hitting you with a mix of flavours, I don't even need to do dedicated research.
What is your most important task as an artist?
I do my best to record the unusual times in a very good and accurate way.
In the past, you have made animated films. Are films still a relevant medium for you? Are you currently working on any?
At that time, the film was my medium of creation. It has a more flexible, stronger, and direct approach than painting. To me, it is a powerful way for describing this complicated time.
What does your studio look like? Can you please describe it briefly for the reader?
For practical reasons, my studio has been relocating. Now I have several different studios, for example in Beijing and Shanghai. A European studio is also in the pipeline. They are all quite big studios which would take me quite some time to manage. My large-scale projects are also not in fixed locations. The frequent implementation in different territories has been a characteristic of my creative work over the past few years. I have worked in cities, deserts, and the Gobi, in countries with different backgrounds, across geographies, and across cultures. Working in different places has given me a very interesting experience.
What does the title of the exhibition "Her Body doesn't fit her Soul" at Loft8 Gallery in Vienna refer to?
"Her Body Doesn't fit her Soul" represents a kind of helplessness. It can also be understood as a status and a strategy for people's survival.
Is there anything else you would like to share with the reader?
Because my work is so varied, I certainly have a lot to share. But I can't share it all in a few words, so I hope I can still deliver it to you through my work. If I have an opportunity in future to have an interview face to face, I could be a pretty good narrator.
What do you expect from 2023?
Peace and health.
Upcoming exhibition in Vienna: Zhang Wenrong. Her Body doesn't fit her Soul curated by Alexandra Grimmer
Opening: Thursday February 2, 6-9pm
Finissage: Friday February 24, 2023, 6pm & Presentation of newly released catalogues by Huang Min and Ma Jun Exhibition time: February 2–25, 2023, Tuesday-Friday 1-6pm, Saturday 11am-3pm
Address and contact: Loft8 Gallery, Radetzkystr. 4, 1030 Vienna
Zhang Wenrong – www.instagram.com/zhangwenrongstudio/
---
Blue Mountain Contemporary Art (BMCA) is a collection of contemporary Chinese art based in Vienna. Since its foundation in 2013, the BMCA defines itself as part of China's dynamic art scene, maintains close contact with its artists and focuses on works that critically engage with their time and surroundings. The aim is not to witness passing trends but to acquire and cultivate unique works with a long-term impact. Since the BMCA Collection moved its headquarters from Beijing to Europe, the focus has been on making its works visible in international projects. The continuous presence of current Chinese contemporary art in an international context is as important as "Capturing the Moment in China", which has been BMCA's credo since the beginning. BMCA works on its mission to shift the perception of China's emerging artists as strong international positions, and no longer as Chinese phenomena, as defined in the years of China's first generation of contemporary artists. Numerous exhibition projects at various venues in China, Israel and Vienna preceded over the past nine years and form the basis of the BMCA Collection, which also sees itself as a project platform. In addition to exhibitions, artist residencies and collaborations between Chinese and European artists, the realisation of exhibition catalogues and artists' books is a further focus. With this multi-layered approach, the BMCA Collection aims to raise awareness of excellent artistic positions and strengthen their perception both in Europe and in China. www.bmca.art