Les Nouveaux Riches presents exactly this private insight into the life of the Viennese artist Thomas Waidhofer. In his installation STRAPPED, the artist shows a conventional bookshelf that has been stretched into a steel frame by means of tensioning straps. The shelf, which appears to be floating, is decoupled from the outside world and protected as a kind of fragile commodity. The content is understood to be biographical; various formative stages of life and accompanying reading have been arranged in what is perceived as a typical style for a shelf.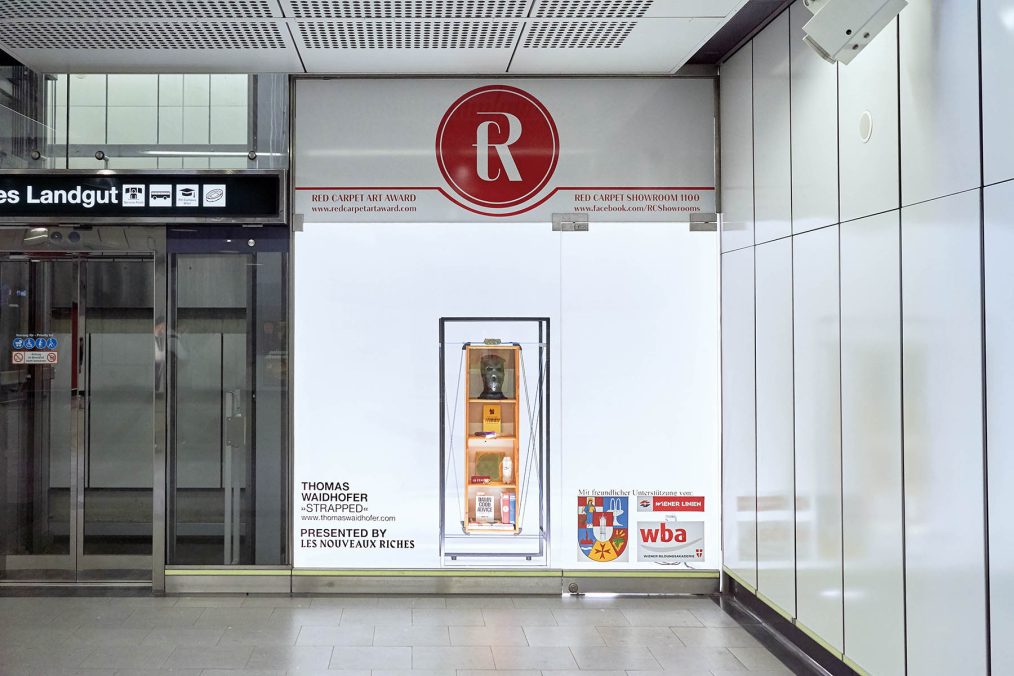 Thomas Waidhofer, born in 1988, is a Viennese artist and designer. After his apprenticeship as a high voltage electrician, he studied digital art at the University of Applied Arts. During his study it became apparent that his work was more about artistic design than digital values. Since 2015 Waidhofer works on objects, spaces and installations, always trying to give narratives to conventional furnishings. In some cases, old furniture and lamps serve as a medium, while new objects are often constructed using all the tools of technology and craftsmanship. His results range from minimalism to the extraordinary, which is mainly determined by the mix of different styles, processing possibilities and materials. He likes to describe his work with two simple words – beauties & beasts.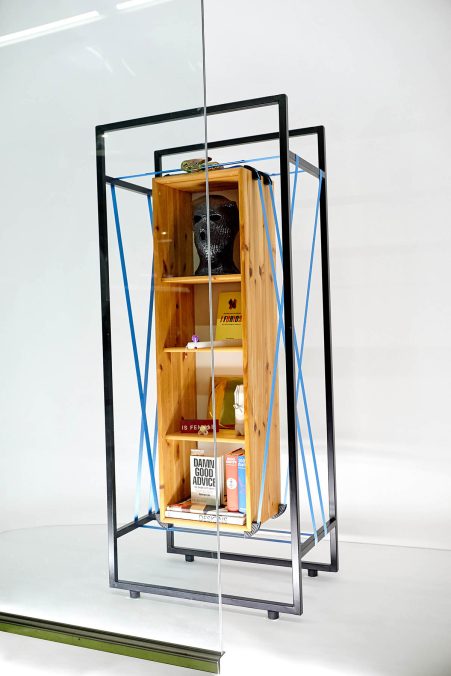 About Les Nouveaux Riches. Since April 2019, the association for contemporary art and culture has been dedicated to offering to young, emerging– and already established artists, gallery owners, and creatives a platform to present themselves to a broad audience. In addition, articles and interviews with national and international artists are continuously published online. Les Nouveaux Riches collaborates also with different actors from the cultural scene – realizing so together events and curated exhibitions.
Exhibition: Thomas Waidhofer – STRAPPED
Exhibition duration: 30.03.2022 – 29.04.2022
On view: Red Carpet Art Award Showroom Altes Landgut (U1, Exit Altes Landgut – right next to the elevator). More Informations: www.redcarpetartaward.com
Thomas Waidhofer – www.thomaswaidhofer.com