Trying to understand her work, I ended up coming across movies she has used – Eye in the Labyrinth (A woman searches for her missing lover, a psychiatrist who has suddenly disappeared for no apparent reason. She ends up in a mansion inhabited by a group of eccentrics. Immediately a series of murders begins), or The Appointment (Lawyer Federico Fendi has reason to believe that his wife Carla is secretly the best-paid prostitute in Rome), or The Peach Thief (The wife of a Bulgarian army officer falls in love with a Serbian prisoner at the end of World War I). This synopsis make me think. Beside video, Nassia Kalamakis is working with ceramics.
How do you reinterpret existing footage? Have you watched all these films?
Some I have properly watched, while most I scroll through rapidly on mute, looking for a gesture or micro-circumstance that resonates – the way you highlight passages from a book, which I do excessively. I used to collect magazine pages as a child, and spent a lot of time sequencing and re-sequencing them on the floor. It was soothing somehow to collect images, pair them down and re-order them until the selection felt settled and contained. I did this for many years and ended up editing photographic archives professionally for many more. It's a very similar instinct, to select content and move it around.
How do you select the music? How do you link the footage to the particular soundtrack?
My first video experiment began after hearing Spem in alium by Thomas Tallis for the first time. My best friend shared a recording, and it changed my life. Music does that, often. I had videotaped short clips of films off my TV screen some time prior, and editing became a way of combining music I wanted to listen to twelve thousand times alongside moving visuals I could watch just as often. It's continued on as is though in the last two years I have been exploring more intentional relationships between the two, more experimental in terms of narrative structure.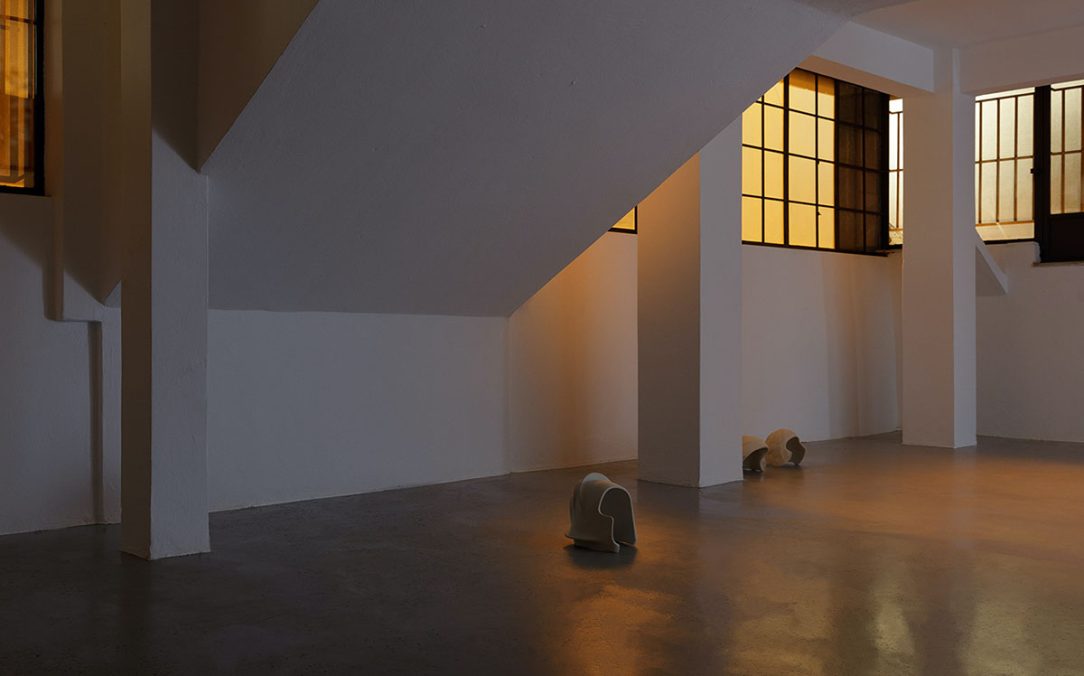 What do the women depicted in your videos have in common?
How would you portray them in words and are there any biographical elements in your work? I find them all to be very curious and (emotionally) adventurous, both doubtful and dynamic in their own right. A bit clumsy as well. And yes, there are biographical elements throughout, some expressed literally as well as through analogy and metaphor which I find to be just as direct. And yet every element including the gestures and expressions, the backgrounds, the frame, the pace and repetition, even the resolution needs to feel true and kind and necessary (to quote the many who have shared this wisdom) to remain. Anything too sharp or specific or charged is set aside in favor of a more humbled approach. It's important for me that the sequence maintains a harmonious neutrality between frames, like an extended, steady awareness where equanimity prevails throughout.
Can you elucidate a bit of what happens while you work with video? And what happens when you work with ceramics? How did the latter emerge?
My creative instinct prior was to edit something into existence. Editing is generative, yes, and though my work is hyper edited and incredibly precise, experimental video is a wild, wild kingdom without rules or time or consequence, no right or wrong or good or bad. It's a transient space where everything is true and everything is possible. When the sequence begins to ground itself, it's euphoric, but editing from scratch can feel a bit flighty at times. Whereas ceramics is so physical and messy and earth-bound which I love, so malleable and forgiving until it's not. At some point it belongs to itself, and to gravity and temperature and time, etc. It's direct and definitive, very cause and affect, and indifferent to your intentions. If you build it correctly, it will stand. If you build it incorrectly, it will be troublesome in some way. I find the material to be very quiet and stoic even, very honest in that regard.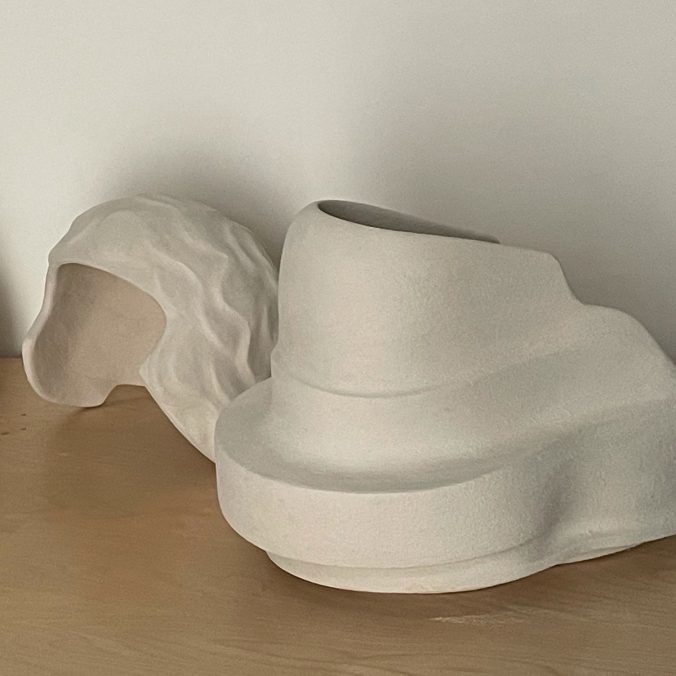 What are you working currently on?
Most recently I completed works for an exhibition at Closing Soon here in Athens, titled Three Speeds. It includes a selection of clay helmets titled "Thought Forms", representing materialized ways of thinking that were positioned on the exhibition floor, and "Thief" – a film in triptych format that explores the subjective nature of righteousness, presented on mute for the occasion of the exhibition.
This is so striking: "Color battles, charged diptychs and exaggerated visuals produce a fragmented landscape of kinetic meaning, revealing a hurried artist and his colors within an imagined world of aggressive inspiration and creative ambition that appear to trespass upon their own captivity." What are your aggressive inspirations?
Yes! Or rather, it is a text I wrote about an American artist whose work – and self – the accompanying video was based on.
Nassia Kalamakis (1983, New Jersey, USA) lives and works in Athens, Greece. She studied Comparative Literature at Barnard College in New York. Her work has been presented at Closing Soon, Athens (2021), Samos Arts Festival, Samos island (2021), online at Dover Street Market and Dekmantel (2021), Teloglion Fine Arts Foundation, Thessaloniki (2020) and at the Italian Cultural Institute, Athens (2018).
Nassia Kalamakis – www.nassiakalamakis.com
---
About the Interviewer: Erka Shalari (*1988, Tirana) is a Vienna- based art author. She focuses on discovering independent young and emerging artists, unconventional exhibition spaces, and galleries that have deliberately broken new ground in their working methods. In this regard, she relies on unorthodox publishing practices, coupling these with a nonchalant manner of writing. The work oscillates between articles for magazines, exhibition texts and press releases.