Innovation holds the key to developing deeper self-awareness. AETHA was born in 2021 as a continuation of the artistic practice of Christiane Peschek, an artist and researcher dedicated to creating multi-sensory interaction between the human soul and technology. Her practice of 16 years is focused on understanding and achieving a fluid transition between digital and physical surfaces as a method to heal and expand the self in contemporary life. She was soon joined by her Co-Founder and artist Lukas Dworschak, who she has already worked with for nearly two years. Together they have been creating smartphone-based interactive experiences that deal with the body in various extensions.
Rooted in extensive research, observations and lived experience, their joint goal is to make the virtual world we all navigate a warmer, calmer and more inclusive space.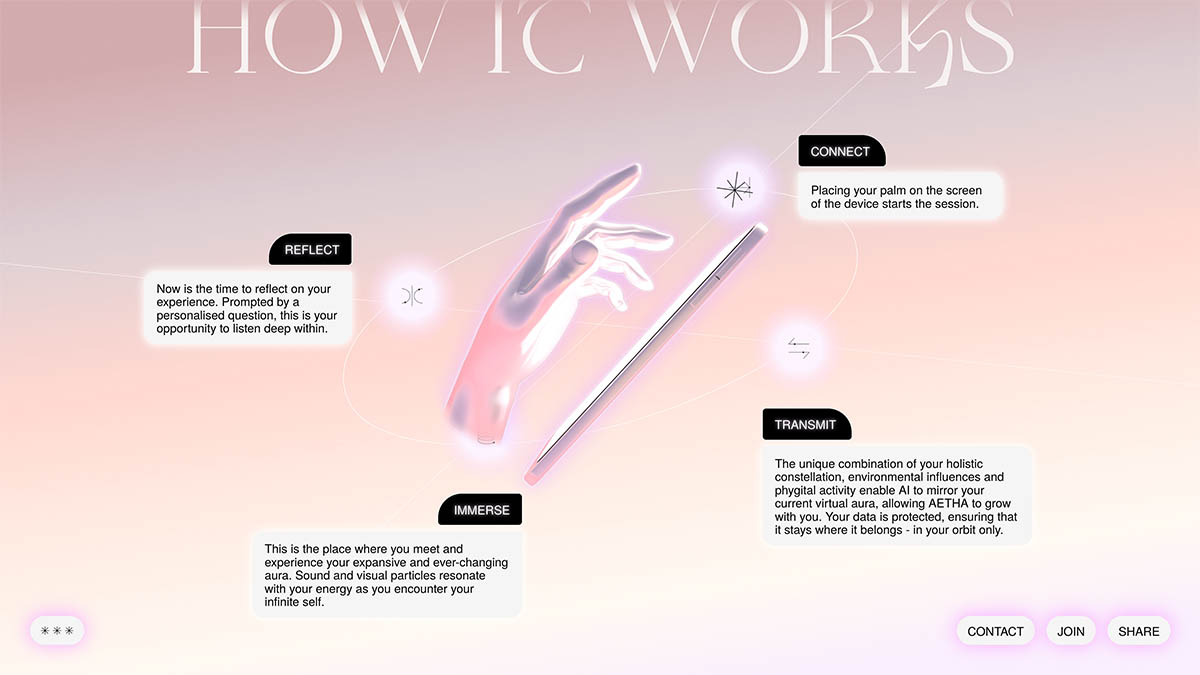 Their unique interdisciplinary team composition of artists, designers and developers is what differentiates AETHA in their field. AETHA's team unites both expertise in boundary-pushing tech and a holistic understanding of conceptual research and design. Next to the successful symbiosis of CEO Christiane Peschek and CTO Lukas Dworschak, who merges the art and tech side of AETHA, they are backed by the artist and sound designer Ernst Lima to create unique, hyper-personalized audiovisual scapes. These invigorating experiences enable users to immerse themselves intensively in AETHA's virtual environment based on their emotions and data. To communicate and bring this new immersed aura experience to life across various platforms, the team sets on the sparkling talent of Art Director and Designer Charlotte Winkler. By exploring the ways in which we can shape and improve the way our physical and digital worlds feel, she aims to create emotionally centered design solutions which enrich the process of creating AETHA. The foundation of AETHA is the belief that the virtual has great potential to be a space for rejuvenation where we can rediscover and reconnect with ourselves in new ways. This vision builds on their established art and design practice, which grapples with ideas of identity in the phygital space and how we can test its technological limits.
Overall, their collective perspective is flipping the script of the virtual wellness industry by offering a hyper-personalized form of retreat to help us encounter ourselves on an intuitive level, making AETHA the virtual oasis we all long for.
After successfully developing the first prototypes of the app, they are confident that this magic of alignment is possible to build for anyone to explore! A huge part of AETHA's mission is to create experiences from the core of their users, allowing them to become an integral part of the process. Now they are moving on to the development of their Beta Application for iOS, coming to a screen near you by the end of this year. Intrigued by AETHA and their mission? You can become part of this venture for a better digital co-reality by supporting AETHA on Kickstarter until the 3rd of June 2022. Become part of the #aethaverse
AETHA – www.aetha.world