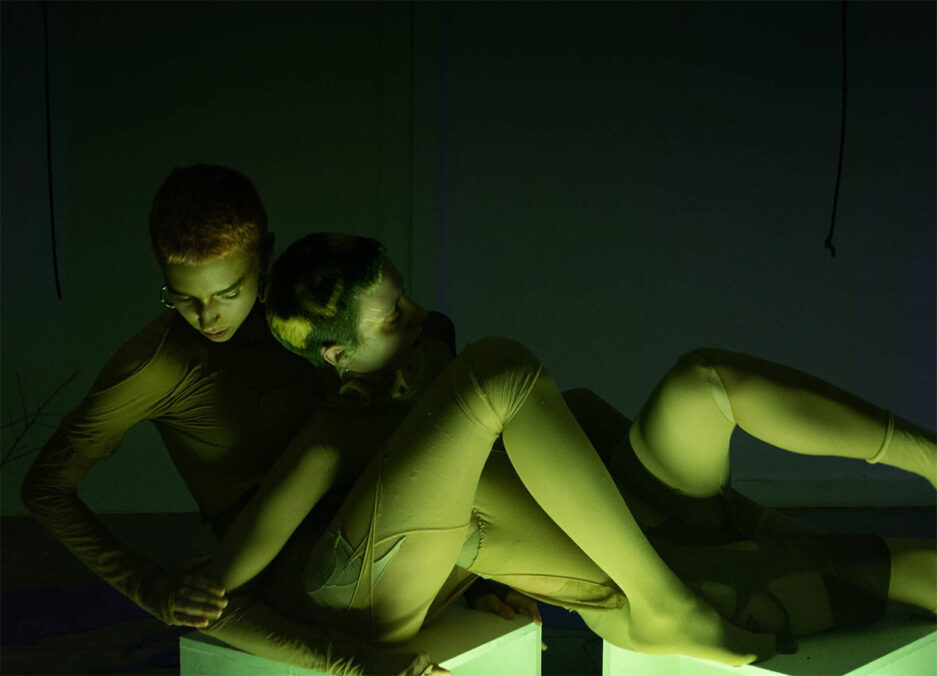 A list of defects and final considerations on the communication strategies and artistic creations of Giulia Querin and Rachele Tinkham (aka Plastikhaare).
1. One
They are a Duo. Banal, but perhaps not obvious. Sure, we could cite many pairs of successful artists as examples (just examples: Elmgreen & Dragset, Fischli & Weiss, Abramović and Ulay, Gilbert & George, Masbedo) but how many times have we seen collaborations that started off great and then, inevitably, ended up melting like snow in the sun as a result of personal individualisms, grudges or couple problems? not to mention the premature departure of one of the two components. Statistically, the duos work little and badly over the long haul. But in this they are strange. They look so much alike mentally, physically, in the way they move, dress, live… It almost seems that, at a certain evolutionary point, there was a sort of cellular mitosis which generated two unique and univocal entities, however divided into two connected bodies.
2. The name.
Plastikhaare: plastic + art… or a play on words between plastic and making (in Italian, it can sound like "making with plastic"). It's a lot of Plastic Ono Band… but those were the 60s.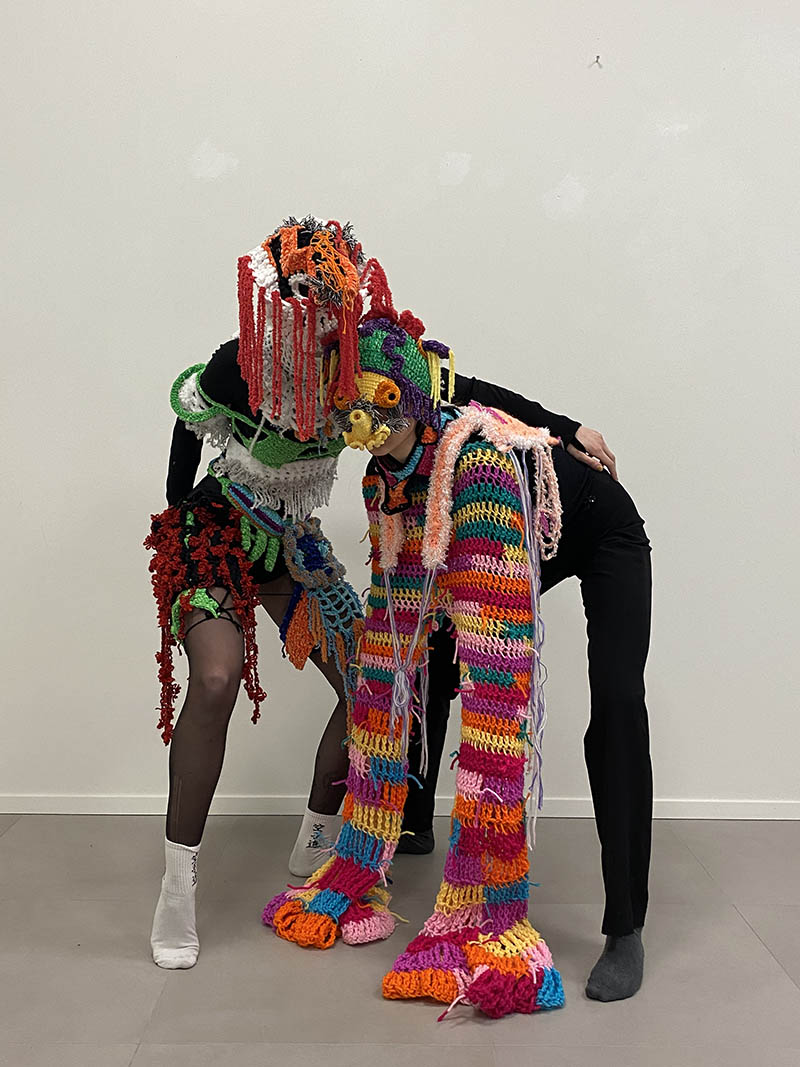 3. Their artistic creation is mestizo and dispersive.
They go from performative work, almost comparable to dance or contemporary theatre, to weaving work with crochet. From photographic and digital processing experiments to stories and content on Instagram. From body art to installation. Painting, canonical sculpture, even confectionary art and fake news. In short, they do a little bit of everything. The thing that leaves me inhibited is that they do it in such an authentic way that I don't find any dispersion of energy, no "diluting" of research into other techniques just to expand the portfolio. Everything is extremely dense and necessary. In reality, they are gears, with different shape and function, essential to make the engine work. This interceding is all so "their" that I can't find another synonym.
4. They have a myriad of Instagram profiles where they do a lot of stuff.
Random: @plastikhaare @sabryeketty @filidicapellidifragola @tinkhamamam @giulia_querin @tatuocchio @lookcloserrr @tinkhama. p.s. while researching for this article I also discovered a new one, which of course, I subscribed right away!
5. Their whole technique is very amateurish.
They produce immediate videos, with low film and framing quality, without directing, and extemporaneous. They rework digital content with elementary software, often amateurish, which does not give the possibility of great visual virtuosity and does not give depth to the image. Their embroidery is extremely patient but not precise, not detailed and the quality of the materials is cheap, often industrial and low-grade. My grandmother would be able to do much better and she would find more suitable fabrics!
Their stage presence is feeble, certainly concrete, but with movements already seen since the days of Marta Graham or Pina Bausch. In Performance, I saw much more interesting things. Their installations are reminiscent of the works of Sarah Lucas or the (again!) duo Christine and Margaret Wertheim, only more provincial and less "refined" in completeness. Certainly naive painting and sculpture in terms of approach and rendering, while in digital content and for instagram… let's say they are nice, they always elicit a smile and keep you on their profile… but after a while you move on to something else and your neurons return to rest. In short, they know how to do many things, all indisputably linked to each other, but they don't excel at anything.
6. So I don't understand.
I don't understand why for more than a year, I've been stuck in their work, almost religiously following everything they do. There must be a logical explanation. Let's go by exclusion: Friendship? Yes of course, a beautiful friendship, but here we are talking about work, not feelings. Of artistic research quality, not of the quality of the person in question. Since we brought them up: Feelings? I exclude feeling sexual attraction towards them, only a deep friendship. Envy? No, we do things that are too different. Our constellations look at each other but do not touch.
Academic interest? Here I didn't even understand what field of study we are in, let alone if there is material for academic research! Boredom? Yes, it's true I get bored easily, but I also have many things to do and then boredom would be the cure, not the bad thing. If it bores you quickly, change content quickly too. Folly? I do not exclude. Generally, those who say they are not crazy are completely crazy. Routine? They post content every day, basically a bulimic creation. The problem is that if I don't see anything new for more than 48 hours, I go myself to see if they've posted anything, in case I missed it.
Conclusion: The work of this duo, of Plastikhaare, is all wrong, all to be redone and rebalanced. But what shocks me is that it works great! Their work is always magnificent (in the sense of the magnificence and wonder it creates) genuine, spontaneous and a perfect expression of creative necessity, yet devoid of that critical, depressive or philosophical vein. It is not empty of content or purpose (it would not be possible) but it is spontaneous in its motion. Pure energy that takes the form that, at the moment, best suits it. The problem then does not lie in the subject of my attention, but in my approach to it: I am atavistic attracted by what I don't understand, by what I don't grasp.
For me, there are two types of works that each of us can come across in an exhibition: Those we understand and those we don't understand. From the first we feel attracted, pampered. They are often superbly enclosed in their own aura that draws us into a crystalline and exhilarating feeling. The greatest works that we encounter in our lives often belong to this category. Then, there are the ones we don't understand. 99.9% of them are reduced to our not understanding simply because there is nothing to understand. They are devoid of all charm, absent of pursuit. Pure banality. Then there is that 0.1% of works. Those we don't understand because we haven't taken that direction yet. The first time a man touched electricity he didn't know what it was, but he knew immediately what it did to him. These works do the same, it's a new road that we still don't conceive, which must engage all our energy and our mind in order to be appreciated, but which we immediately feel is entering us. Often we are the ones who are not ready for it. The artist (or in this case a duo) has already travelled it and is waiting for us at the end. Art has more to do with feeling than with understanding, and these two young girls fully understood (therefore felt) this.
I am convinced that one day I will be able to see something that works in Plastikhaare's work, but in the meantime, I am enjoying the fatigue of this journey, hoping that around the next bend there is not the end but a high steep climb. My values in this magical world are worth nothing, simply because they are superfluous.
---
About: The artistic duo was born in November 2021, from the coexistence in Bologna of the two young artists Giulia Querin and Rachele Tinkham. Both were born in 1997 and completed their studies together since high school, earning a three-year degree at the Academy of Fine Arts in Venice; Giulia in Painting and Rachele in Sculpture. The two young women actively participate in exhibitions, workshops and group projects in and around Venice, immediately engaging in artistic and cultural events. In their journey, they have undertaken numerous journeys together in order to increase their cultural background and structure a common thought on which to work. The two are currently enrolled in the Visual Arts Biennium at the Academy of Fine Arts in Bologna and studied for six months at the Kunstakademie in Muenster, where they were able to experiment with new techniques and new media, deepening the performative and graphic language. Plastikhaare was born as a game. An ironic thought of the two young artists who, attracted by the desire to play with their own identity through the use of wigs, have opened a reflection on the behavior of today's society, a super-fluid, ever-changing society which is losing the naturalness of childish and carefree game. The name of the group was generated by curiosity (Plastikhaare: plastic hair) and by the reference to a fluid, inexpressive material that allows us to change identity at any moment, but it is also a reference to the childish dimension, to the most children's play area – http://www.instagram.com/plastikhaare/
About: Max Mondini (Parma, 1990) is an artist and Art Advisor. He lives and works in Civitella in Val di Chiana (AR). In his work, the work of art becomes an activator, a form of communication that requires a visual approach that is not linked in the first place to a justification of thought. Emptied of any explicit cultural reference, it becomes an object in constant determination. He has collaborated and exhibited in various spaces and institutions such as Palazzo della Triennale (Milan), Museo del Novecento (Milan), Museo Villa Croce (Genoa), Center for Art Contemporary Luigi Pecci Museum (Prato), Manifattura Tabacchi (Florence), Eduardo Secci Gallery (Florence), Monza Biennale, Spazio Volta (Bergamo) Talent Prize (Rome) and Carapelli for Art (Florence) – http://www.maxmondini.weebly.com