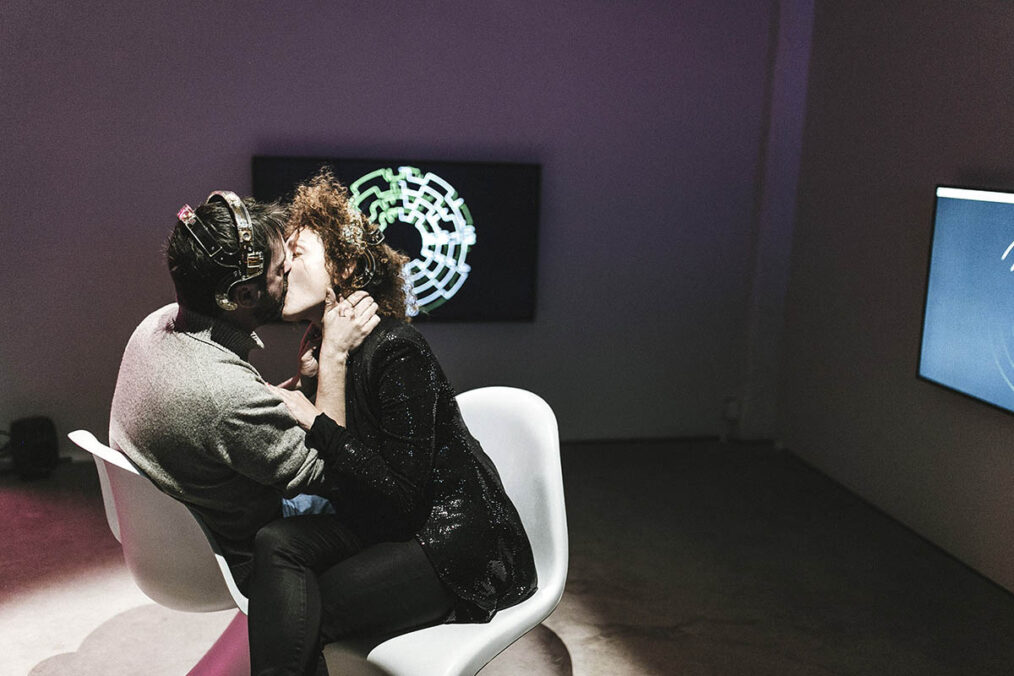 She researches, publishes, scouts (numerous positions also in Instagram), and invites eclectic artists to think individually and collectively about questions like: What does it mean to love in the Internet age? What do new technologies mean for the future of the romantic sphere? How do screens affect our sexual intimacy? In her work, she predominantly works with digital art, a realm which has never been so popularized as today. Peri's exhibitions are strong critical formats embedded in gentle frames with carefully considered lights, cushions, and curtains. A dose of sensuality while experiencing the technological realm. In Interview with Erka Shalari.
Erka Shalari: How important is space, and what kind of spaces/architectures are you drawn to as a curator? How is a museum exhibition, for example, different from that of a gallery?
Valentina Peri: Space is definitely the starting point in the reflection of the narrative given by the path of the works and their fruition. During the ten years that I worked in a contemporary art gallery in Paris, I had the advantage of knowing the space by heart, its merits and its shortcomings, so it was easy to choose where to hang the main work, where to make the public linger longer, or conversely, where I knew they would spend little time.
With museum spaces, as they are different from white cube spaces, you have to have more inventive skills and find ad hoc solutions to be able to highlight the works, but at the same time, create a coherent path with the storytelling of the exhibition. In the last space where I presented Data Dating Desire, being a Baroque-era building, we could not use the walls in any way, because they are historical heritage. It is clear that the solutions we found to present certain works are not the same as in a more conventional space, from the white cube to the warehouse, where you can hang works, panels and whatever else on the wall, as was the case for my previous exhibitions. At the same time, the building was decorated with Baroque frescos with themes related to those of my exhibition (love, communication, and so on), so the works were inscribed in an unprecedented way in the space, rather than in a neutral and almost aseptic space like that of a gallery. The fact that I presented the group show in 6 different spaces gave me the opportunity to really see 6 different exhibitions. Not only because I invite new artists with each edition, but also because the space and the agencement of the works always tell something new with each set up. I really like spaces that have a history, historical buildings or adapted industrial spaces, they are also the most challenging.
But I love finding connections with my curatorial interests, and challenging myself to find new ways to show the works.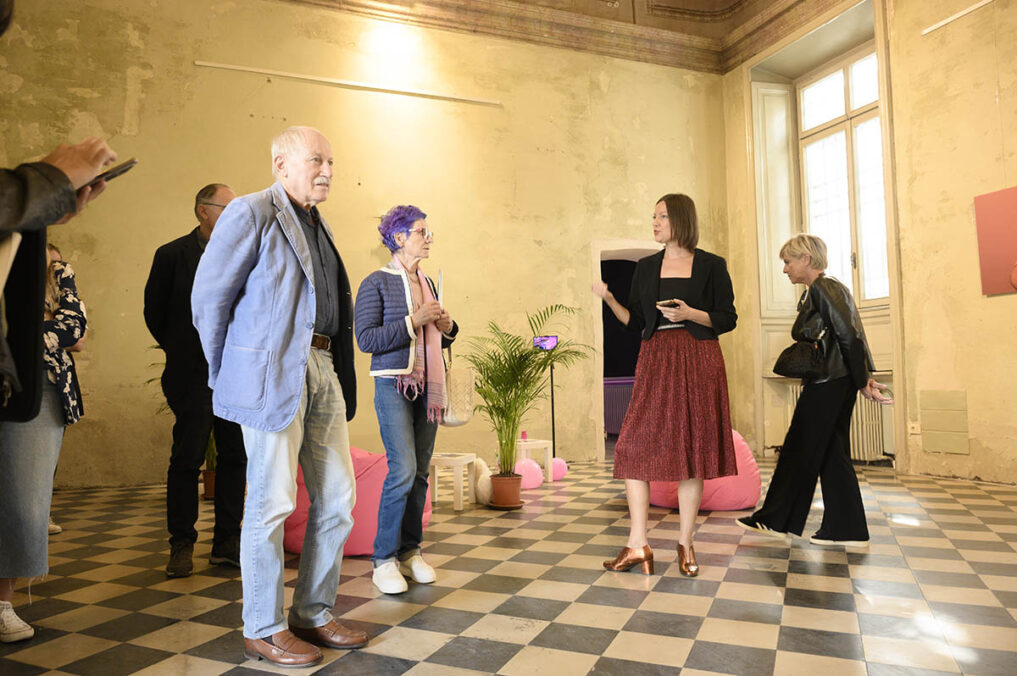 ESH: What matters to you in terms of exhibition display?
VP: One element I pay a lot of attention to in my exhibitions is light. As I deal mainly with digital art, I try to break out of the cliché of the black cube, to create graphically distinct sections in my exhibitions through the use of coloured lights or studied diffusions. I also love smooth, gentle textures that 'soften' the rigidity of the material most present in my exhibitions, which is the screen, in all formats and forms.
I am thinking for example, of curtains, which create not only separate spaces but also more intimate environments, make people cross worlds, or cushions, to allow the audience to see the videos in a comfortable way, spend time in the exhibition, and why not, relax and be inspired by what they see. I like to think that the audience comes out of my exhibitions a little transformed, that they have learned something, that their view of the world has been at least a little enriched, and that they have had a real experience.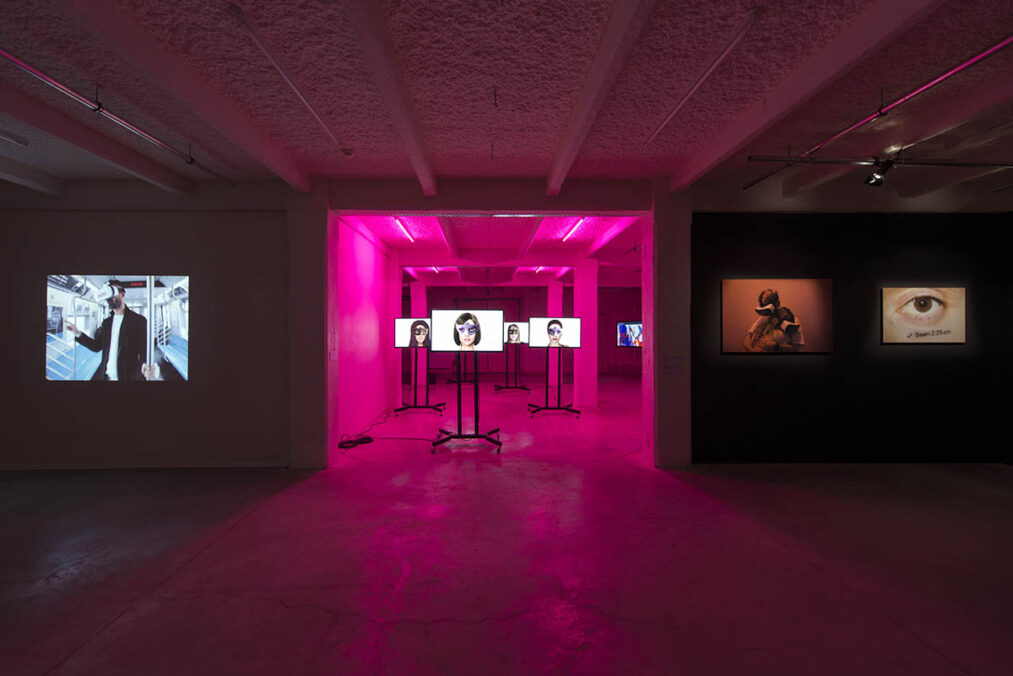 ESH: How do you scout artists working with and within the digital?
VP: My main research tool is the internet and social media. Many of the artists I have presented I have discovered through Instagram. Also, because some have a practice that is really linked to social networks, their practice was born and developed in that realm.
I am thinking for instance of Tom Galle, John Yuyi and Moises Sanabria, who were the kings and queens of viral content around the years 2015-16-17. Or Lordess Foudre, whose work I am currently exhibiting in 'The Museum of Dating' in London. Some of these artists had never or rarely materialized their work outside of social media before my exhibitions.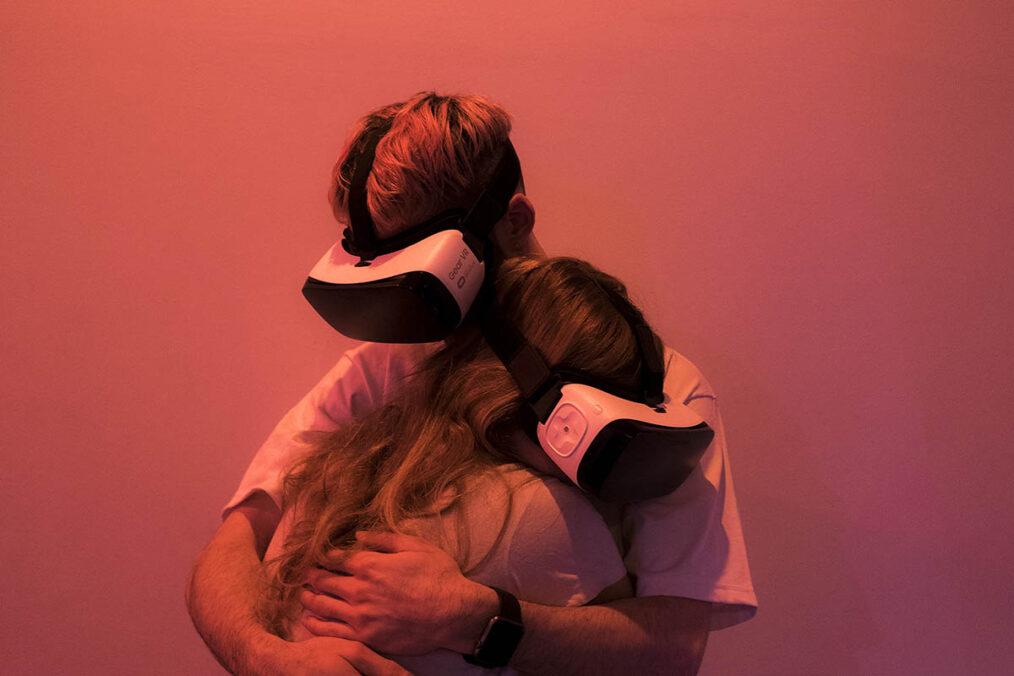 However, I see many exhibitions in different countries during the year because I travel a lot for work, and these trips also give me the opportunity to discover new artists, follow their work, meet them, and sometimes this leads to collaboration. Now that my curatorial interest in the topics of dating and the relationship love-technology is established through exhibitions, books, and public talks, many artists working on the same topics contact me on various channels, from email to social media, to send me their works. Often it is their colleagues/friends who tell me about such and such work. I also often participate in festivals, exhibitions and various events related to digital art or contemporary art such as fairs, I do international residencies, and I keep up to date with what is happening around me.
Sometimes it inspires me and makes me discover things that interest me, sometimes of course not. Ubiquity is one of the key ingredients: to be simultaneously IRL and online. It takes a lot of energy to juggle these roles, to document oneself, and to be always aware of what is happening in the local and international art world. This is a job in which the boundaries between professional and private life are blurred. The advantage is that you work from passion, but this passion is also work. You are on the job 24/7, even when you least expect it. When casually scrolling your Instagram flow, when visiting an exhibition in your spare time, when meeting friends of friends, opportunities arise at all times, new ideas could lie anywhere.
For a one-night event I am organizing in London in April, I launched an open call for the first time. This is also an exceptionally effective way of getting to know new artists related to your practice, but not necessarily belonging to your community. It allows you to open up your boundaries, and make contact with artists you might never have come into contact with. I also discover a lot of artists thanks to SALOON Network (an international network of women identifying art professionals). I co-founded the branch of this network in Paris in 2016. We organize international IRL and online meetings between the members of the 12 cities where the network is installed, and as a board member of one of the antennas, I have access to a huge database of artists.
ESH: The majority of artists have artistic statements. Do curators also have or need such?
VP: Some curators have artistic statements, but most of the time it is not asked, less than to artists for sure. It is more about the biography and your interests as a curator. One open call I applied to asked for a statement, so I started to write one, and I realized how the exercise was not easy! A statement is a description of your artistic vision, of your priorities, favorite medium, the themes of your research and so on, that you try to combine in a coherent description. But it is an exercise I would like to do as soon as I have some time to dedicate to it. When you are in the flux of creation, you can feel a little forced to sit and think of what you do in terms of a coherent system. But I am ready to do it now that I progress in my projects and I am sure and convinced of their coherence, dialogue, links and so on.
ESH: How do your themes in curating unfold Valentina?
VP: I think that a curator is a person firmly rooted in their time, one who has the power to be ahead of certain cultural trends, to appropriate them on a theoretical and aesthetic level and then to "stage" them, while resorting to more or less classic (or cryptic) registers according to the specific audience they are trying to reach. What really matters, in the end, is to address specific topics that resonate with one's time, but from a distance. I am referring to a kind of contemporaneity defined by Giorgio Agamben, that is, a peculiar relationship to the contemporary, through disjunction and anachronism, when the gaze is not revealing the bright sides of the present, but rather its darker areas. I have a background in cultural anthropology and cultural studies: two disciplines that offer powerful lenses and peculiar ways to experience, analyze and describe the world.
Somehow, it was natural for me to combine my work as cultural analyst with the digital environment in which I am immersed: the new media artworks I deal with in the gallery space and the use and abuse of technology in the outside world, and both realities combined online. Empirical experience is always important to me.
And, crucially, I need to be the first to enjoy what I "produce", albeit from a critical distance, and to find pleasure in the experience. As a curator, I believe it is my job to orchestrate the elements that I bring together – the works of art – by giving them all the space they need in order to stand alone and be powerful, but also include them in a collective statement of which I am the catalyst. I think that the work of the curator should not be limited to the exhibition space: curators should be spokespeople, activists for the causes they care about.
The idea of devoting an exhibition to the subject of online dating and the whole constellation of online love, intimacy and technology, came from my own personal experience, for example. As a cultural anthropologist, the fieldwork is still an important dimension for me when it comes to understanding social phenomena. In my thirties, I have found myself exploring this new world of online dating sites that was unknown to me at the time, as it was and still is for many people of my generation, while younger people have hardly ever experienced any other ways of meeting, ones that are not mediated by the social media. Like many others of my generation, born in the 1980s, I had to go through a learning process. This generational gap was one of the focal points of the exhibition.
ESH: How did arise the interest in digital art and VR? Has the pandemic been shifting in some way how we approach digital art?
VP: The interest in digital art comes from my passion for electronic music, cultivated during the university period in Bologna. Without any doubt, the gateway to digital art was for me a mythical festival based in Bologna called Netmage, curated by Xing. When I arrived in Paris, I broadened my horizons in this area thanks to a solid art scene, institutionalized and well-funded by various programs of the Ministry of Culture and Communication. Then I started working at Galerie Charlot in 2011, a gallery specializing in new media art. I took the great opportunity to develop a program dedicated to digital art in a young gallery that had only been founded six months before and was looking for its own identity. After a few years of intense and passionate work, Galerie Charlot established itself on the international scene as an essential reference in the panorama and in the digital art market. It was within those walls that I presented my first exhibitions and built my identity as a curator. After ten years at Galerie Charlot, I became an independent curator. I continue to focus my practice on digital art, or on art that addresses the role of technology in contemporary culture.
The pandemic and the rise of the NFTs phenomenon have fostered a process of popularization, knowledge and appropriation of the digital language and its tools, but they have propelled digital creation (I do not use the term art in this case) into a totally different dimension, that of Web3 and finance. Personally, I am still not entirely comfortable with this new world at the moment, and I remain more interested in the work of artists who have a critical approach to social phenomena, rather than in the medium per se. For the past two years I have been collaborating with peer-to-space, an exhibition platform and curatorial collective, which creates exhibitions IRL, online or in virtual spaces like the Mozilla Hub universe. While with respect to virtual reality and augmented reality, what is called the XR, Extended Realities, are areas that interest me a lot, but which I have so far explored less as a curator.

On the occasion of my Beyond Matter artistic residency at Tirana Art Lab in Tirana, Albania, I made a work based on augmented reality, with a dedicated application that I developed with transmatter.art. The starting point of the project Her Boyfriend Came Back From The War was the discovery of my Italian grandfather's WWII photo archive in Albania and the love correspondence between my grandparents at that time. The aim of the project was to reactivate this archive through the use of Augmented Reality (AR), and to trigger a re-enactement of individual and collective memories through Augmented Postcards inspired by the archive and my research in Albania on its traces – www.hbcbftw.com. It is a medium I really like and is less complex and expensive than VR.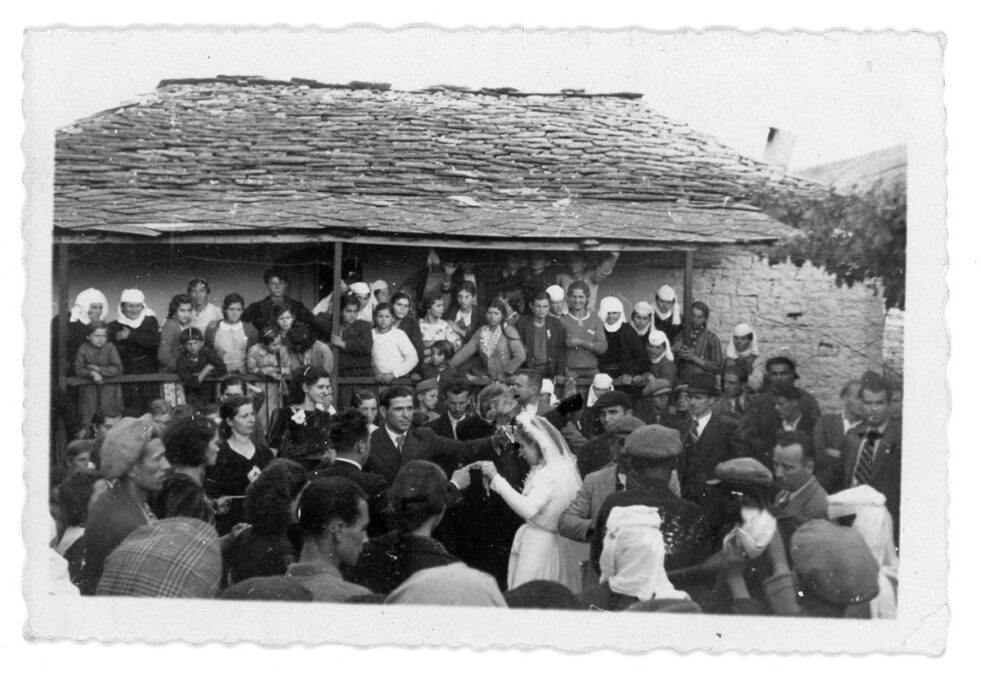 ESH: There is a repeated question in your curatorial texts on Data Dating and it sounds as follows: "What does it mean to love in the Internet age?"– have you managed to respond to it? And, is there any dream, a country, a place, an institution that you envision to bring Data Dating Desire?
VP: Ahah! It's a question that goes back to a universal Quest and one that spans all centuries. I don't pretend to find the answer, I mostly like to ask questions and interrogate the present, the future, and recently also the past, thanks to my new project The Museum of Dating, related to the history of dating, presented until 23 April in London. The aim is to get the public to ask the same questions, or to use the ones I ask, by scrutinizing their own experience, their own life, feeling close to or, on the contrary, distant from the issues raised. In any case, it rarely happens that the audience is untouched by the themes of my exhibitions on love and intimacy: it happens very often that the exhibition space becomes a playground for people to exchange their experiences or stories of their loved ones, and that real debates are created on the issues raised by the works. For me, this is so precious and enriching, it motivates me to continue to deal with these issues. My dream is to take the exhibition Data Dating across the Atlantic: Montreal Canada, New York, but also South America.
In fact I was thinking of a Love Tour of Data Dating in various countries from Argentina to Brazil. I sow my seeds, then we'll see!
It all depends on the priorities of the institutions and their budgets. The interesting thing about the Data Dating exhibition is that the core concept is defined, but the number of works can vary from one space to another, even the media of some of the artistic positions, it is a flexible exhibition that can easily adapt to the context in which it is exhibited. I would also like to take it to Ghana, where I was recently for an art residency related to my research on romance scam. I am in dialogue with a space at the moment, as always you have to find the means to bring ideas to fruition and we are working on that.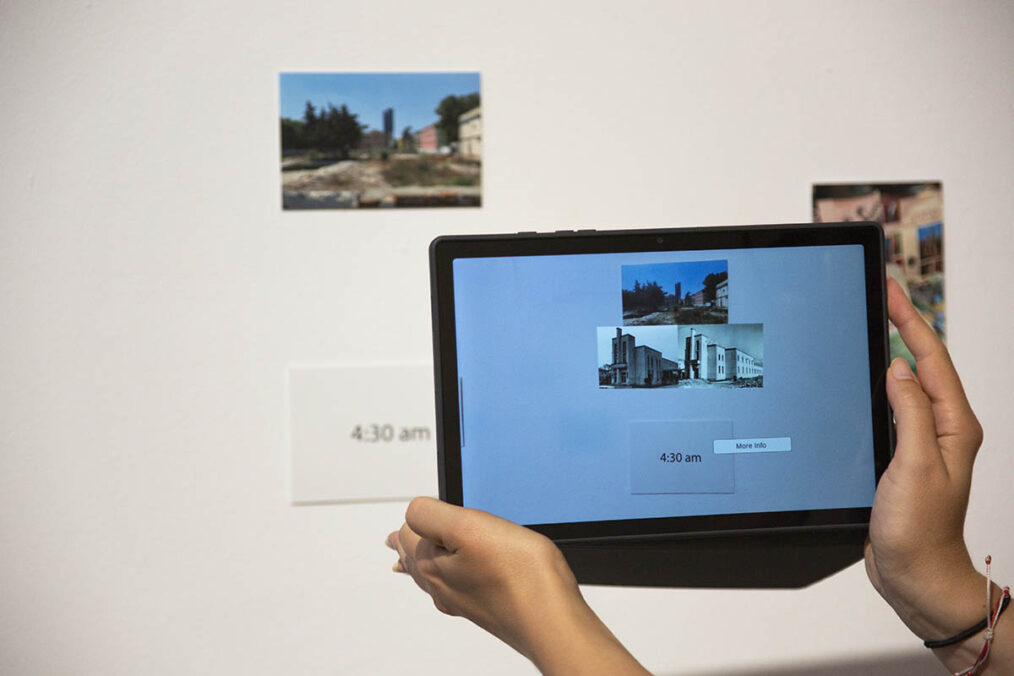 ESH: Do you think that regional geographical differences exist in how online dating is perceived? I would like to invite you to elucidate a bit on the observations you have been doing. 
VP: It all depends on how widespread the dating applications are in the city where I present the exhibition. I presented the exhibition Data Dating with different titles (SWIPE RIGHT!, Techno Romance…) rather in the capital cities, or big cities Paris, London, Brussels, Tel Aviv, Geneva, so the public was ready, listening and the impact of the exhibition really important in the press.  In Paris, at the first-ever Data Dating presentation, visitors really thanked me for organizing such an exhibition and for daring to tackle these topics.
It seems unbelievable today, but even in Paris in 2018, online dating was still somewhat of a taboo, couples still rarely revealed that they had met online. I am grateful to have opened up the conversation on this topic!
In Italy, on the other hand, having presented the exhibition in a very Catholic context and in a smaller and more provincial city, I had to do a lot more mediation with respect to the theme and the subjects dealt with, explaining the abc of technologies and their uses. It was an interesting experience, also because unlike in other regional contexts, where the exhibition was presented in more hype or niche spaces, in Italy I had a cross-generational audience.
ESH: Are there any other technologies that attract your attention? 
VP: As the name of Data Dating suggests, the focus on data collection and surveillance comes from my previous interests in these topics, which were linked to social and technological phenomena taking place at the time. Systems Under Liberty, for example, is an exhibition I curated in 2015 in the context of the surveillance revolution, that we take for granted today, but which for years has been a topic of critical debate and revolt by many activists and artists, in this case Ben Grosser, whose work I have dedicated a show. The exhibition turned out to be a particularly timely event: the exhibition was originally framed as a commentary on increasing surveillance on the part of the French government, a hot topic in 2015, but it ended up opening just a few days after one of the biggest terrorist attacks that Paris had ever witnessed, amid plans for an even broader expansion of state surveillance.
I think that the role of the curator, not unlike the artist's, is first and foremost one of cultural criticism: we observe and scrutinize the processes and tendencies that are shaping the society and culture of our time to produce a commentary. In any case, this is the way I proceed in my practice, which is why, for example, my focus now is on the romance scam, expanding the theme of dating to topics such as postcolonialism, African studies, and neoliberal processes. The African region, for example, was my field of research when I was studying anthropology. So this interest in the romance scam in West Africa is in line with my previous research, but in a completely different paradigm and with different tools of analysis. I returned from Ghana in February 2022 with my book The New Romance Scammer's Instructor ready only a few days before the release of The Tinder Swindler documentary on Netflix, which started a huge conversation on the subject of romance scams worldwide. I can say that once again, my intuition as a curator arrived at the right time.
Media history is also a theme in all my exhibitions: I am thinking of Archeonauts, a group exhibition I curated in Paris and Tel Aviv. The exhibition sought to bring together a group of artists who are also activists, theorists and visionaries, who shared a common archaeological gaze: out of sync with the present, like beings from a distant future confronting the artistic and technological ruins of a lost civilisation, they delved into a pre- and post-internet global material and immaterial culture. The same socio-historical/technological overview can be found in my new exhibition The Museum of Dating, whose aim is to place the contemporary phenomenon of online dating within a spectrum of older technologies, practices, narratives and cultural and media artifacts.
ESH: Let's abide a bit with this amazing collection of love letters from romance scammers of Ghana. Have you ever been to a place where they work and write? 
VP: A romance scam is a confidence trick involving feigning romantic intentions towards a victim, gaining their affection, and then using that goodwill to get the victim to send money to the scammer under false pretenses or to commit fraud against the victim. Romance scams often take place through online dating websites, but scammers may also use social media like Instagram, Facebook, Google Hangouts or email to make contact. They create fake personal profiles using stolen photographs of attractive people. The type of fraud that prevails in the cybercrime business in Ghana is online dating or friendship scam. This is why I applied for an artistic residency of one month at pIAR in Kumasi, Ghana, West Africa.
I arrived at the residency with the precise idea of doing a book with the texts of the scammers, but without any idea about what was possible to find, not even if it was possible to talk about those illegal activities. I had a ton of chance, as thanks to some friends in Kumasi, I discovered that often love scammers use pre-written texts, known as "formats", that they can buy from other experienced scammers or download from specific websites and copy-paste them into their conversations with their "victims" (mugu). I was looking for these formats with the idea of publishing them as a collection of texts, following the tradition of the love letters-writing manual of the 18th and 19th centuries, also known as "The Lover's Instructor" in the UK, "Secrétarie Galant" in France and "Segretario Galante" in Italy.
These terms refer to guides to composing love letters, that offer examples of correspondence, templates of love letters, sets of tips to support many lovers who did not have great linguistic possibilities or imagination. These practical manuals contain a collection of fictional letters, compliment cards and dialogues between relatives, all on the subject of love. These were intended as templates for readers to use during courtship. The parallel between these publications and the "formats" of the Ghanaian scammers seemed an evidence to me! After a few days in Ghana, I found many of these formats used by romance scammers, thanks to the help of one of the interns of the Residency, to whom I am extremely grateful. I decided to keep these texts untouched and publish them without any corrections, with grammar and spelling sometimes inaccurate and punctuation errors. In some cases, the conversation doesn't flow or make so much sense. In others, there are moments of pure poetry. Thanks to the contacts I made during my residency, I returned a few months later to Ghana to interview some scammers, who agreed to meet me and I recorded their testimonies. In March 2023, I am going to Ivory Coast to continue my research in a French-speaking country, where the scammers are called "brouteurs".
ESH: I would wish that you share a passage with us.
VP: So here I stand, among the digital masses. We're not so different after
all. Here I stand, surrounded by people who've met on-line,
People who've loved and lost, and people who are found, and
somehow, in a desperate world, found each other. So what
do I say that hasn't already been written, or been already
said? Hmmm, pretty tough! Okay… try this: I no longer need
to hope for love by going to clubs, (y'know I can't dance!)
supermarkets, church socials,by passing notes in class as
a kid, or instant messages as an adult. I don't have to
search for love, in ads, on theinternet, in chat rooms, text
messages, camera phones, faxes, and e-mails. I don't have to
wait for good and bad feedback, have to crave for love's passion,
envy other's romance or wonder if someone will ever love me.
Thanks for coming into my life.
The New Romance Scammer's Instructor, 2022, Valentina Peri (ed.)
ESH: Which would be some of the most influential authors in your work?
VP: Crucial authors in my work are Hito Steyerl, Achille Mbembe, Dominic Pettman, Dan Slater, Lauren Rosewarne, Mark Fisher, Franco "Bifo" Berardi, Eva Illouz, Judith Butler, Donna Haraway, Paul Preciado to name a few.
ESH: What makes you happy, and what are some of the upcoming projects you would like to share with the readers?
VP: I am very happy about my new exhibition "The Museum of Dating", running until April 23 at Watermans London. The aim of the exhibition is to place the contemporary phenomenon of online dating within a spectrum of older technologies, practices, narratives, cultural and media artifacts. This curatorial research was supported by Fluxus Art Project. In the exhibition, I launched my first film: "Joan Ball. The Lady of Computer Dating", about the entrepreneur woman who founded the very first computer dating service, as an extension of her marriage bureau in Piccadilly, London, in 1964. The documentary is a filmed interview with Joan Ball herself, who is today 88 years old and still living in London, combining the archival material about the St James Computer Dating Service, later to become Com-Pat. I also create her Tinder profile in a very fun moment of the documentary. In the exhibition, I present an ongoing timeline of the history of dating from the family-monitored courtship of the 50's ("calling"), to the first online dating site in the mid-90s. The timeline is enriched by cultural, social and political facts and processes, both official and niche, that have contributed to shape the dating phenomenon and the idea of singleness until today. Part of the exhibition is also a selection of cultural artifacts and mass culture productions, board games, movies, sit-coms, television programs, books and old technologies that are put into perspective through this chronological reconstruction. They are part of my own collection of objects for The Museum of Dating. I see the exhibition as an itinerant, with specific focus in each country where it will be displayed. I would like to bring it to France soon, because in each place where The Museum of Dating is presented, the timeline and chronological focus are adapted to the location.
For example the focus in the UK is the emergence of dating mediated by computerized technology in the 60's. In France, it will be the emergence of the Minitel in the 1980s and 1990s, a pre-internet system of communication. In the US, it will be the computer dating of the 1960s, videotape dating of the 1970s, and more.
As I mentioned above in relation to the open call, I am the third guest researcher of the Performance Art Curatorial Fellowship curated by Dyana Gravina at IKLECTIK London. Extending the reflection and critical perspective of the exhibition "The Museum of Dating", the objective of the one-night event intervention I am organizing at IKLECTIK is to give space to queer positions on computing, intimacy, love and desire which interrogate the infrastructure of heteronormativity, and to contribute to the large and growing set of conversations about diversity in technology within the past, present and speculative futures. As the exhibition and this event want to highlight, the historical study of dating can shed new light on key categories of historical understanding of gender, generation, bodies, class, race, and social status through analysis of the power dynamics at play in partner selection within the context of the couple, the family and the community beyond. The live event takes place Friday, 21 April, at Iklectic London, the artists will be selected in March. And let's see what happens in Ivory Coast. I will be there in March and April. I will keep you updated!
ESH: Engaging with your curatorial practices and themes has been very interesting. Thank you for revealing with me/ us meaningful matters. Thank you for being with us, Valentina!
Valentina Peri – www.valentinaperi.com, www.datadating.online, www.valentinaperi.com/the-new-romance-scammers-instructor, www.saloon-paris.fr
---
Valentina Peri is an independent curator, artist and author based in Paris. Her work examines the role of technology in contemporary culture, with a focus on love and intimacy in the digital age, media histories and technologies in the anthropocene. She has curated exhibitions, published writing and given lectures on a broad range of topics in these areas. Her traveling exhibition Data Dating has been presented in Paris, Tel Aviv, London, Brussels, Geneva and Brescia. In the context of this exhibition, she co-edited an essay collection published by Intellect: Data Dating. Love, Technology, Desire (2021), expanding the topics of her exhibition. In 2022, she started researching the phenomenon of Internet romance scams in West Africa, and published the book "The New Romance Scammer's Instructor", a collection of original messages from Ghanaian love scammers. She received a Fluxus Art Projects Grant in 2022 for her curatorial research on the history of dating: The Museum of Dating, presented in London in 2023. From 2011-21, Valentina was associate director and curator at Galerie Charlot Paris – Tel Aviv, a contemporary art gallery focusing on new media art. Valentina is also a co-founder of SALOON Paris, an international and diverse network of women identifying art professionals, part of the SALOON Network.
Erka Shalari was born in Tirana (AL) in 1988. She studied Industrial Psychology at Tirana State University and Cultural Management at MDW, Institute of Cultural Management, in Vienna. She is busy discovering distinctive artistic and curatorial positions, unconventional exhibition spaces and galleries that have deliberately broken new ground with their working methods. The individuals following each interview are intertwined with a file rouge with the writer and one another, creating so curated series and episodes. She relies on unorthodox publishing practices, coupling these with a nonchalant manner of writing. Editor of Les Nouveaux Riches magazine since 2020 – https://linktr.ee/erkashalari