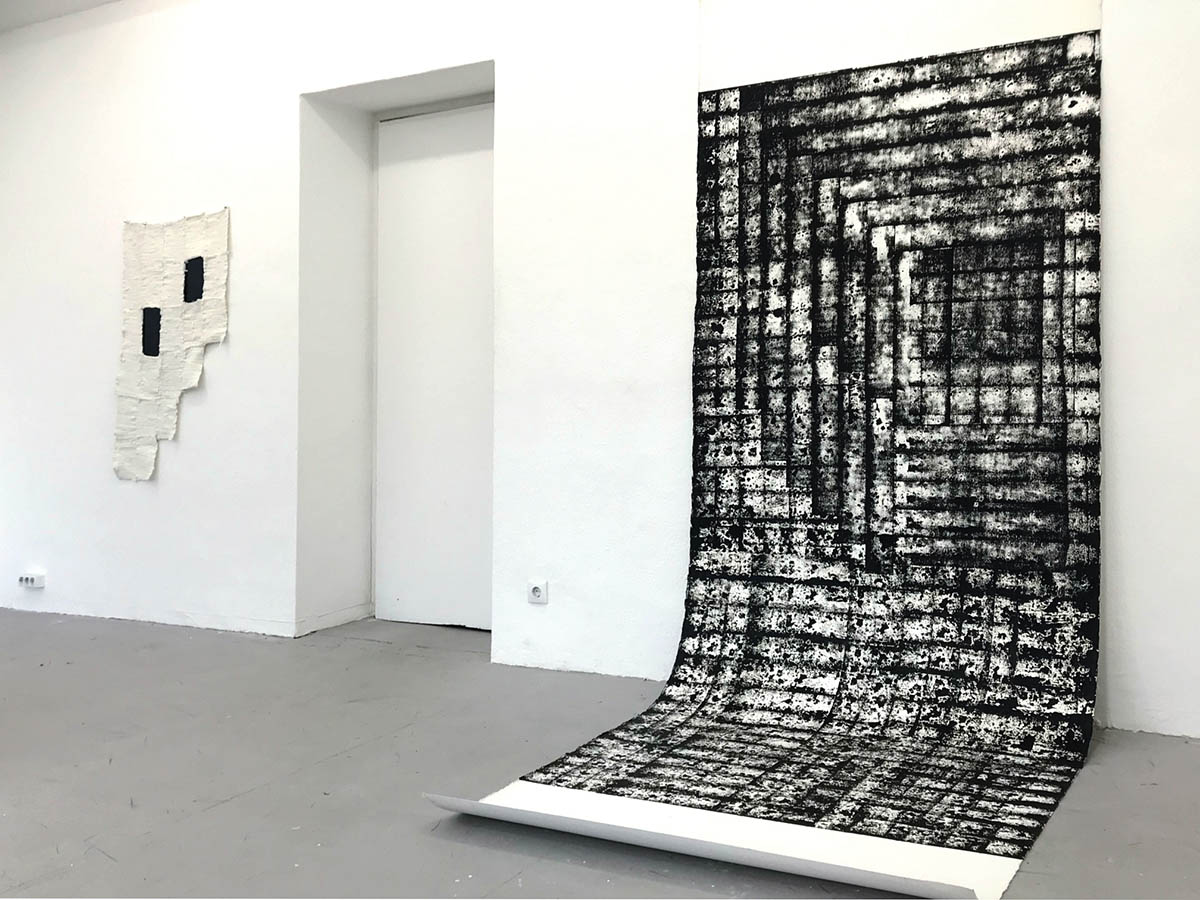 This, describing a performative yet intrinsically predefined behavioral pattern, parallels conditions of art production. It describes the inner struggles of an artist between preconceived conceptions of objects and their assigned definitions and the performative potentiality of transformable new definitions. Presenting a set-up of experimental references between his works in interaction with the visitor, Schaal relocates his art. "Ex", "Re" and "Trans" are relational terms that address things we refer to and quote. These things may lie in the past, linger in the back of our minds, are brought to light at a certain point or are located in the in between. The American philosopher Graham Harman's ontology mandates that contact between real objects occurs only through sensual objects. His idea is that art's allure must be a tension between sensual objects that draw the experiencer to believe, they are in contact with the withdrawn real. In this sense, Schaal aims to depict different states of fluidity which are permeating the show. Presenting relational subjects. Schaal's practice is based on the things that surround him: everyday objects such as cutting boards, packaging cardboard boxes for his artistic materials, as well as found objects that appeal to him through their peculiarities.
His choice of integrating banal mundane objects into his art, reminds us of the Arte Povera movement that by using non-precious and impermanent materials sought to challenge and disrupt the commercialization of art to counteract social tendencies.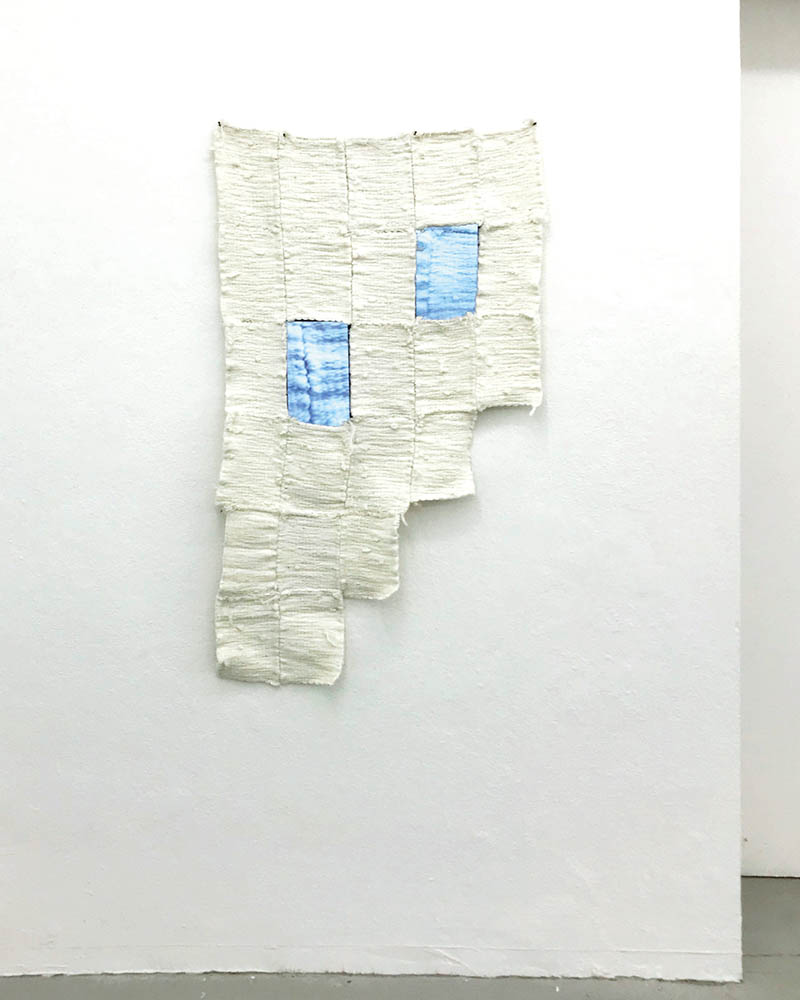 Starting with the work "STN #2", 2019 (signal-to-noise), which sets a signal for his show, we see a wooden panel, a found object that stood out to the artist through a mass of disposable things, drowning out noises and sending a signal. It then was used as a printing plate, which left significant scratches and scars on its wooden surface. Afterward, Schaal transformed it into an artwork, covered in black oil paint and assigned a glowing neon background. It exemplarily stands for one of his main techniques: printmaking.
There are usually two sides to his work, like in the printing process: the positive and the negative. He very often approaches his topics by creating two or multiple works, since he likes to express his ideas in series, indicating relations and very often integrating biographical materials into his art.
The textile-media piece "Deutsch/ Deutsch", 2018-2023, emphasizes this aspect as well. It deals with Germany formerly being a two-state country: West Germany and the GDR. The implications of what is left of its history, in the personal, as well as, in the collective memory of a divided state, are questioned. The mixed media work, consists of woven pieces of acrylic wool originated from an industrial GDR residual stock, produced on a children's loom and sewn and pieced together as a patchwork. Parts of the textile surface are cut out in order to integrate tablets, which show a movie depicting the backside of the wool work. The materiality of the video documentation and the woolen object appear in contrast to each other, as well as they reveal and investigate our perception. References to the process and means of history reception are subtlety addressed: two disparate systems clashing and struggling to be woven together, and dealing with front- and backsides of what history has entailed.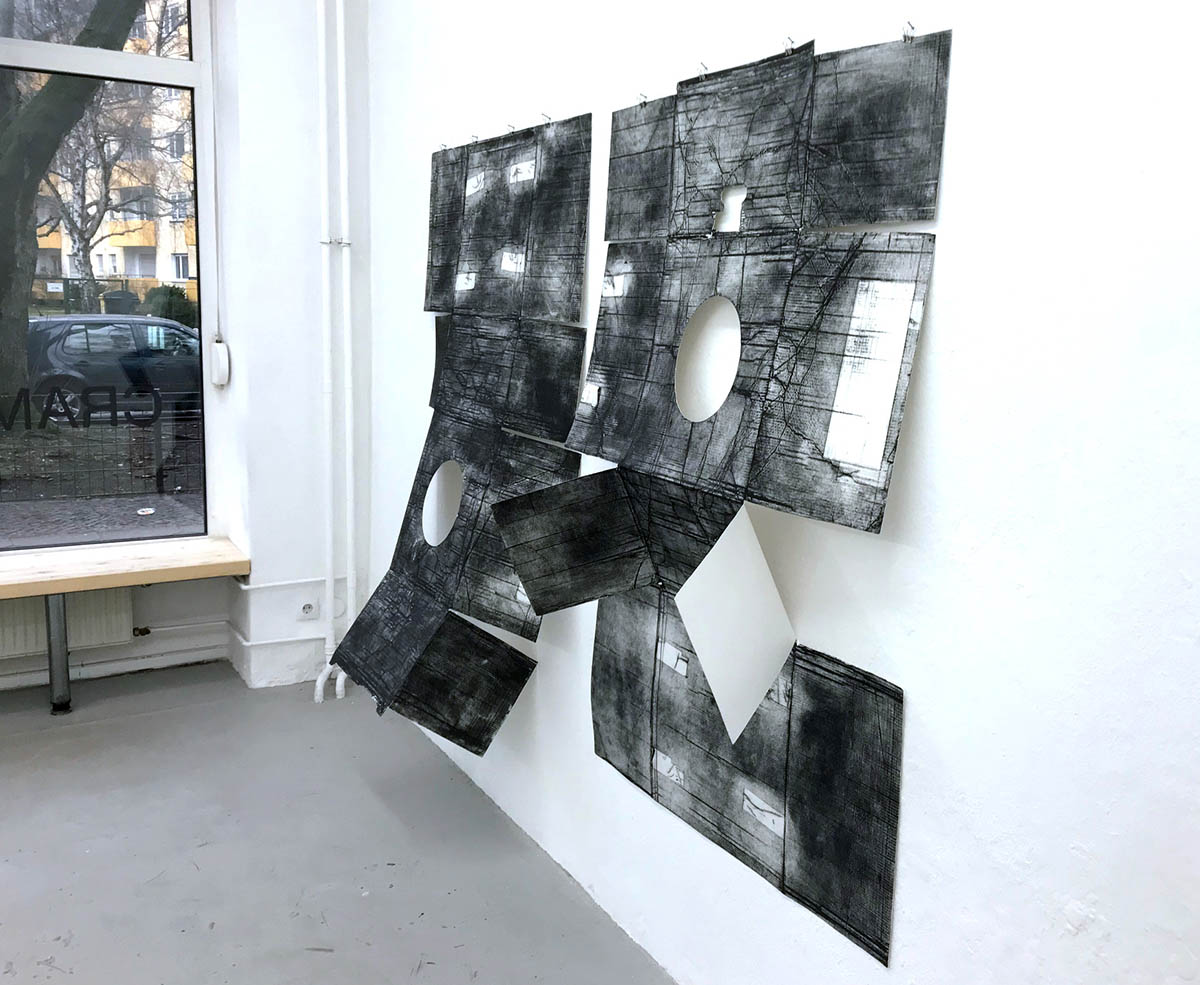 Schaal's choice to work in the tradition of textile art since the Bauhaus, which at that time was mainly attributed as a female technique, reveals his sensitivity to question culturally assigned definitions of artistic means and materials. Artists such as Louise Bourgeois, Eva Hesse or Rosemarie Trockel investigated gender definitions with textile art and aimed to critically use and transform it into an anti-patriarchal statement which is thought even further by Schaal in his artworks that include non-binary statements. Thinking of Rosemarie Trockel's work "Prisoner of Yourself", 1998 that consists of screen prints applied to a wall, we are reminiscing her knitting pictures, but this time the image of strong, coarse chain links as a repetitive pattern, is printed on paper. Parallels to Schaal's approach of form repetition and material use are evident.
Examining ecological and economic aspects, and their impact on our habits and lives, is one of the main concerns of the artist. By making gravure prints of packaging boxes on high quality Bütten paper, his works "(:" and ":)", 2022, deal with the value of raw, simple material that normally goes to waste and mostly just serves as packaging shell for desired objects.
With "Postdigital Me", 2014, a heap full of knotted strings made of packaging cord, the artist produces small replicas of himself. He aims to have a physical representation in the form of little strings, since the many traces we leave are mainly digital, found in our digital history. Each individual cord measures his body size before knotting. With an increasing number of strings, he aims to knot as many cords as it takes to level his age to kilometers. Each knotted piece resembles a strand of DNA. Playing with performative aspects, he aims to continue his work in progress until his death. "Postdigital Me" reminds us of "Breath of Leaves", 1979 by Giuseppe Penone, who's career-long engagement was to observe the growth and decay of trees only instead of portraying the seasons with leaves, Schaal measures his height day to day and creates knotted strings.
With "Vorzeichen (Mauve)", 2022, the topic of portrait is addressed, showing elementary signs of gender attributions, including first depictions of non-binary attributes. The formal language is taken from cave paintings, that at this early state already showed female, male and trans symbols. Using this ancient repertoire, Schaal forms a new face. Made of paper mache from the artist's biographical papers that were processed into a paper pulp, this work merges many layers of private history. Into the not yet hardened paper mache he paints signs with pigment and oil paint, similar to a fresco painting. Here we are reminded of gender discourses such as Judith Butler's approach of doing gender and thinking bodies and language as being in motion, rather than being a set reality: "The violence of language consists in its effort to capture the ineffable and, hence, to destroy it, to seize hold of that which must remain elusive for language to operate as a living thing." (Judith Butler, Excitable Speech: A Politics of the Performative)
"Inprint Schneide-Zentral", 2022, is an abstract paperwork, which the artist repeatedly stamped with a breakfast cutting board. Again a household item, that instead of being thrown away, is used in his production and processed into his art.
Schaal's work and background in music reveals parallels to Jannis Kounellis artistic practice, who as well worked with stamps, repetition and reframing of reality. "Kounellis in the whole of his work, enabling him to make compositions "from life" out of the impoverished but tangible reality … as if he had abandoned easel painting only to return to it by putting a frame around reality itself in order to create his "painting." (Katerina Koskina, curator and art theorist, excerpt from "Cargo Vessel Ionion, Piraeus, Athens, 1994," in Kounellis—Mistral (Bergamo: Edizione Bolis, 1996))
"Körper Kartographie", 2023, another textile work in the show, attends to relationships as subject and bodies that are inscribed into fabric. A four-piece bedsheet series that Schaal and his partner slept on for many years bears the traces of theirs bodies and relationship. In return for the wear and tear, Schaal cut up the sheets and braided them into a new wool ball. Two strands are woven into each other like two people in a relationship and in bed intertwining, learning and perceiving more about themselves and their bodies.
In Schaal's exhibition "Ex: Re: Trans" we experience seemingly simple techniques and his chosen everyday objects being processed and transformed into art. Through the objects, he deals with the banalities of life, their very personal meaning, as well as what they stand for in our society and translates their mundane character into a formal language of conceptual abstraction observing multiple layers of personal as well as societal interpretations.
Address and contact:
CRAMA
Triftstraße 66, 13353 Berlin
www.crama.us
Daniel M. E. Schaal – www.danielschaal.net, www.instagram.com/danielmeschaal/
Susann Rezniczek – www.instagram.com/suse.rezniczek/