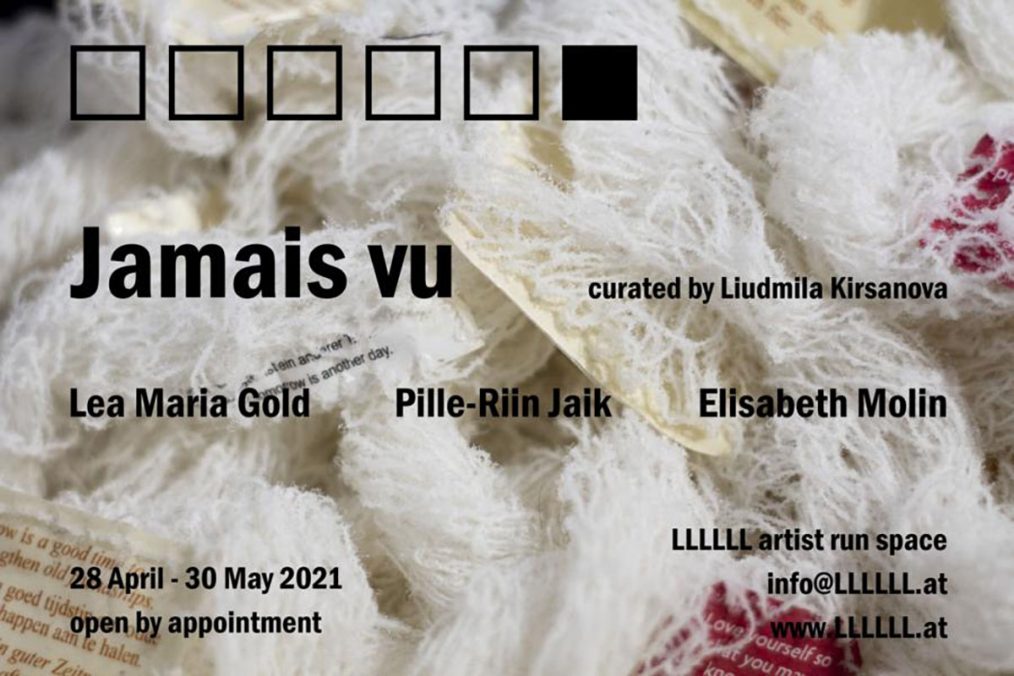 The exhibitions Jamais vu I and Jamais vu II explore the poetics of jamais vu experience. Both parts are meant to be experienced in a dialogue, in a looped play of inward-outward. All artworks appear 'not what they seem', shimmering, oscillating between familiar and unfamiliar, manifested and concealed, lucid and opaque so to create a sensitive space of fluid visuals and shifting meanings.
Exhibited artists: Lea Maria Gold Pille-Riin Jaik Elisabeth Molin
Lea Maria Gold studied painting at the Academy of Fine Arts, Vienna. Her work critically elaborates on the ideas of femininity and gender in different cultures and iconographies, representation of women's bodies in art history, female corporeality and sensuality, feminism, and female adolescence. She has shown her work at Galerie Krass, Galerie am Lieglweg, Curch St Ruprecht in Vienna, at Centre for Art and Communication in Innsbruck, at Documentation Center for Modern Art in St Pölten.
Pille-Riin Jaik has a Bachelor of Photography from the Estonian Academy of Fine Arts and Master of Art and Digital Media at the Academy of Fine Arts Vienna. Her work is focused on text, plants, surplus and waste materials/thoughts in feministic and class aware discourse. In 2018 she had a solo exhibition I'm a good girl, I am at LOW offspace in Vienna. Recently she has participated in group exhibitions at Hobusepea Gallery in Tallinn, PFERD, Fluc, and xE in Vienna.
Elisabeth Molin studied Fine Art at Chelsea College of Art and MA Photography at Royal College of Art in London. She has recently shown work at Wiels in Brussels, Sundy in London, Sixty Eight Institute in Copenhagen, Austrian Cultural Forum in London and MAW, ISCP and Columbia University in New York. She has shown her videos at part of the 32nd Images Festival in Toronto, the 31 Stuttgarter Filmwinter in Stuttgart and the 7th Medrar Video Festival in Cairo.
Exhibition: Jamais vu curated by Liudmila Kirsanova
Exhibition duration: 28 April – 30 May 2021
Soft opening: Tuesday 4 May from 3pm to 8pm
Address and contact:
LLLLLLL Verein für Kunst der Gegenwart
Seidlgasse 14, 1030 Vienna
www.LLLLLL.at