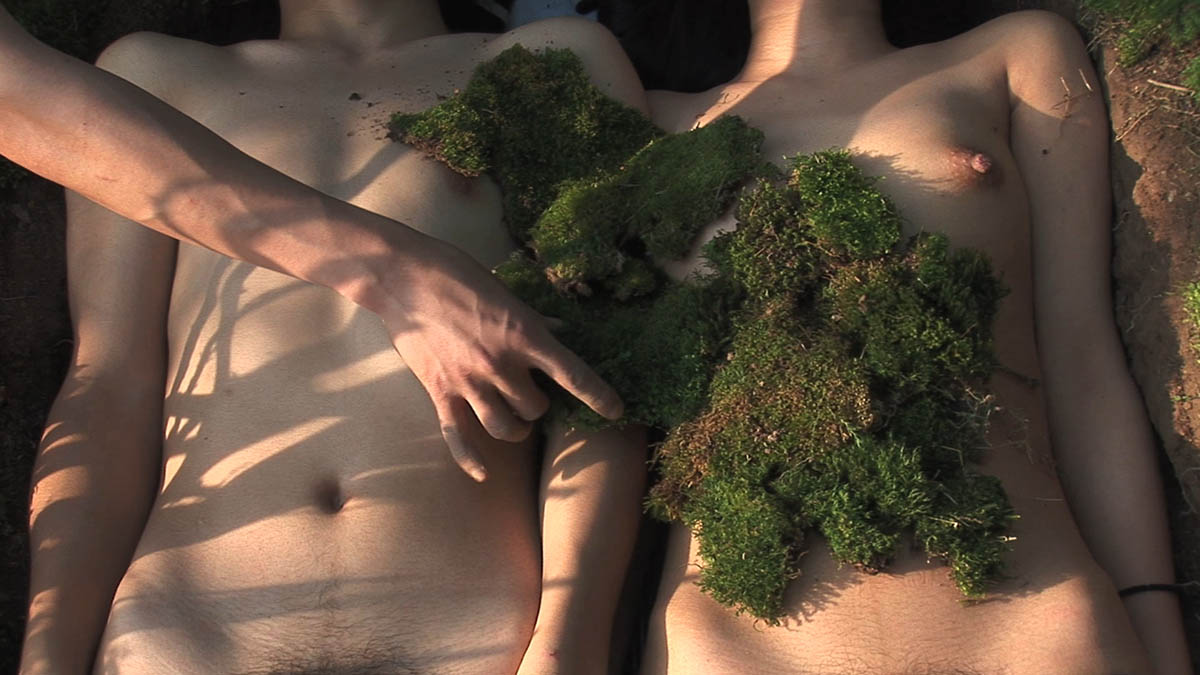 While Yi Lian is known for giving a personal touch to the reality he finds and transforming it into a modified state of some kind, Zhang Wuyun walks past the same spots of urban nature every time on his way to the studio. He observes the reflections of wildly growing branches in a stream artificially created around his apartment complex, which in his paintings take on the flair of cozy, sensual landscapes…
The raw material that both artists use for their works has its origins in big cities and both celebrate this aspect of a wild, dusty and artificially created "landscape". Yi Lian deliberately intervenes, working with elaborate lighting fixtures that are normally used to illuminate entire streets for film shoots. He directs the viewer's gaze to certain places where he often stages something or adds a computer drawing to his photographs that emphasises the contours. In the early video work "Rearward" (2014), which is today part of the BMCA collection, he films the construction site of Tianmulin, an important cultural district for the cultural scene in Hangzhou, and modifies the construction site noise in footage material as if it were the sounds of tanks and war guns. The workers in their hard hats suddenly become confusingly similar to soldiers – or has the artist used statement dressed as soldiers? The result is a veritable deception of the audience, as one actually no longer knows whether it is a war scene or an ordinary construction site. Zhang Wuyun "beautifies" the surrounding landscape and creates a statement through his interpretation that is not necessarily typical of the painting tradition in Hangzhou. The painter, who comes from northeastern China, graduated from the Lumei Academy's painting class and shows an interesting style in his works, which can be classified neither in the northern tradition nor in the south. Everyday situations are important to him: the ordinary, from which he can extract something very special in each of his paintings. Above all, his painting radiates a very special calm – the feeling of extended time, in which every moment is enough for detailed reflection. What both artists have in common is a certain romanticising undertone in which they encounter their environment. A certain melancholic attitude can also be observed, in which they come close to the music of Tom Waits…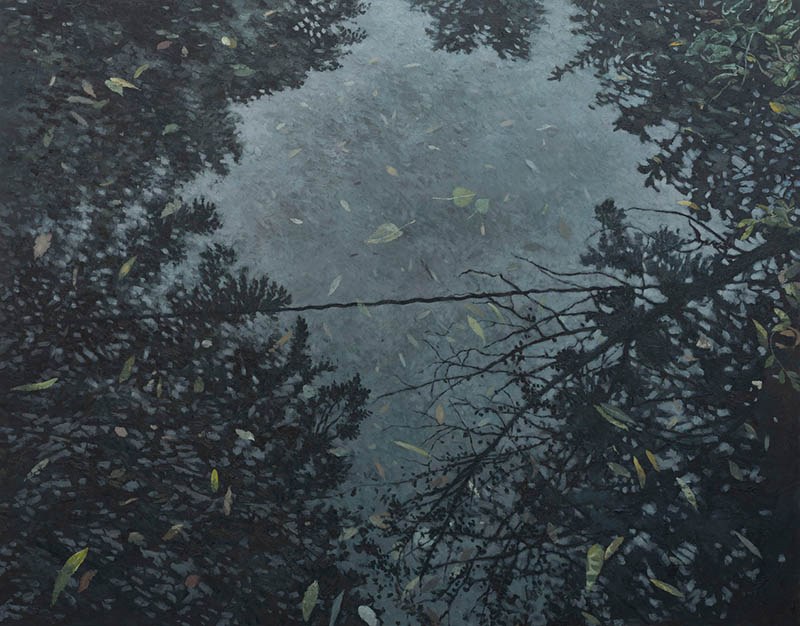 Two, one, two, three, four
Well I stumbled in the darkness
I'm lost and alone
Though I said I'd go before us
And show the way back home
Is there a light up ahead?
I can't hold on very long
Forgive me pretty baby but I always take the long way home
Wandering around enables a different view than when one observes attentively. It is precisely this "semi-waking state" and the possible deception of not quite recognising contours in the dark that circumscribe the works in this exhibition. "The Long Way Home" by Tom Waits (written in 2002 by Tom Waits and Kathleen Brennan) puts the viewer in exactly the right state of mind for this.
Money's just something you throw
Off the back of a train
Got a handful of lightening
A hatful of rain
And I know that I said
I'd never do it again
And I love you pretty baby but I always take the long way home
I put food on the table
And a roof overhead
But I'd trade it all tomorrow
For the highway instead
Watch your back if I should tell you
Loves the only thing I've ever known
One thing for sure pretty baby I always take the long way home
You know I love you baby
More than the whole wide world
You are my woman
I know you are my pearl
Let's go out past the party lights
We can finally be alone
Come with me and we can take the long way home
Come with me, together we can take the long way home
Come with me, together we can take the long way home
Zhang Wuyun's medium is painting. There have been exhibitions in which he has staged his paintings with parts of urban nature; exciting, but mostly kept confidential, are his charcoal drawings. In Yi Lian's work, there is a broad spectrum of media in which he has formulated his language over the past years: He became known for his videos, which were also shown at numerous festivals (such as most recently in April 2023 at the International Short Film Festival in Oberhausen), Photography expanded into an object appears in his work just as regularly as drawings serving to a concept. In addition, there is a series of glass and porcelain objects that he has processed with silkscreen printing.
"The Long Way Home" at Loft 8 Gallery is intended to arouse curiosity and bring two more Chinese artist positions to the fore in Austria. Thank you for your perception!
Exhibition: Yi Lian & Zhang Wuyun – The Long Way Home
Curator: Alexandra Grimmer
Opening: Wednesday May 10, 6-9pm
Exhibition duration: May 10–26, 2023 (Tuesday-Friday 1-6pm, Saturday 11am-3pm)
Address and contact:
Loft8 Gallery
Radetzkystr. 4, 1030 Vienna
www.loft8.at
---
Blue Mountain Contemporary Art (BMCA) is a collection of contemporary Chinese art based in Vienna. Since its foundation in 2013, the BMCA defines itself as part of China's dynamic art scene, maintains close contact with its artists and focuses on works that critically engage with their time and surroundings. The aim is not to witness passing trends but to acquire and cultivate unique works with a long-term impact. Since the BMCA Collection moved its headquarters from Beijing to Vienna, its focus has been on making its works visible in international projects. The continuous presence of current Chinese contemporary art in an international context is as important as "Capturing the Moment in China", which has been BMCA's credo since the beginning. BMCA works on its mission to shift the perception of China's emerging artists as strong international positions, and no longer as Chinese phenomena, as defined in the years of China's first generation of contemporary artists. Numerous exhibition projects at various venues in China, Israel and Vienna preceded over the past nine years and form the basis of the BMCA Collection, which also sees itself as a project platform. In addition to exhibitions, artist residencies and collaborations between Chinese and European artists, the realisation of exhibition catalogues and artists' books is a further focus. With this multi-layered approach to contemporary Chinese art, the BMCA Collection aims to raise awareness of artistic positions and strengthen their perception both in Europe and in China. www.bmca-art.com