How do you describe your art?
The collection of my paintings shows the quality of the painterly process itself, its diversity, intensity, and peculiarity. Attempts to recognize artistic positions or to assert intentions and possible meanings through the works shown are not in the foreground. The works develop their effect through visual criteria such as haptics, gestures, colors and shapes, surfaces as well as the different use of materials and tools. The complex compilation illuminates works of a phase between original, intuitive, and creative action and reflected-artistic work.
Art and spirituality. What connects the terms?
Art comes from the human heart, and everything that originates from within a human being can be spiritual and have a positive and energetic effect on the environment and other human beings. Because in my opinion, if art destines to solely fulfill the materialistic wishes of humans, not taking into consideration its inner self and spirituality, it will be boring and soon forgotten. For me, spirituality is above religion. It is not only a religious process to reshape human behavior and is oriented at the image of God, but I also take it rather as subjective experiences that aim to express man's inner dimension.
Human beings are members of a whole, since in their creation they are of one essence and soul.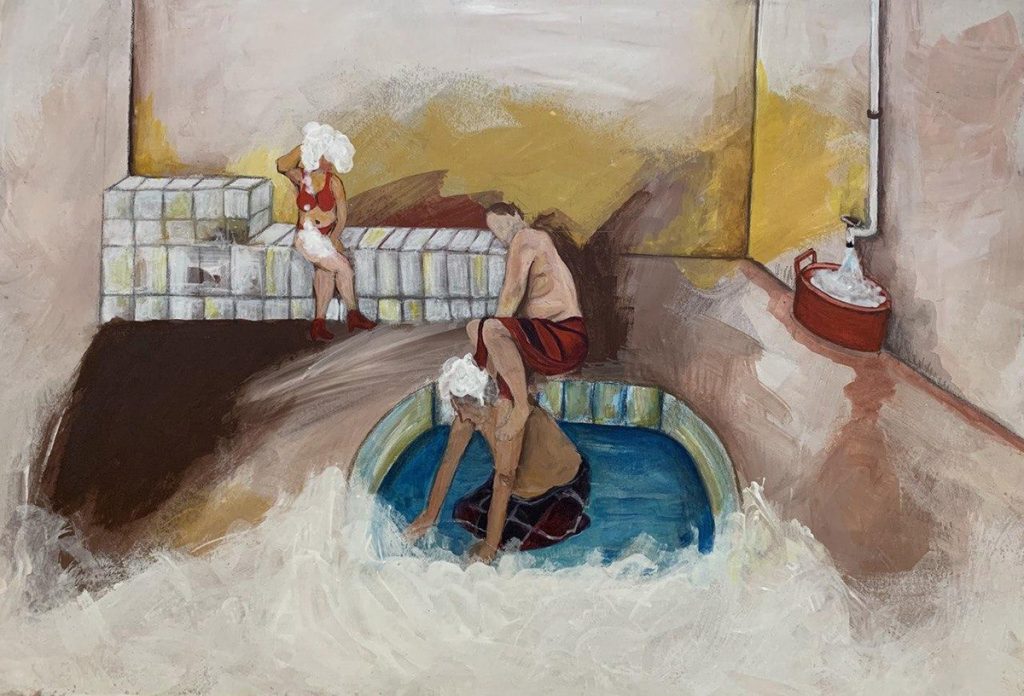 What does your dream world look like?
My dream world is full of paintings, colors, light and flowers, where people live together in peace. A world where there is no jealousy and anger, where gender and race are not important. A world where people respect and help each other to progress and flourish. As a poet once wrote: "Human beings are members of a whole, since in their creation they are of one essence and soul".
What did you do today?
During quarantine, I was painting all the time in my room, but in small sizes, fortunately, the academy's studios have just opened, and we can go to our studios to paint, and I've done a big work in 160*180 cm, which is combination of abstraction and figurative. At that time, what I really wanted was waterfalls and nature, so I started painting nature with ponds, waterfalls, and green spaces, and I imagined myself there, maybe it was the feeling and imagination that gave me the strength to cope and endure with these difficult conditions. Painting usually gives me the hope to live in different situations that are the reason that I can't imagine the world without color.
What are your plans for this year?
With the current situation, it's not possible to have a plan for a long time because of Coronavirus, but I started painting a new collection called Nature, and I hope to have a solo exhibition in the near future of my collection in Vienna and other cities in Austria.