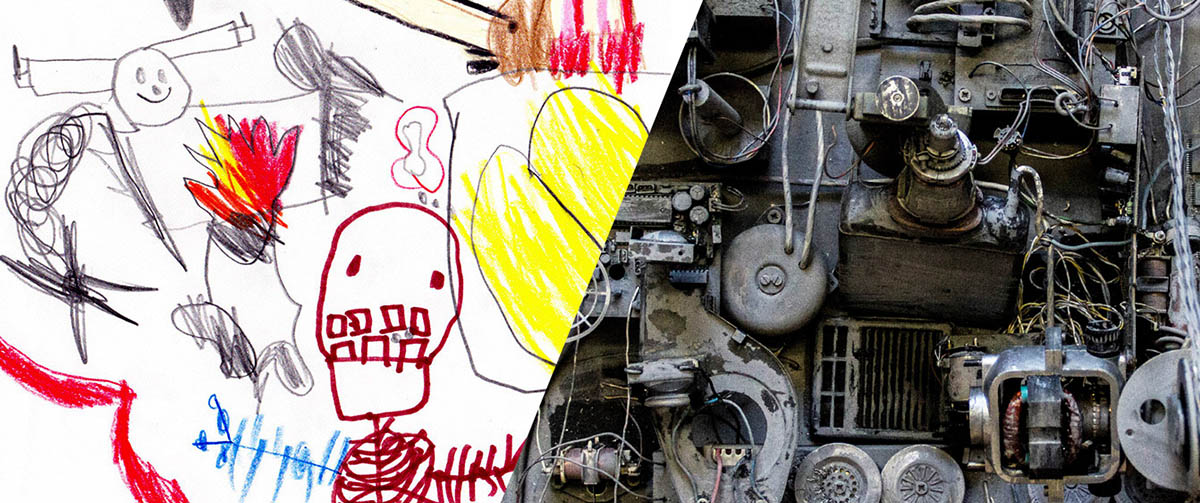 They came to light only in 2009; since then an extensive body of work has evolved around them. As the artist says, the two series have been, for a remarkably long time, two parallel stories whose paths never touched up till the present book.
The catalogue appears in mid-April and is published by the Berlin-based publishing house De Gruyter. The design and typography have been entrusted to the multidisciplinary artist and designer Theresa Hattinger.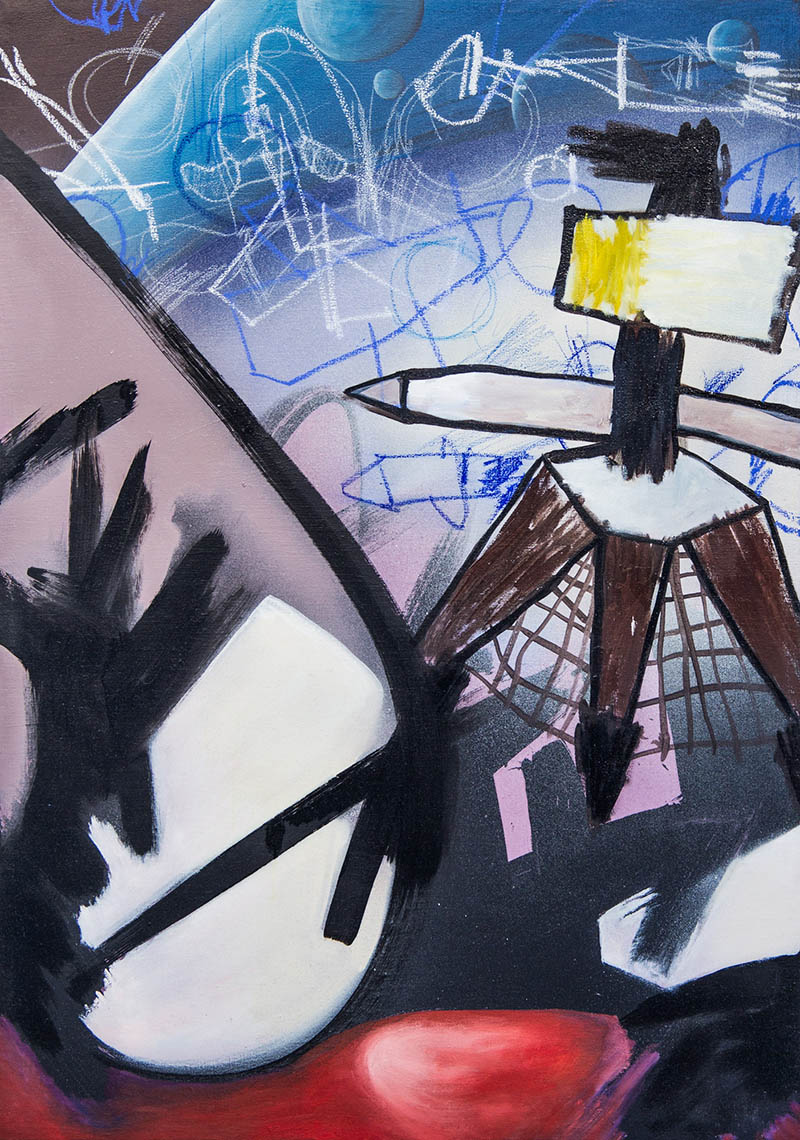 The reader will find contributions by Barbara Herbst, Esther Mlenek, Nina Schedlmayer, Günther Oberhollenzer, Antonia Hoerschelmann and a text by the artist himself. Each contributor opens up new ways of comprehending Young Prophecies and Machines, though no one will give definitive explanations; it is also impossible to provide such.
This book attempts to connect the two series, find overlaps, drive profound studies and also reveal contradictions. I was introduced to the contributions relatively early, when the texts still contained markings and annotations. The latter enriched the manuscripts and enabled me to follow the authors better, to get to know them and Altmann's work more, but also to feel how a book comes to life.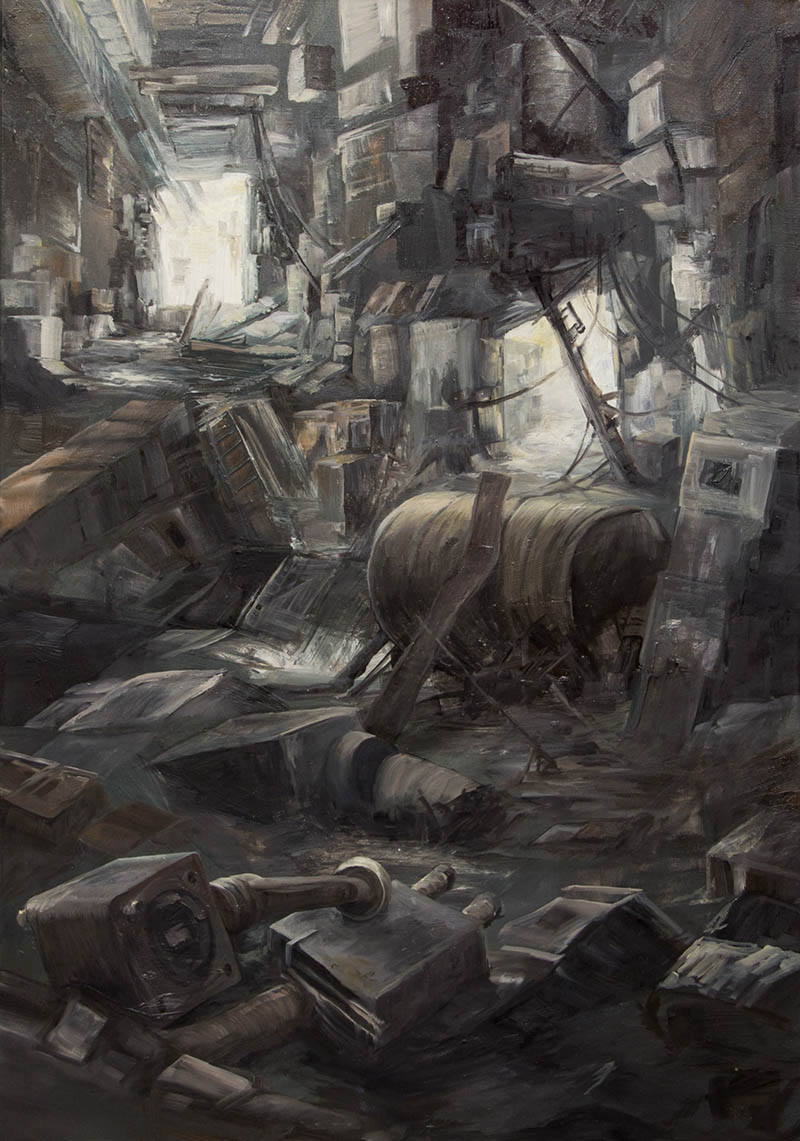 The contributions bring us to diverse and distinct understanding. Barbara Herbst has been observing the artist in the printing studio, she shares a lot of observations regarding processes and the work not only of Jeremias but also of the machines. Esther Mlenek, through her analysis, recognises archetypal symbols that manifest themselves in a charged artist cosmos, imbued with surrealism and inky lashes; she delivers associations, to just name a few: meditation courses, flowing theta waves. Nina Schedlmayer inserts associations of Dadaist artists into all these abandoned industrial landscapes and posthuman, deserted Altmann scenarios. Günther Oberhollenzer will explore the connections from a psychological point of view while sitting down in the artist's studio and letting himself be portrayed by the artist (nevertheless only his ear). And then there is Antonia Hoerschelmann, who will show us what the artist's work table includes, how beautifully works from childhood and new works juxtapose next to each other. For her, quoting oneself, as in Altmann's case, is both a legitimization and a point of growth.
Like the paintings, this book and these contributions also open up endless possibilities for comprehending Altmann's work. Does these series end here, after this book? Nein, says the artist.
Exhibition/ Book Presentation Jeremias Altmann "Next Chapter": 09.05 – 30.05.2023
Opening & Talk, 09.05: Barbara Herbst & Esther Mlenek
Next Talk, 30.05: Nina Schedlmayer & Günther Oberhollenzer
Address and contact:
das weisse haus
Hegelgasse 14, 1010 Wien
www.dasweissehaus.at
---
Jeremias Altmann was born in 1989 in Vienna. He studied Graphics and Printmaking at the University of Applied Arts Vienna. Since graduating in 2015, he works mainly in graphics and painting. Jeremias Altmann lives and works in Vienna. His work has been featured internationally among this in Austria, France, Germany, Hungary, Serbia, India, USA, Canada and China – www.jeremiasaltmann.net