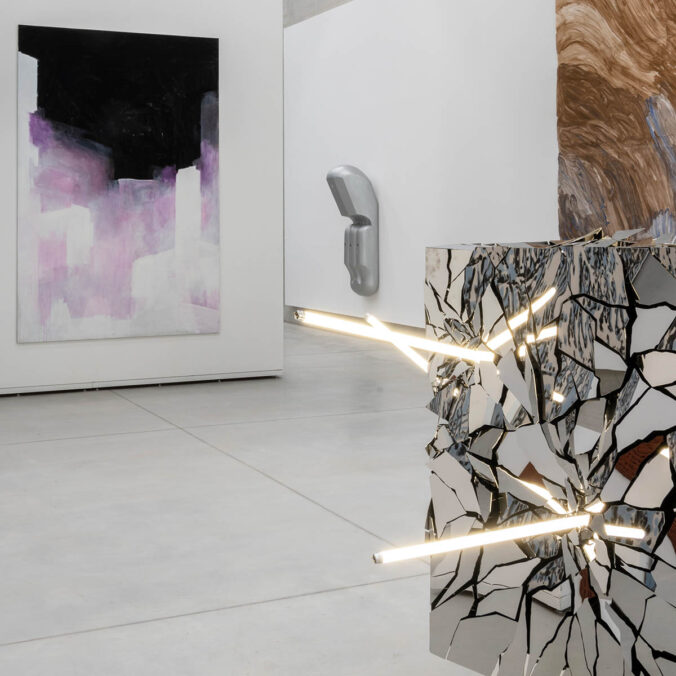 Bestandsaufnahme einer Sammlung und ihre Rezeption durch chinesische Gegenwartskunst. 2023 zeigt sich die Sammlung Liaunig von einer neuen Seite, indem sie dem Fernen Osten die Tür öffnet und sich in einer Gegenüberstellung mit zeitgenössischer chinesischer Kunst präsentiert. Das Jahr des Hasen – nach dem chinesischen Mondkalender – soll die Besucher zu einer Reise einladen, in der sie in zitathafter Ähnlichkeit mit Lewis Carrolls Erzählung "Alice's Adventures in Wonderland" dem Hasen in seinen Bau folgen, um sich dort auf eine neue Welt einzulassen.
Zu den teilweise schon gezeigten Höhepunkten von Werken zeitgenössischer Kunst aus der Sammlung Liaunig sind es Arbeiten von 28 chinesischen Künstlerinnen und Künstlern, die in die Hauptausstellung integriert werden und eine neue Betrachtungsweise auf die museumseigene Sammlung erreichen sollen: durch eine Gegenüberstellung, teilweise einzelner oder mehrerer Arbeiten jeweils eines österreichischen oder europäischen und eines chinesischen Künstlers, entsteht ein Diskurs, der die herkömmliche Sichtweise aus unserer westlichen Ästhetik aufbricht.
Ziel ist es, durch entstehende Parallelen – oder Unvereinbarkeiten der Werke aus beiden Kulturen – eine neue Sicht auf die eigene Tradition und auf die Werke der Sammlung Liaunig zu bekommen. Verbunden mit den Werken an sich stehen im Vordergrund die Herangehensweise an die Arbeit sowie das ästhetische Grundverständnis, welches kulturell bedingt in Asien und im Westen auf unterschiedlichen Wurzeln beruht.Im Hinblick auf etwaige Parallelen und die Möglichkeit eines Anknüpfens durch die asiatische Ästhetik wurde die Sammlung Liaunig durchforstet: Manche Werke sind prädestiniert für eine Gegenüberstellung dieser Art.
Nach den Kriterien von fünf lose gewählten Oberbegriffen werden einzelne Momentaufnahmen herausgenommen und in der Ausstellung veranschaulicht. Die Wahl der chinesischen Werke aus dem Zeitraum von 2008 bis 2022 zeigt die vielschichtige und dynamische Entwicklung der bildenden Kunst in China. Die Werke aus der Sammlung Liaunig wurden mit einigen Ausnahmen zum Großteil ab den 1960er Jahren bis heute ausgewählt und decken einen vergleichbaren Rahmen der Entwicklung ab wie die rund 40 chinesischen Werke.
Künstler:innen: Marc Adrian, Siegfried Anzinger, Claus Mayrhofer Barabbas, Alfredo Barsuglia, Wolfgang Becksteiner, Birdhead (Song Tao und Ji Weiyu), Herbert Brandl, Cai Dongdong, Friedrich Cerha, Chen Shuo, Chen Yujun, Cui Guotai, Gunter Damisch, Dong Wensheng, Peter Dörflinger, Loys Egg, Wolfgang Ernst, Judith Fegerl, Johann Feilacher, Feng Lianghong, Tone Fink, Frederik Foert, Adolf Frohner, Clemens Fürtler, Bruno Gironcoli, Franz Graf, Guan Yinfu, Alfred Haberpointner, Ilse Haider, Fritz Hartlauer, Uwe Hauenfels, He Wei, Wolfgang Herzig, Huang Min, Othmar Jaindl, Franco Kappl, Alfred Klinkan, Edgar Knoop, Kurt "Kappa" Kocherscheidt, Kiki Kogelnik, Peter Kogler, Cornelius Kolig, Peter Krawagna, Suse Krawagna, Maria Lassnig, Franz Lerch, Li Hui, Liang Yue, Li Qing, Christoph Luger, Markus Lüpertz, Ma Jun, Ma Jia, János Megyik, Alois Mosbacher, Gerhardt Moswitzer, Osamu Nakajima, Hermann Nitsch, Markus Oehlen, Franz Xaver Ölzant, Max Peintner, Helga Philipp, Franz Pichler, Rudolf Polanszky, Peter Pongratz, Drago j. Prelog, Norbert Pümpel, Arnulf Rainer, Bianca Regl, Robert Schaberl, Hubert Scheibl, Roman Scheidl, Meina Schellander, Alfons Schilling, Hubert Schmalix, Martin Schnur, Christian Schwarzwald, Fabian Seiz, Zbyněk Sekal, Shi Jiongwen, Rudi Stanzel, Josef Sulek, Sun Xun, Helmut Swoboda, Robert Tauber, Jorrit Tornquist, Walter Vopava, Manfred Wakolbinger, Wang Lei, Wang Yifan, Walter Weer, Alfred Wickenburg, Erwin Wurm, Xie Molin, Xu Hongxiang, Xu Jingyu, Yang Gang, Yang Hongwei, Robert Zeppel-Sperl, Zhai Liang, Zhang Enli, Zhang Wuyun, Zong Ning
Ausstellung: Follow the Rabbit – Bestandsaufnahme einer Sammlung und ihre Rezeption durch chinesische Gegenwartskunst. Kuratiert von Alexandra Grimmer in Zusammenarbeit mit der BMCA Collection
Dauer der Ausstellung: 30.4.-29.10. 2023
Öffnungszeiten: Mi-So 10:00-18:00
Adresse und Kontakt:
Museum Liaunig
Neuhaus 41, 9155 Neuhaus
www.museumliaunig.at
www.bmca-art.com
---
Follow the Rabbit. Taking stock of a collection and its reception through contemporary Chinese art
In 2023, the Liaunig Collection is showing a new side by opening the door to the Far East and presenting itself in juxtaposition with contemporary Chinese art. The Year of the Rabbit – according to the Chinese lunar calendar – is intended to invite visitors to embark on a journey in which they follow the rabbit down its hole, in a reference to Lewis Carroll's tale Alice's Adventures in Wonderland,¹ in order to engage with a new world within.
In addition to the highlights of contemporary artworks from the Liaunig Collection, pieces by 28 Chinese artists will be integrated into the main exhibition and are intended to achieve a new way of looking at the museum's own collection. Through a juxtaposition, in some cases of single or multiple works, each by an Austrian or European artist and a Chinese artist, a discourse is created – breaking down the conventional view from the perspective of Western aesthetics. Some characteristics become more visible when juxtaposed with a Chinese work rather than when viewed in isolation or alongside works by contemporaries from the same culture. Other features find a complement in their forms when viewed in the new context.
The goal is to gain a new perspective on one's own tradition and on the works of the Liaunig Collection through emerging parallels – or incompatibilities – between the pieces from the two cultures. In this context, the focus is on the approach to the work as well as the basic aesthetic understanding, culturally based on different roots in Asia and the West.
According to the criteria of five loosely chosen categories, individual snapshots will be picked out and illustrated in the exhibition. The selection of Chinese works from the period 2008 to 2022 reveals the multi-layered and dynamic development of visual art in China.
¹ With a few exceptions, the works from the Liaunig Collection were selected for the most part from the 1960s to the present and cover a comparable framework of development as the approximately 40 Chinese works.
Artists: Marc Adrian, Siegfried Anzinger, Claus Mayrhofer Barabbas, Alfredo Barsuglia, Wolfgang Becksteiner, Birdhead (Song Tao und Ji Weiyu), Herbert Brandl, Cai Dongdong, Friedrich Cerha, Chen Shuo, Chen Yujun, Cui Guotai, Gunter Damisch, Dong Wensheng, Peter Dörflinger, Loys Egg, Wolfgang Ernst, Judith Fegerl, Johann Feilacher, Feng Lianghong, Tone Fink, Frederik Foert, Adolf Frohner, Clemens Fürtler, Bruno Gironcoli, Franz Graf, Guan Yinfu, Alfred Haberpointner, Ilse Haider, Fritz Hartlauer, Uwe Hauenfels, He Wei, Wolfgang Herzig, Huang Min, Othmar Jaindl, Franco Kappl, Alfred Klinkan, Edgar Knoop, Kurt "Kappa" Kocherscheidt, Kiki Kogelnik, Peter Kogler, Cornelius Kolig, Peter Krawagna, Suse Krawagna, Maria Lassnig, Franz Lerch, Li Hui, Liang Yue, Li Qing, Christoph Luger, Markus Lüpertz, Ma Jun, Ma Jia, János Megyik, Alois Mosbacher, Gerhardt Moswitzer, Osamu Nakajima, Hermann Nitsch, Markus Oehlen, Franz Xaver Ölzant, Max Peintner, Helga Philipp, Franz Pichler, Rudolf Polanszky, Peter Pongratz, Drago j. Prelog, Norbert Pümpel, Arnulf Rainer, Bianca Regl, Robert Schaberl, Hubert Scheibl, Roman Scheidl, Meina Schellander, Alfons Schilling, Hubert Schmalix, Martin Schnur, Christian Schwarzwald, Fabian Seiz, Zbyněk Sekal, Shi Jiongwen, Rudi Stanzel, Josef Sulek, Sun Xun, Helmut Swoboda, Robert Tauber, Jorrit Tornquist, Walter Vopava, Manfred Wakolbinger, Wang Lei, Wang Yifan, Walter Weer, Alfred Wickenburg, Erwin Wurm, Xie Molin, Xu Hongxiang, Xu Jingyu, Yang Gang, Yang Hongwei, Robert Zeppel-Sperl, Zhai Liang, Zhang Enli, Zhang Wuyun, Zong Ning
Exhibition: Follow the Rabbit – Taking stock of a collection and its reception through contemporary Chinese art. Curated by Alexandra Grimmer in Cooperation with BMCA Collection
Exhibition duration: 30.4.-29.10. 2023, Wed-Sun 10:00-18:00
Address and contact:
Museum Liaunig
Neuhaus 41, 9155 Neuhaus
www.museumliaunig.at
www.bmca-art.com
Blue Mountain Contemporary Art (BMCA) is a collection of contemporary Chinese art based in Vienna. Since its foundation in 2013, the BMCA defines itself as part of China's dynamic art scene, maintains close contact with its artists and focuses on works that critically engage with their time and surroundings. The aim is not to witness passing trends but to acquire and cultivate unique works with a long-term impact. Since the BMCA Collection moved its headquarters from Beijing to Vienna, its focus has been on making its works visible in international projects. The continuous presence of current Chinese contemporary art in an international context is as important as "Capturing the Moment in China", which has been BMCA's credo since the beginning. BMCA works on its mission to shift the perception of China's emerging artists as strong international positions, and no longer as Chinese phenomena, as defined in the years of China's first generation of contemporary artists. Numerous exhibition projects at various venues in China, Israel and Vienna preceded over the past nine years and form the basis of the BMCA Collection, which also sees itself as a project platform. In addition to exhibitions, artist residencies and collaborations between Chinese and European artists, the realisation of exhibition catalogues and artists' books is a further focus. With this multi-layered approach to contemporary Chinese art, the BMCA Collection aims to raise awareness of artistic positions and strengthen their perception both in Europe and in China. www.bmca-art.com