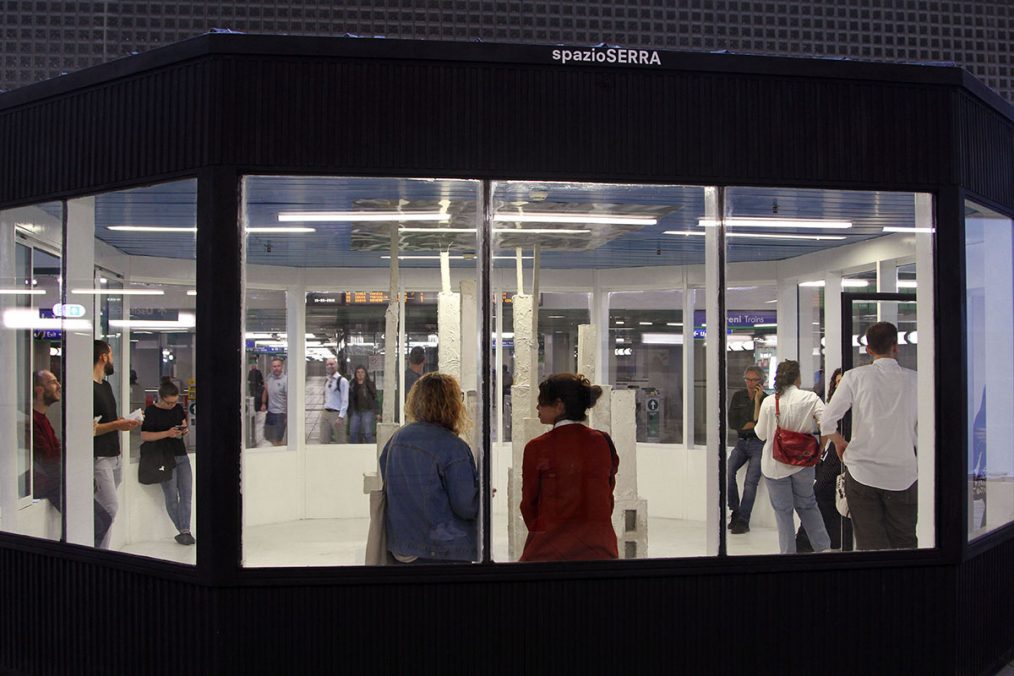 They do not necessarily have the intention of being immersed in an artistic scenario but instead they look around realizing suddenly the presence of something: the works of art, which change and change the appearance of the train station that, like automata, they cross every day. Because of this variety of people we speak of audiences, in the plural, of spazioSERRA, audiences that are essentially an incidental occurrence of art, something that happens for a number of reasons and therefore cannot be controlled.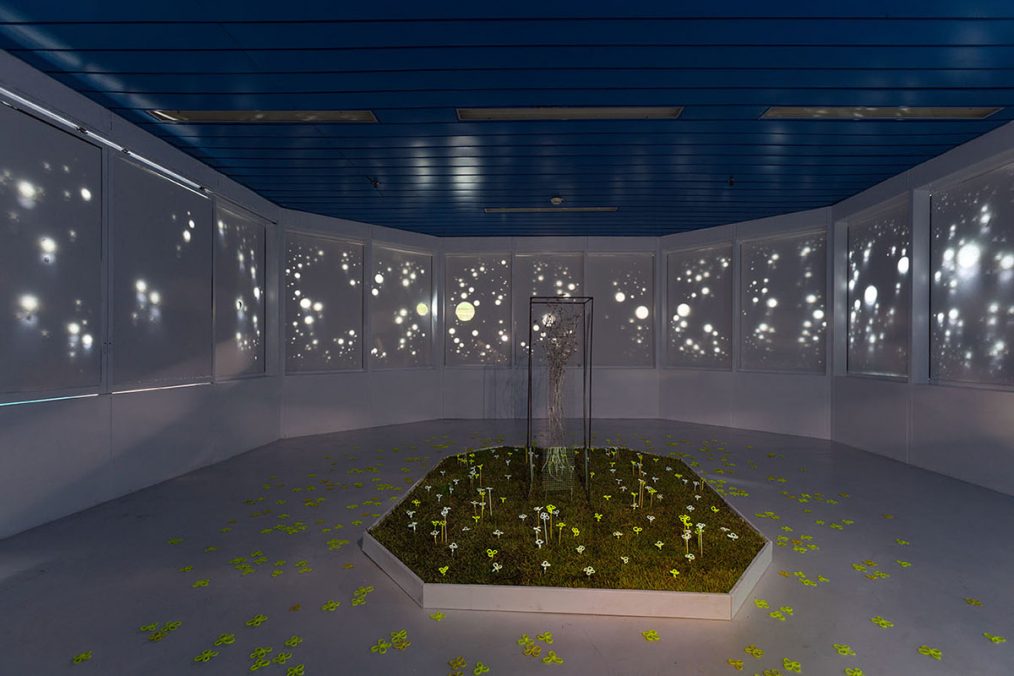 Was the octagonal structure already existing or was it manufactured for you?
When the station was built, the octagonal space that now has become spazioSERRA was a newsstand. It was used for this scope for a few years and then left unused for several years, until 2017. Due to its particular physical conformation, its interior space can also be enjoyed from the outside: in fact, it has an octagonal plan and its walls are all in glass, which make it possible to see from the outside the works that are exhibited inside the space.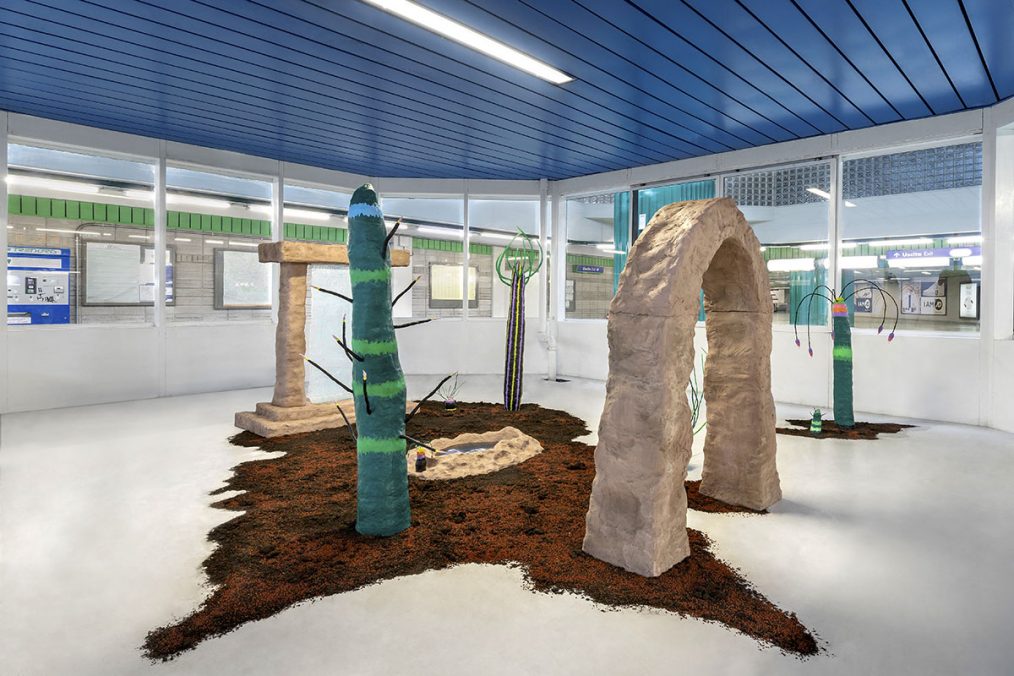 I got curious about the octagonal structure. I do not remember where I encountered this kind of architecture for the last time. What meaning does it have and how do artists react toward such a structure?
Baptisteries, pagodas, howz are various types of octagonal structures. Number 8 has an important symbolism in Christian art: 8 are the pillars of baptismal font, 8 is the symbol of Resurrection, number 8 evokes eternal life, number 8 is recognized as "cosmic balance" and lastly, 8 is the number of cardinal directions plus intermediate directions. In our experience, artists are constantly inspired by SERRA's structure, there is something magical and esoteric working in it. For example in the exhibition La cerimonia dei misteri (The ceremony of the mysteries), the artist Giovanni Chiamenti, according to Rudolf Otto's idea of "numinous", explored his exhibition imagining SERRA as a sacred place. Chiamenti wanted to reproduce the ambience of a "caerimonia", producing a mysterious aura of sacrality and rites.
What spazioSERRA stands for?
The name "spazioSERRA", where "spazio" means space and "serra" means "greenhouse", was created to underline the path of maturation and growth that the artistic direction of the space wants to undertake with the emergent artists we host. The greenhouse is, in fact, a place where plants are tended in order to give them the time and conditions necessary to grow up: in the same way, the artists who exhibit in spazioSERRA have the opportunity to develop their research through the creation, the curatorship and organization of an exhibition dedicated to a site-specific work that communicates with that place.
I felt a resemblance of the exhibition calendar to the schedule board of the station. Is this right?
Being in a train station influences the way we work and design the exhibitions. Every time we think about how to display artworks, we have to keep in mind who we are doing it for: our audiences. For this reason we always think about how to catch the attention of passers-by, positioning a particular object or flyer here or there. We also try to use the station, as a unique location, as much as we can: hanging our communications on the walls and playing with the elements that surround the space, especially with the photographs.
When I worked in an art gallery, every time one exhibition was dismantled and the new one was built, I had dyadic feelings. Each of these occurred exhibitions had something that made it difficult to say goodbye. How is your feeling about it?
Exhibitions at us change every day, because even the same exhibition changes so much during the 40 days in the space, due to the unique physical condition of the venue. That's also what inspired our next exhibition season "venerazioneMUTANTE" (mutant veneration), which purpose is to create exhibitions with works that have a perennial state of change and that can be seen having the feeling of constant transformation, albeit imperceptible. It is always sad to disassemble the artworks and see the space empty, but the curiosity for the next exhibition and to see how the space will change again is always stronger.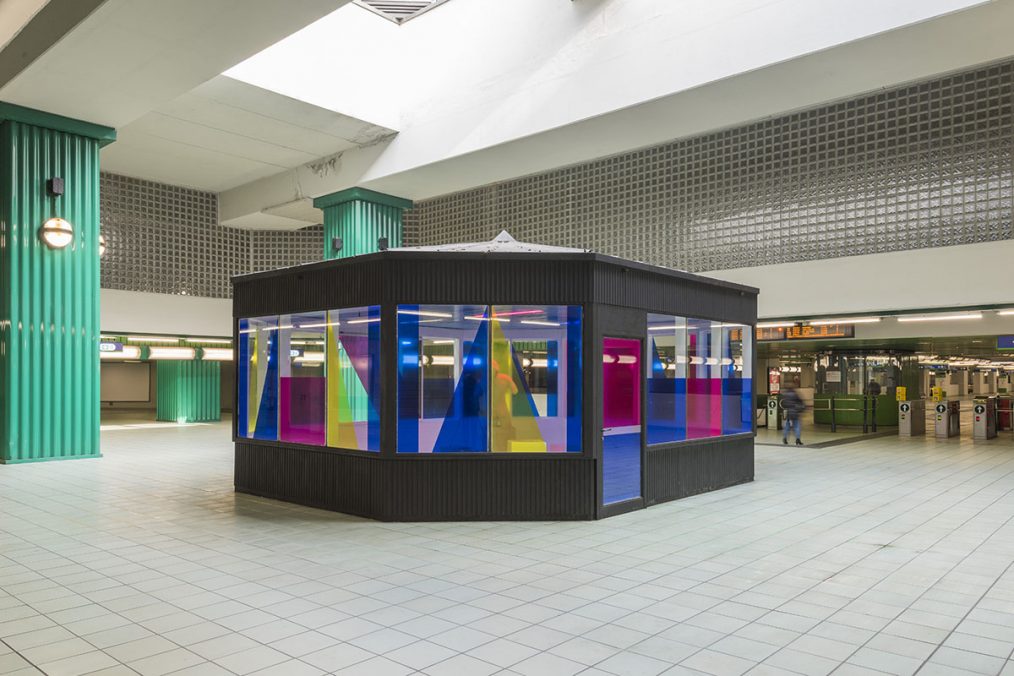 The exhibition "L'uomo è l'unico animale in grado di arrossire" started in the time of the outbreak of the pandemic. What was your approach?
When the exhibition started, in February 2020, the pandemic was not yet perceived as a risk in Italy. L'uomo è l'unico animale in grado di arrossire was supposed to finish in April, but it was actually impossible to dismantle it, since Italy was going through its first strict lockdown. The vernissage of this exhibition was actually one of the last times we had the chance to meet all together before the lockdown. To continue with our exhibition season, that we had already planned, we decided to display our following exhibition How much of an * are you? on spazioSERRA's website, but leaving the other one in the space. In such a difficult moment for our country, this exhibition became one of the few cultural initiatives that people were able to see, while attending the station to go to work or to move for necessities. When we finally were able to be back at spazioSERRA, we found our exhibition had changed: dozens of spiders and a lot of dust had invaded the space. It was emotional, it was like a symbol of what happened and is still happening.
Is this the only art initiative in this large station?
We are the only art space in Lancetti station, but, together with more than thirty other Milanese realities, it is part of the Artepassante Project. Artepassante is an initiative promoted since 2012 by the cultural association Le Belle Arti APS, with the aim of bringing art out of its normal fruition spaces. In 2012, the Association got an agreement with RFI – Rete Ferroviaria Italiana (Italian rail network), to regenerate 17 disused spaces in seven stations of the Passante railway, which runs through Milan. These organizations, together with their activities (theater, visual art, dance, music, photography, handicraft, …), have become a heritage that has been integrated with the stations that host them and with the surrounding area. A network of interconnected places of cultural production and enjoyment.
How would you describe the area of Milan where the railway station is located?
Lancetti station is set in the Bovisa-Dergano neighborhood, in Milan. Until the 1960s, Bovisa was a classic industrial periphery, the symbol of progress and economic development in Lombardy. Since the seventies, the area has undergone an inexorable decline due to deindustrialisation. This part of the city, until the mid-90s, due to the deindustrialisation and the associated crisis, experienced a period of severe deterioration. Then Milan Polytechnic decided to set up the university campus of Architecture, Design and Engineering, with its laboratories, departments, classrooms, libraries that host a total of 12,000 people. The area now hosts also many business offices. In the coming years, it will undergo another urban regeneration, thanks to the building of a new branch of the Brera Academy of Fine Arts, walkways for bikes and pedestrians, green areas and public spaces. The Milan's Passante is an almost entirely underground railway, a hybrid structure beetween a subway and a railway station, that runs through Milan. All the lines of the Passante connect the six main urban stops: Lancetti, Dateo, Porta Vittoria, Repubblica, Porta Garibaldi, Porta Venezia. Lancetti station is served by lines S1, S2, S5, S6, S12 and S13 of Milan, these link different cities in Lombardy.
I have developed a love for unorthodox spaces, not only because of their aesthetics but also for the philosophies of those who have decided to bring art into such spatiality. Are there some spaces in Italy or even in other countries that you would recommend?
We know some other unorthodox places that operate as exhibition venues, and we would like to focus on the Italian ones. Edicola Radetzky is another former newsstand set in Milan, turned into a space devoted to contemporary art. The newborn co_atto, part of the Artepassante Project, is a series of 18 display windows, once used for advertising posters, in the Garibaldi station of Milan. It is a multidisciplinary project space which will host site-specific artworks and an archive in progress. The first exhibition season will start in March 2021. Superfluo, in Milan, is a former store which windows have been sandblasted to leave just a 50×50 cm square, through which music, fashion, design and art initiatives can be seen. NEUTRO is an exhibition space made of six display windows, positioned along a commercial passage in the center of Reggio Emilia. The programme combines the work of artists and photographers. Una vetrina is a display window set in Rome, which has become an exhibition space on the street. Its programme includes temporary exhibitions, with performances and visual contributions by artists, writers, philosophers and poets. State Of_ in an exhibition space in Milan housed in a fashion showroom, a reality in which art not only communicates with fashion but also integrates with it. Casa Cicca is a house museum in Milan that hosts more than 1,000 works and objects from guests, both artists and travellers, who have passed through it over the years. The building used to be a brothel. Manifatture Knos, in Lecce, was a former school for metal workers, which now hosts a place for participation and sharing of ideas and projects, in the fields of creativity and social innovation.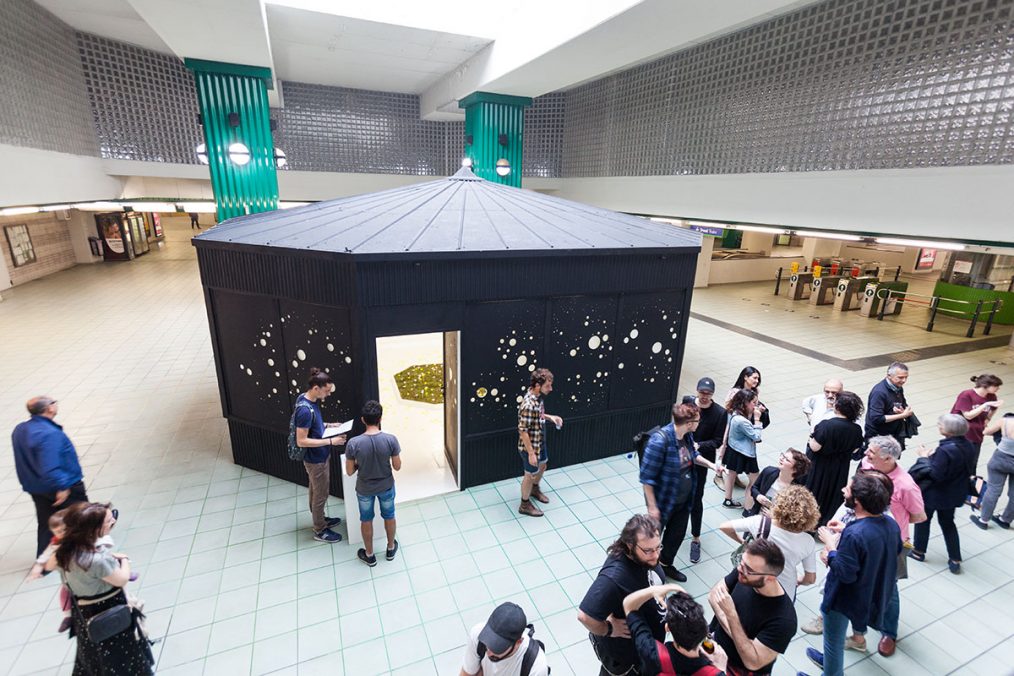 You, spazioSERRA were challenging our sound sculpture project. It was the first time that a space was sending same-time sound and moving pictures. They have now been all reassembled and re-interpreted from artist Cornelius Wildner. The work has been entitled view from Octagon. Can you tell us something more about the time when these videos have been recorded, and why?
The videos are from the past season; they have been made for Instagram. We want to communicate not only the exhibitions that take place at our space, but also the space experience. It is a primary interest of us to show what sensations this space is evoking in us. Above all, we wanted to bring life here, not using exhibitions as the only means to define space. spazioSERRA lives in its beauty, in its story, and its place. We promote what surrounds us. This is the reason why we focus on the landmarks of the station, such as surveillance cameras, hallways, modern architecture, artificial lights, symbols, passers-by, etc.
Address and contact:
spazioSERRA
Stazione ferroviaria di Lancetti, Milano
FB: www.facebook.com/spazioserramilano
IG: www.instagram.com/spazioserra/
---
Cornelius Wildner (*1970) is a Vienna-based sound artist and music technologist. He deals with ephemeral sounds, field recordings, archiving, live performance, analog and digital synthesis. At the same time, he collaborates with artists from different genres.
About the Interviewer: Erka Shalari (*1988, Tirana) is a Vienna-based art author. She focuses on discovering unique artistic positions, unconventional exhibition spaces, and galleries that have deliberately broken new ground in their working methods. In this regard, she relies on unorthodox publishing practices, coupling these with a nonchalant manner of writing. The work oscillates between articles for magazines, exhibition texts and press releases.