Since its beginnings, the artist has been analysing the perceptual role of the surface, colour, geometric aspects, chromatic variability, and reflection, which he employs as means of alienation for changing ordinary perceptions of volumes and planes. The media he employs span from sculpture and installation to geometric-abstract painting.
In the main gallery room, we have four large aluminium square format works, all 130 X 130 X 6 cm, conceived and produced for this show. In this series, Negri uses different materials and multiple layers applied on aluminium panels. The base of acrylic, shapes an intuitive and simple geometry of flat planes filled with gradients of colour. The artist fixes and saturates new levels on these surfaces with layers of coloured film. Up on it, the dichroic mirrored film shapes the definite geometry that leads the viewer to watch themselves on the artworks.

It isn't easy to classify whether these works are abstract paintings or sculptures! Negri plays with approaches, the approach of the viewer, the approach of the architecture, with new colours of iridescent films, and unique cuts. It has been told that Octobers in Vienna has a distinctive lighting mood, the artist wants to activate and let his work be activated from this light. A kind of expansion from the inside to the outside, street.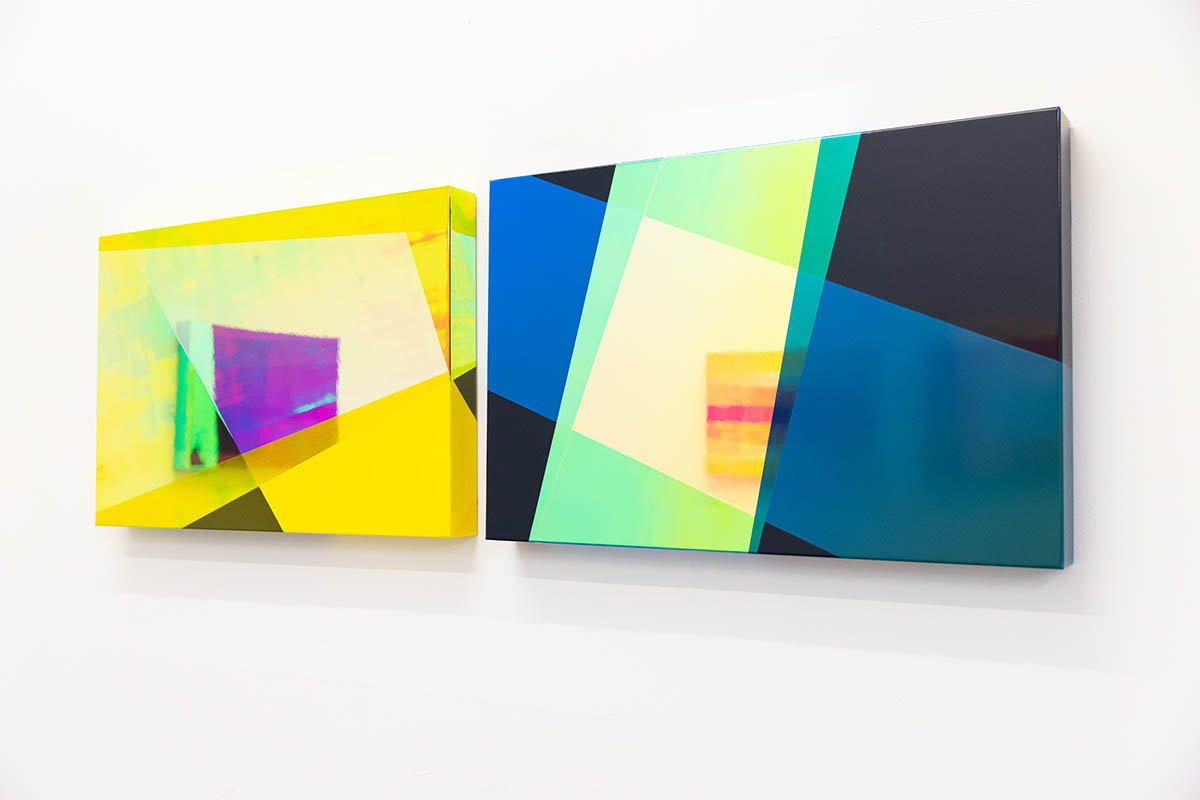 In a second room, the viewer is invited to attest to the genesis of this series. The distinct geometries are achieved by using the same language as the works in the main room, only this time in smaller formats. All these works Negri has created speak of similar matters. In the titles, the artist assigns an exact time and date for the viewers – "Meanwhile at 10:45 a.m. of the 29th March 2022", "Meanwhile at 9.27 pm of the 15th April 2022" (…), however, without establishing definitive statements, since the artworks and the viewers are in a state of constant conversation, an interplay of reflection and perceptions.
Exhibition: Matteo Negri – Meanwhile curated by Erka Shalari
Vernissage: 05.10.2022, from 17.45
Exhibition duration: 05.10 – 16.10.2022
Opening hours: We – Sa, 4 – 8 pm & by appointment

Address and contact:
Aa Collections
Reindorfgasse 9/2/R0, 1150 Vienna
www.aacollections.net
---
Matteo Negri (b.1982, San Donato Milanese) lives and works in Milan. Recent years solo exhibitions include: Pezzi di questo mondo, Crag, Torino 2022; Ho mangiato un'idea, ArteA Gallery, Milano, 2021; Amori Estivi, Comune di Cannobio, 2021; I contain multitudes, Hong Kong, 2021; Ho le montagne negli occhi, MEB Arte Studio, Borgomanero, 2020; Antiretorica, Galleria Monopoli, Milano, 2019; RSVP, Fipaco – Galerie 208, Paris, 2019; Greetings from Mars, MAC Museo d'Arte Contemporanea di Lissone, Lissone, 2018; Navigator Roma. Verrà se resisto a sbocciare non visto, Aranciera di Villa Borghese, Roma, 2018; Drop the dots, Axel Pairon, Knokke, 2017, Seventeen Sculptures in colors, Lorenzelli Arte, Milano 2017. His works are part of public and private collections.
Les Nouveaux Riches (LNR) is a Vienna based art platform that gives artists and cultural professionals the opportunity to present themselves to a broad audience in an authentic way. Since April 2019, more than 1.500 interviews, articles and 9 print magazines have been released. In the LNR cosmos, we curate international exhibitions, represent artists at international fairs, refer artists to galleries, organise and curate exhibitions and events, design and produce garments in limited editions. LNR is a platform that does not exclude anyone, seeks dialogue and wants to give more visibility to the Austrian and international cultural landscape.
Erka Shalari (*1988, Tirana, Albania) is a Vienna-based art author & curator. She studied Occupational Psychology at Tirana State University, Culture Management at MDW, Institute for Culture Management, Vienna and Curatorial Studies at Node Center Berlin. She focuses on discovering unique artistic positions, unconventional exhibition spaces, and galleries that have deliberately broken new ground in their working methods. Recent interviews & articles include: Adela Demetja, Gian Maria Tosatti, Maria Adele Del Vecchio, Kristina DESKA Nikolić, SPARK Art Fair, Venedig Biennale, miart, Severin Dünser, Nives Widauer, Gallery Zeller van Almsick, Caro Jost, Renger van der Heuvel, Galleria Tiziana Di Caro, Collezione Taurisano, Sof:Art, Montecristo Project, Casa Cicca Museum, Matteo Negri, Pasquale Leccese, Sibylle Ciarloni, Alberto Tadiello. Editor at Les Nouveaux Riches Magazine since 2020. https://linktr.ee/erkashalari
Aa Collections Gallery was started by artist Rina Grinn as a private collection of fine art from the 19th and 20th Century. Since 2012 her gallery has then focused on contemporary art and presented different projects on a regular basis in the showroom, Vienna, Burggasse 68. In search of a bigger space and new grounds, Aa Collections changed the location to the Reindorfgasse 9/2/R01 in Vienna's 15th district. In 2012, the artist Georgij Melnikov joined as assisting curator. Together they have been organising more than 300 projects, solo and group exhibitions.