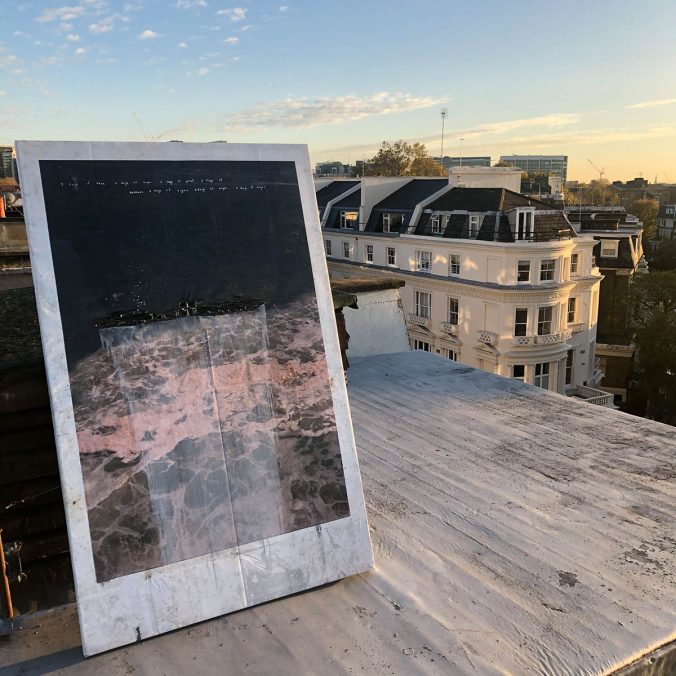 Tell us something about you and something about Salon Rooftop?
L: The founders of Salon RT are Makesa Kaizen(@makesakaizen), Lina Sophie Stallmann(@stallmann.galleries), and Jerry Guo(@jezlejeti). We all studied/study at Central Saint Martins, London. Makesa: Born in Africa, DRC (1989), MA Arts & Culture Enterprise (CSM, London), Associate lecturer – BA Curation, Criticism and culture (CSM, London) Lina: born in Germany (1994); BA Business Studies (LMU, Munich); MA Innovation Management (CSM, London); founder of Stallmann Gallery, Berlin; co-founder of artisall, a non-profit platform for fashion, fine art, innovation&strategy, London based. Jerry: born in Xi'an(1999); BA Curation, Criticism and culture (CSM, London) The name salon has a loose reference of the salon at Beaux-Art in Paris – which was once the most important art event in the western world.
And it relates to the general term of salon hanging, meaning that several artworks are covering the wall, above each other, next to each other, instead of the nowadays common way of one art dedicated to one part of the wall.
Moreover, salon is also a term for living space/room. RT is just short for Rooftop. Also, calling the space a gallery isn't an accurate representation of the physical site. There are great galleries that aren't named after a person, for example, Salon 94 or Office baroque. In short, the name of the gallery summarizes the exhibition space, and represents the neutrality of the founders: it isn't trying to build a cult personality based around the dealer, rather a collaborative endeavor between us, experimenting with the space and reaching out to artists we are intrigued by, inviting them on this space and see what they come up with.
Salon RT wants to establish itself as a unique venue & an alternative experience in the art world, both digitally and with its physical space. Also offers a different way of experiencing art online – responding to the white cube fatigue, and is based on domestic space.
How long have you been working on this concept?
L: The concrete idea came up probably just less than a year ago, and the actual realization started right before lockdown; it took some time to perfect the viewing room for our first show, make sure everything is working. But we are always thinking about the future of the space, how it can survive over time and retain and increase its appeal.
Even if we don't have the rooftop in a few years, the concept will still be alive. Our goal is to create memorable and lasting shows. Even though the space might change, the concept will always be evolving, and we'll take Salon RT to different places and different cities, learning more about more artists and hopefully making friends along the way.
I think it is always interesting to see the first exhibition of a gallery. Often, when I interview established galleries, I always like to ask about their history. One of my preferred questions is related to the gallery's first show and first artist included in the roster. Can you tell us something about Salon RT's first show?
J: Our first exhibition is called 'Paintings Don't Need Walls'. It's a joint solo show for two young painters: Daniel Spivakov and Luc Waring. They are both extremely talented and starting to find their own voice through their practice. It was a pleasure to work with them both. We take great pride in knowing that the digital show is there, it's a part of our shared history, that version of the show will be there in perpetuity, and in 20 years, we'll be able to dig through the archive and see their paintings in that setting.
I'd like to see Thaddaeus Ropac or Victoria Miro reliving their early shows. See what I mean?
Do you know galleries, art spaces that work similarly/ that have alike features with you?
L: To be honest, I haven't seen many similar things out there. We are very special in that. It is an uncommon virtual viewing room paired with an uncommon 'gallery space. We are having a domestic space and the rooftop that we are both using virtually and as real space. M: To echo Lina's sentiments, RT is very uncommon compared to the recent overload of digital platforms that offer online exhibitions, that are just in truth websites with jpegs. Our approach and objectives are intentional; we plan to mesh different art forms and showcase them in very atypical ways. J: not in terms of operation, but we are definitely not alone in that respect, there's the great APTART in the 80s, and many great dealers and curators have experimented with alternative spaces for shows, Gavin Brown's Chelsea hotel room show for Elizabeth Peyton, felix art fair in LA last year, Casa Malaparte, the unofficial Gagosian pop-up site. The list goes on.
How came this rooftop saloon idea?
L: First of all, in London and in all major cities, there is a big lack of space and money to pay for spaces. This was a big limitation for us. So we literally had to think outside of the spatial box. The rooftop that is connected to Jerry's apartment was one little great location of freedom. Visiting Jerry, would always be a great pleasure because we could just step out and be on top of the city. It is a powerful feeling in a city where everything costs so much and has a price tag. Hence, for humans and the art world, a rooftop (that is not a perfectly built terrace rooftop, but an illegal rooftop), represents a lot of freedom, a misfit attitude, and a little bit of danger. Salon RT comes from the outside towards the center, and we believe the rooftop plays its part – we are kids overlooking the city and dreaming of/creating something raw and new.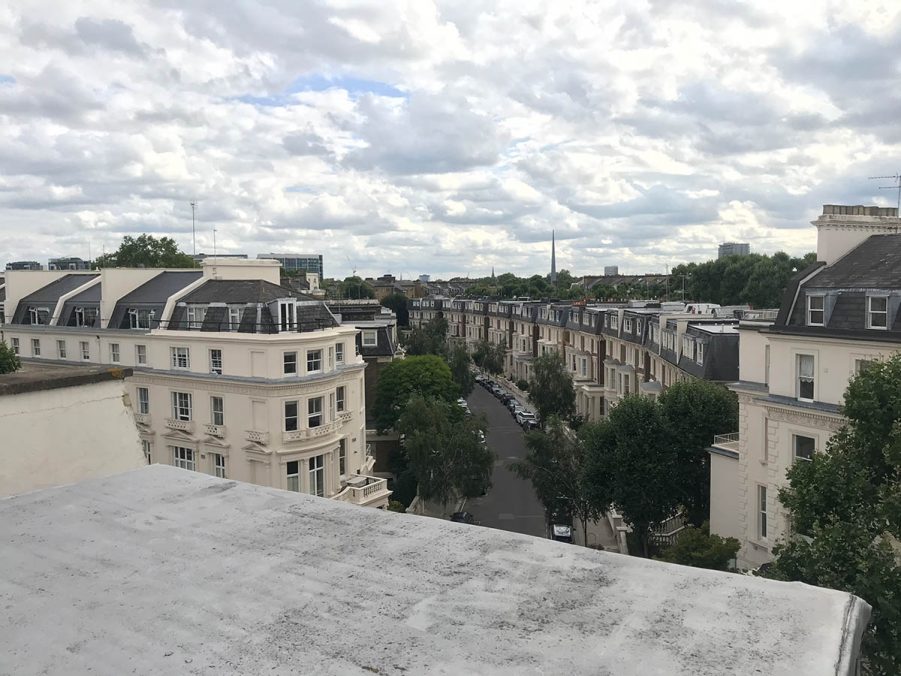 The first exhibition is "Painting don't need walls". If not walls, what do painting needs?
L: The title does two things. Firstly, it refers to the spatial features of the rooftop. We don't have walls on the roof, and the paintings are floating against the horizon. Secondly, it refers to a certain core value of paintings. Paintings have their own inherent power, and any environment just alters it, or adds bias to the painting. This is something Baselitz was investigating in one of his essays [four walls and skylight or rather no picture on the wall at all]. Paintings don't need walls, don't need anything, because they are all enough as they are. This does not exclude the fact that paintings should be seen, and this is one of our missions. Make paintings seen, but not forgetting the pure power of what they are.
Future. What plans are you having for the coming time?
L: We are thinking of changing things in the viewing room. "That is the beauty of programming that you can play around and add and remove with a couple of clicks. Although, we want to add some features and new ways to experience the works. Walls are so far not in discussion, but who knows. M: This being the beta version of our platform, we plan to take the information we have acquired in regards to what worked and what hasn't; using that information, we plan to build a more exciting, more interactive platform which continues to challenge and push the boundaries of showcasing art. J: All depend on what the artist want. In the viewing room, we'll try to accommodate any mediums we can. Doesn't necessarily mean that we'll need walls, but future shows will hopefully have their own characters. Also, the virtual environment in the OVR will look different in each show.
How will you finance the gallery?
L: The aim is to finance the gallery through sales. However, we want to keep the space as experimental and free as possible, that at the beginning, we are financing it with our private equity.
Art related or not art-related spaces that inspire you.
L: National Gallery (London), Musée d'Orsay (Paris), Gagosian Grosvenor Hill/Kings Cross (London) M: The Centre Pompidou, MoMa, Dover Street Market J: Tate Britain, Ropac gallery in London, Forbidden city.
Adress and Contact:
Salon RT
enquiries@salonrt.com
www.instagram.com/salonrooftop/
linktr.ee/SalonRT