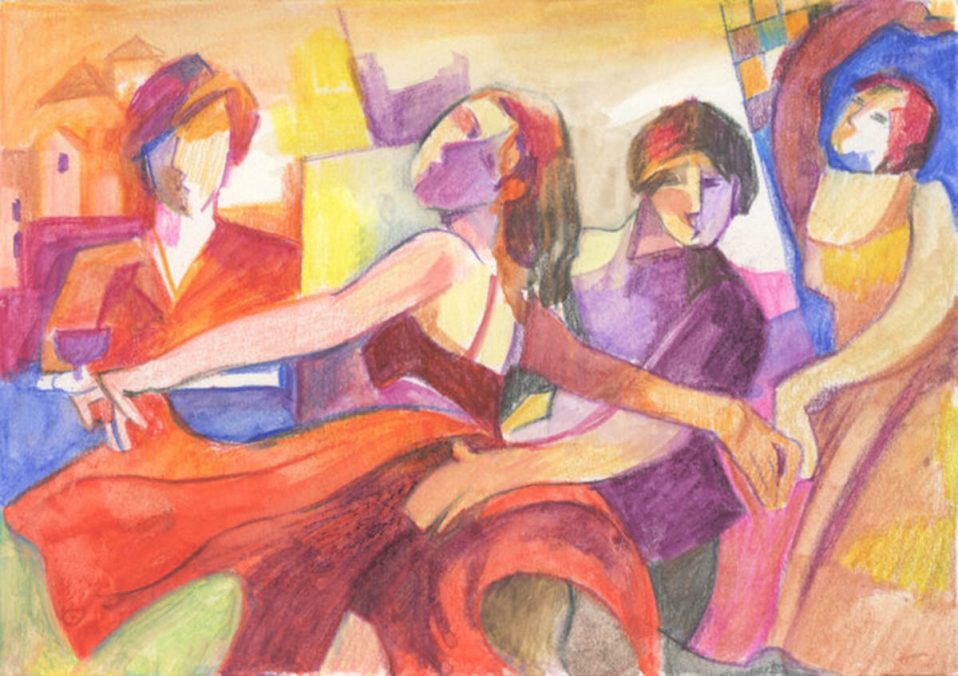 Over 200 artists have created mini postcard sized masterpieces to be auctioned, with bidding starting at just £50, to raise proceeds to continue The Hepatitis C Trust's vital work in women's prisons. Furthermore, this auction will support The Trust's 2022 plans to expand their women's hepatitis C work beyond the prison walls into probation services and women's centres.
"Our prison work gives us the unique opportunity to engage hard to reach women. When these women take control of their health, often when they've not been in control of anything, there is a considerable knock-on effect. Accessing treatment changes their lives and can be the catalyst to getting clean and sober and into more manageable ways of life. Art on a Postcard shows these women that they are valued and cared about." Julia Sheehan, National Female Prisons Coordinator This year's line-up features the work of highly collectable female identifying artists ranging from emerging new graduates to world-renowned artists. The 2022 participants include Charmaine Watkiss, whose work is concerned with what she calls 'memory stories'. She creates stories primarily through research connected to the African Caribbean diaspora, and then maps the stories onto life sized figures. New York based artist Philemona Williamson joins the line-up, her work explores the tenuous bridge between adolescence and adulthood, along with Brooklyn based Louise Lawler aiming to raise questions about the production, circulation, and presentation of art through her creations.
They will be shown alongside pieces from Allison Katz, Lara Schnitger, Penny Goring, Florence Peake and Emma Cousin for this edition. Emerging voices will also feature offering the opportunity to spot fresh talents, such as New Contemporary 2021 Shannon Bono who is invested in producing layered, figurative, compositions that centralise black womanhood as a source of knowledge and Amanda Ba who has achieved quick success with her erotic red female figures, and depictions of animals exploring interspecies relations, queerness and cultural identity. Original creations will also be available by Bunmi Agusto, Mandy Franca and Victoria Cantons among others. As well these exciting additions, Art on a Postcard is delighted to welcome back expressionistic American artist Katherine Bernhardt and Royal Academicians Vanessa Jackson, Mali Morris and Anne Desmet. The original artworks will be exhibited at a private view at The Bomb Factory in London SW10 on 1st March. An Art on a Postcard Margate Salon exploring the value society places on women's creativity, will take part on International Women's Day (8th March) at Turner Contemporary, chaired by model and Sunday Times journalist Sydney Lim.
Art on a Postcard is a unique platform that offers the opportunity to purchase beautiful limited- edition artworks by celebrated artists at affordable prices. Art on a Postcard is perhaps best known for its coveted postcard auctions. These eagerly anticipated events feature special edition artworks by renowned names that are auctioned anonymously for charity each year. Bidding starts at £50 and they offer a truly rare chance to own mini masterpieces by highly collectible artists, whilst supporting a worthwhile cause, The Hepatitis C Trust.
About Dreweatts Auctioneers Dreweatts auctioneers was established in 1759 and is one of the foremost auction houses in the UK. It comprises 22 specialist departments ranging from Fine Art (Old Master Paintings, British & European Pictures, Modern & Contemporary art), Jewellery and Watches, Silver, Wine, Books and Manuscripts, British & European Ceramics & Glass, Decorative Arts & Modern Design, Ephemera, Furniture, House Sales & Collections, Clocks, Barometers and Scientific Instruments, Asian Ceramics and Works of Art and Live Steam and Model Engineering. It holds regular specialist sales from a highly qualified expert team, totalling more than 70 sales per year including curated interiors sales, single owner collections and house sales.
The Bomb Factory is an exciting, dynamic arts hub based across two sites; Archway, North London and Chelsea, South West London. Holding high profile exhibitions and events, we also provide studio spaces and a supportive community for over 75 resident artists as well as wide- ranging education programmes for the local communities of North and South-West London.
For full artist list and more information visit www.artonapostcard.com